Fans Won't Believe These Photos Of 'RHOC's Tamra, Vicki, & Shannon All Hanging Out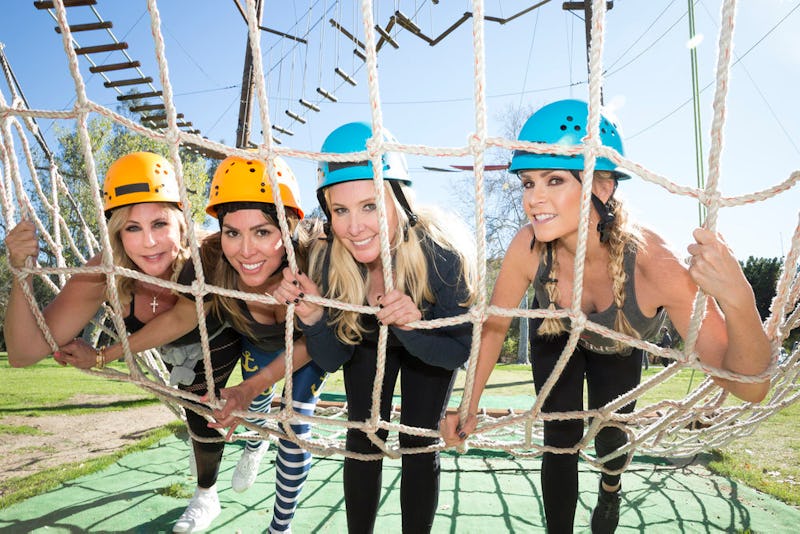 Dale Berman/Bravo
Real Housewives of Orange County fans, are you ready for this news about Vicki Gunvalson, Tamra Judge, and Shannon Beador? You better stop what you're doing and check out these photos of Vicki, Tamra, and Shannon from RHOC Season 13, which premieres July 16. No, you haven't been transported back in time, these three are apparently once again good friends.
At the Season 12 reunion, which aired in November 2017, the three Housewives had a group hug that was super surprising and gave some viewers hope the three had finally buried the hatchet. Vicki even apologized to both Shannon and Vicki. She said, "I'm sorry. I never meant to hurt either one of your families."
Vicki also really felt for Shannon at the reunion after she announced her divorce from David Beador after 17 years of marriage. "Shannon, I'm so sorry, 'cause I know we've been through bumpiness, but I want the very best," Vicki told her at the reunion. "I've kept you on my prayer list, you and David. And I did not expect this. I literally did not expect this. I'm in shock and I'm sad for you, but you got a bunch of ladies here and we're gonna be there for you." She even said, "You deserve an incredible partner. Whoever that may be is out there."
Over the course of several seasons, Shannon and Tamra have been at odds with Vicki. They've repeatedly argued. None of them could solve the drama and repeatedly had the same fights over and over again. Well, it seems like they've finally put the past behind them and are moving forward.
It was shocking enough to learn Shannon and Kelly Dodd are friends, but to see photos of Vicki, Tamra, and Shannon having a blast in the upcoming season? Fans probably never thought they'd see the day. They've all shared pictures on social media, but, recently, Tamra's been doing a countdown to RHOC Season 13 by posting photos of the three in Mexico. It appears the women take a trip to Puerto Vallarta this season. As loyal Orange County viewers know, this city is Vicki's favorite. The women have also traveled here before together, like when they celebrated Tamra's bachelorette party and Shannon met up with Vicki. So to see these three whooping it up in Vicki's most beloved travel destination speaks volumes.
Way Too Much Fun In Mexico
Whoa. This looks rough. And Tamra broke her foot? Like she revealed in her caption, she even stayed overnight at a hospital. Maybe she danced too hard on top of the bar? This seems to be a priority whenever the RHOC ladies visit Mexico.
They Have The Time Of Their Lives
This definitely looks like the good old days.
Is This Real Life?
They all look so happy!
Thick As Thieves
They are back and ready for fun.
They are even currently hanging outside of filming. On June 29, Shannon posted the following Instagram and used the hashtag "#tresamigas" in the caption. So, they're the three amigos now? They really have moved on.
There are even glimpses in the Season 13 trailer of Shannon, Vicki, and Tamra getting along. They're seen taking shots together, while wearing sombreros. At one point, Vicki and Shannon even kiss. "You gonna kiss me?" Shannon asks her reinstated friend.
These photos show how different RHOC will be when it returns. There's no doubt the original Housewives needs a change and maybe this is exactly the type of transformation to bring it back to its roots. Vicki, Shannon, and Tamra, fans are relying on you.