Sharice Davids Channeled Her MMA Past For This Sweet Congressional Tradition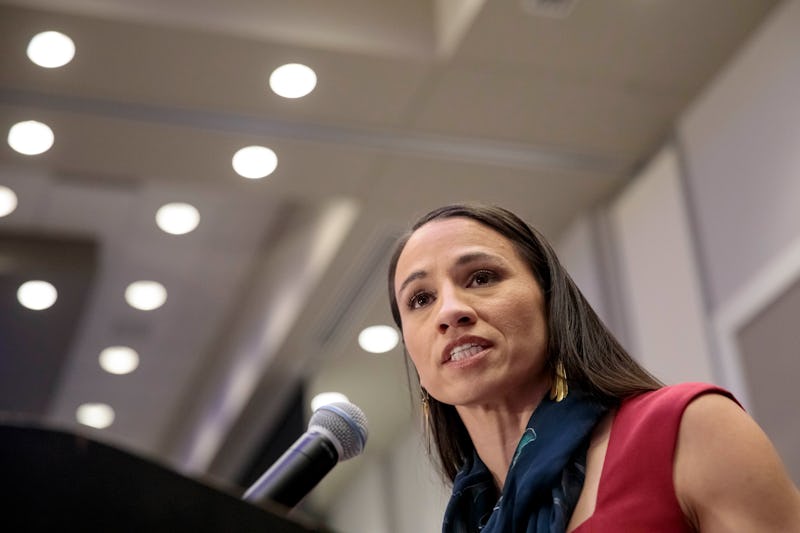 Whitney Curtis/Getty Images News/Getty Images
Friday is a big day for newly-elected members of Congress: They're drawing lottery numbers that will determine the order in which they get to pick their offices. They've apparently been engaging in all sorts of bizarre rituals to "increase their chances," and the most hilarious of all may have come from the member-elect of Kansas' 3rd Congressional District. Sharice Davids' congressional office lottery tactics made use of her past in the mixed martial arts (MMA).
It's rumored to be good luck if one dances on the way to picking a number. Member-elect Alexandria Ocasio-Cortez tweeted that the Architect of the Capitol's office jokingly tells participants that "various gyrations and dances are encouraged... as they are known to result in higher lottery numbers." She noted that some people chose to do the "backpack dance," rub their head, or bring up their kids on FaceTime on Friday.
As for Davids, well, she's not a former MMA fighter for nothing. She channeled that style of walkout, raising her fists in the air at the front of the room and then getting on the ground to do pushups. It apparently didn't work out so well for her, though. "Oh my god," she said, disappointed, after choosing her number. "Don't do pushups!"
"I strategized," Davids tweeted on Friday. "I did pushups for good luck. And I still didn't get a very good number in our office draw. I'll keep working on it."
According to The Guardian, Davids has been participating in martial arts since she was in college. She began with karate and capoeira before continuing with taekwondo and eventually MMA. She won her first amateur fight in 2006's International Sport Combat Federation's Midwest FightFest in under 60 seconds. She never actually considered pursuing the sport full-time, though, and according to Tapology, she underwent her last fight in 2014.
"In terms of career options, I didn't think about MMA at all," Davids told The Guardian. "I don't know if I really thought it was a career path for many women. For someone like me, even in my prime, it wasn't something I really considered."
If Davids' pushups routine didn't already make it obvious, members of Congress place a great deal of stock in where their office is. Location determines your view, how much room you have, and how easy it is to get to an elevator. So the lottery is big: As The Washington Post's David A. Fahrenthold put it in 2010, "If Capitol Hill were a prison, office suites would be its cigarettes."
Once the numbers are drawn, the Post reports that member-elects have a few hours to check out the office buildings and decide where they'd like to go. Then they gather again and make their picks, one by one. Once this process is over, they're allowed to make certain limited design choices about the suite, including painting its inner office a new color, according to the Post (they just have to purchase the paint themselves).
Well, if Davids is forced to take an office on the top floor, at least she's athletic enough to conquer those stairs.