How A Disturbing Reality Set The Scene For HBO's 'Sharp Objects' Miniseries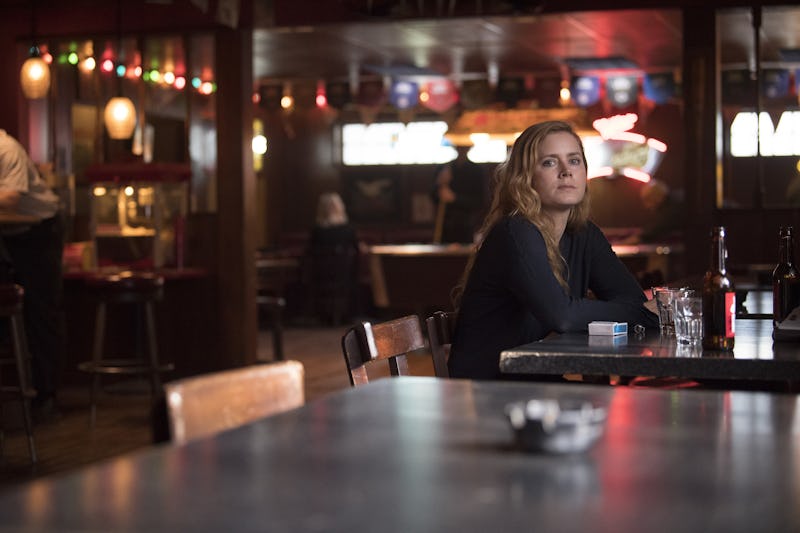 Anne Marie Fox/HBO
Sharp Objects, the HBO adaptation of Gillian Flynn's pre-Gone Girl mystery and debut novel, may remind you of the true crime sagas on your Netflix or podcast feed with its swampy atmosphere and investigatory plot. But is Sharp Objects based on a true story? The twists and turns are, in reality, way too good to be true — though the fictional tale was inspired by real life in a few different and maybe unexpected ways.
The official HBO press release reads that Sharp Objects, premiering July 8, is about "reporter Camille Preaker, who returns to her small hometown to cover the murder of a preteen girl and the disappearance of another. Trying to put together a psychological puzzle from her past, she finds herself identifying with the young victims a bit too closely."
While the series is not ripped from any one specific headline, Flynn was instead inspired by seeing stories over and over about men dealing with rage, and conversely women dealing with men — or worse, women dealing with something even less significant like shoes, or cocktails. Flynn wanted to explore with Sharp Objects just "how women handled their anger, and their violence, and what that looked like" according to Entertainment Weekly. It seems so simple, and yet it's so true. The disparity in storytelling is totally unfair.
So Flynn's inspiration was more of an internal desire prompted by the reality that female rage is not frequently depicted in storytelling. If it is, as the writer discovered when trying to sell her novel, those angry female protagonists are criticized as being "unlikeable." That's just for white women, too: women of color face a whole host of other negative stereotypes when they dare feel or display anger. While rage-filled male protagonists like Don Draper, Tony Soprano, Dr. Gregory House, and Walter White have dominated media for decades, female anti-heroes are harder to find.
Recently, however, those scales have started to balance out. It's no surprise that the team working on this show includes the director of Big Little Lies, Jean-Marc Vallée, and showrunner Marti Noxon, the creator of UnREAL. These are two artists perfectly suited to giving audiences the bold and unapologetically unlikable female protagonist that Flynn envisioned — alongside Amy Adams' portrayal.
The town of Wind Gap, Missouri is not a real town, either. The HBO series was filmed in Barnesville, Georgia about an hour South of Atlanta. Flynn herself was born and raised in Missouri and went to school in Kansas. So she knows the area well enough — it's just a fictional tale.
Also, Sharp Objects is more playing on the genre tropes of a particular form than following a true story. This is a Southern Gothic tale, plain and simple. This is like The Beguiled, or a work by Tennessee Williams or Flannery O'Connor. The tropes include family secrets, slow pacing, a sense of dread hanging as thick and menacing as the summer humidity, and big dark houses with big dark histories. Not only is Sharp Objects fictional, it is a specific and well-known kind of fictional.
Stories about writers returning to their small town homes feels familiar, and as old as time. It's the parable of the prodigal son, over and over, or the idea that you can't go home again. In fact, Adams' breakthrough performance was in a film called Junebug, which (albeit not a mystery) played with those same ideas. It's just that those angsty writers or artists returning to their roots are usually men. The difference in Sharp Objects is Camille.
Because of the way Sharp Objects uses these established Southern Gothic tropes to explore an aspect of womanhood not often shown on screen or in literature, it's almost better that the story is fictional and not based on any real events. We shouldn't have to check a story against a newspaper clipping to believe that characters like this, particularly women, exist in the world.