DIY Beauty Is So Much Easier With This 3-Step System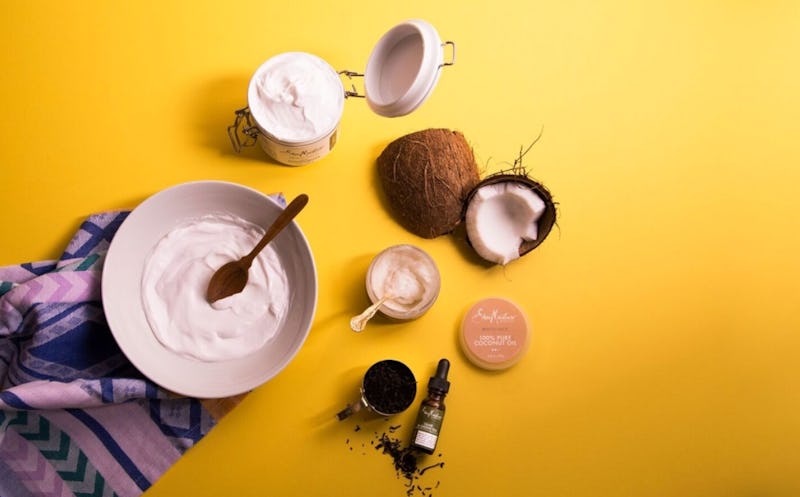 Courtesy SheaMoisture
Today I made my own body moisturizer and face mask. Each only took about three minutes and didn't involve any fruit mashing or more than three ingredients for that matter. And if you're wondering how it was so easy, it's because SheaMoisture's new Beauty Hack line has streamlined DIY beauty for those of us who want to try mixing custom lotions, washes, and scrubs but maybe don't have the time or ingredients to follow a more complex recipe.
And you guys, this line is pretty amazing. I'll liken it to baking brownies from a box rather than scratch— you have a pre-mixed base that you add a couple of ingredients to and mix 'em all together in a bowl. At the end of the day, you still have a real batch of brownies, but it was probably easier than making a batch where you measured out every single ingredient yourself. In that same way, Beauty Hack has three, simple steps: Base, oil, and fragrance. So if you wanted to customize, say, a clay mask, you would start with either Moroccan Rhassoul Clay or Aztec Bentonite Clay. Need some vitamin E and extra moisture? Pump in some sunflower oil. Finally, just add some water and maybe rose aromatherapeutic fragrance oil to relax your senses, mix it all together, and apply.
Bam. A clay mask tailored to your personal preferences.
If you prefer to have a guide when concocting your treatments, there are recipes on SheaMoisture.com and on the backs of all the Beauty Hack bases so you know what ratios of ingredients to include.
But what I think makes this line so fun is that you can really play around with different natural ingredients and customize a variety of blends. Maybe one day you want your scrub to have extra coconut oil and smell like lemongrass. Maybe another day you decide to add avocado oil, shea butter, and would prefer the scent of lavender and wild orchid. Hey, you could even add a fresh ingredient from your kitchen like banana or green tea for an added boost of benefits. Whatever you choose though, your beauty blend will be totally your own. Ready to DIY some products for your face, body, or even hair? Here's what's available for each Beauty Hack step:
Step One: Bases
From left: Body Oil, $9, Ulta | Body + Hair Cleanser, $9, Ulta | Body Moisturizer, $13, Ulta | Body Sugar Scrub, $13, Ulta | Face + Body + Hair Aztec Bentonite Clay, $10, Ulta | Face + Body + Hair Moroccan Rhassoul Clay, $10, Ulta
Whether you're more into cleansers, moisturizers, or masks, there are currently six base options to which you can add oil(s) and fragrance(s). Each can stand alone as well though, so if you want a no-frills body wash or sugar scrub, all of these make great fragrance-free options that you won't have to add anything to, to use (except for the clays which still need water to activate).
Step Two: Oils
From left: 100% Pure Macadamia Oil, $10, Ulta | 100% Pure Avocado Oil, $10, Ulta | 100% Raw Shea Butter, $4, Ulta | 100% Pure Coconut Oil, $4, Ulta | 100% Pure Grapeseed Oil, $10, Ulta | 100% Pure Sunflower Oil, $10, Ulta
While all of these oils can also be used alone for concentrated nourishment wherever you need it most, you can still add them to one of the above bases or even a product you already own. Mixing them in with other beauty products will increase that product's benefits by adding vitamins and conditioning and soothing properties.
Step Three: Aromatherapeutic Fragrance Oils
From left: Olive & Green Tea, $4, Ulta | Lemongrass, $4, Ulta | Rose, $4, Ulta | Lavender & Wild Orchid, $4, Ulta | Frankincense & Myrrh, $4, Ulta
Add the finishing touch to your DIY beauty product with a drop or two of an essential oil blend. Even if you prefer your skin and hair care to be fragrance-free, you could still use these fragrances in a diffuser to scent your space or even make your own perfume.
After all, who doesn't love personalized beauty?
The SheaMoisture Beauty Hack line is available now at Ulta and Ulta.com.