Shia LaBeouf's Protest Has Been Shut Down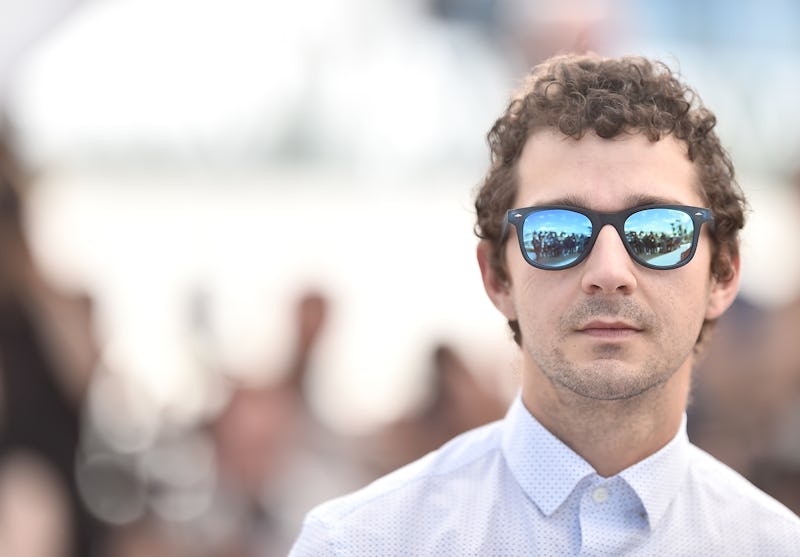 Pascal Le Segretain/Getty Images Entertainment/Getty Images
In the face of hearing that Shia LaBeouf's Donald Trump protest was shut down just weeks into its intended four-year run, it can be tempting to feel some kind of discouragement. But, if you look a little more closely at what actually happened, I think there's the potential to see this as a positive thing. It's a sad but true fact that the project was creating both controversy and conflict just days into its inception, so its cancelation doesn't come as much of a surprise. Bustle reached out to Shia LaBeouf and his team for comment, but did not immediately receive a response.
LaBeouf created "He Will Not Divide Us," a live-streaming project that filmed individuals outside the Museum of the Moving Image in Queens, New York, with the other two members of his artistic trio, Nastja Rönkkö and Luke Turner. The installation encouraged participants to say, "He will not divide us," into the camera, which began filming 24 hours a day, seven days a week, on Inauguration Day, and was slated to continue doing so for the entire duration of Trump's presidency.
But LaBeouf was arrested on the scene on Jan. 26 after getting into a physical altercation on camera, an argument that, according to a statement on the incident that the NYPD released to Bustle, involved "[only those who] were anti Trump." Violence is never the answer, and I'd be writing this same post no matter what the disagreement had stemmed from. But I think it's particularly telling that this project had the unintended result of creating tension even between those people who theoretically agree with each other.
This is a fraught, emotional time when it's easy for things to devolve into conflict. Unfortunately, it seems like this project was a catalyst for that conflict rather than a balm LaBeouf intended it to be. The official message of the installation was a good one — "he will not divide us" — but, when the reality isn't adhering to the message, cancellation is probably the best policy.
The Museum of Moving Image's decision to conclude "He Will Not Divide Us" was explained in a statement released on Feb. 10,
The installation created a serious and ongoing public safety hazard for the Museum, its visitors, staff, local residents, and businesses.
They acknowledge the installation's "original intent," but say that the project had veered away from the message of unity, particularly after LaBeouf's arrest, and instead become a "flashpoint for violence."
Over the course of the installation, there have been dozens of threats of violence and numerous arrests, such that police felt compelled to be stationed outside the installation 24 hours a day, seven days a week. We take our commitment to the safety of our 200,000 annual visitors and 50,000 school children attending programs at the Museum seriously, along with the safety and security of our staff and community.
So, while it's sad that the project was twisted from its intended purpose into something that threatened the safety of visitors to the museum, perhaps this is for the best. After all, I'm sure that LaBeouf will soon be back with another amazing art project that will bring the community together like this one was intended to.
Editor's Note: This article has been updated from its original version.