Shonda Rhimes Addressed The Details About Her Netflix Deal In Such A Powerful Way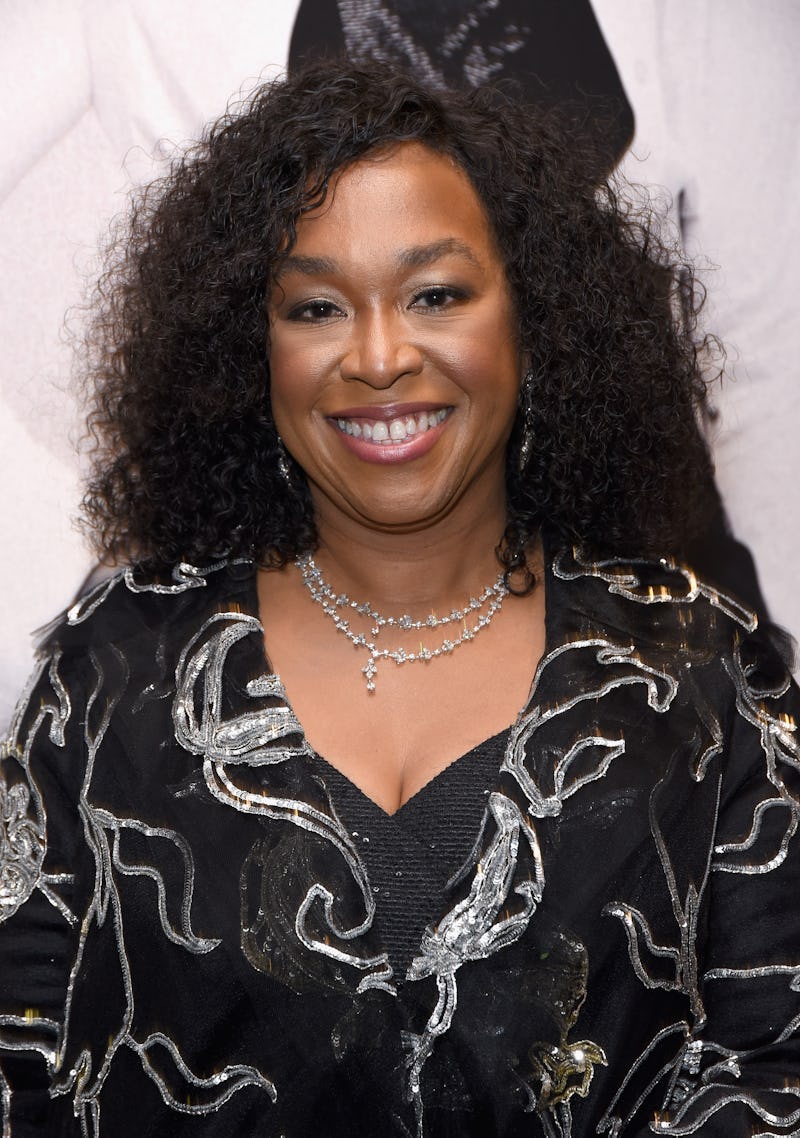 Presley Ann/Getty Images Entertainment/Getty Images
After changing the game in television programming with shows such as Grey's Anatomy, Scandal, and How To Get Away With Murder, Shonda Rhimes' revealed that she's the highest paid showrunner on television — and it's something that she feels everyone needs to know. While Rhimes' declaration may not seem like a big deal to some, the announcement is one that she is determined to get out because it's a hugely important narrative for women who continue to fight for equal pay in all industries.
During Elle's 25th annual Women in Hollywood celebration on Monday, Oct. 15, the 48-year-old producer and screenwriter took the stage to share a message that seeks to both unify and uplift women on a whole. In her speech, which was made in front of an audience of her peers in the entertainment industry, Rhimes opened by discussing the topic of women being made to feel that they don't have the right to "brag" about their accomplishments in the same way that men often do and called on those in attendance to demand what they deserve.
Rhimes, who per THR left ABC after 15 years to join Netflix, made a huge revelation about her new deal with the streaming giant in a move that showcases the importance of declaring your own worth, taking the stage to tell the audience: "I am the highest-paid showrunner in television."
The Emmy Award nominee also used the platform to address Grey's Anatomy star Ellen Pompeo's rise to becoming highest paid woman in dramatic television, saying:
"Over the course of the seasons, Ellen and I went from believing that we were employees of a network to understanding that we were the network. In a world in which women of all colors are constantly forced to battle with men for equity and inclusion, we have the good fortune to work in an environment that we had nurtured and built with enough of our sweat and tears over enough years that we no longer needed to battle men to get to the top of a mountain. We just built our own mountains, and then we realized that all we had to do was equalize and include one another."
Earlier this year, Pompeo, who was on-hand to present Rhimes with the L'Oreal Paris Luminary Award at the event that evening, revealed that she would be earning over $20 million a year for her participation in upcoming seasons of Grey's in the hope of setting an example for women in Hollywood to go after what they deserve.
Using examples of powerful men who openly discuss their accolades, Rhimes directly addressed the issue of women being uncomfortable with sharing their accomplishments.
Per Hollywood Reporter, she continued: "The other day I came to this conclusion that men brag and women hide. Even when they don't deserve to brag, men brag — [Donald] Trump, [Brett] Kavanuugh — and when men do deserve to brag, they are good at it. They do it so well. Men brag about everything, even things that aren't things.
Rhimes then referred to the interview that Pompeo conducted with THR back in January. In interview, Pompeo said: "I'm 48 now, so I've finally gotten to the place where I'm OK asking for what I deserve, which is something that comes only with age. Because I'm not the most 'relevant' actress out there. I know that's the industry perception because I've been this character for 14 years."
Rhimes said in reference to that article:
"A little while ago in an inspiring article, Ellen told the world she was the highest paid women in dramatic television. She did not hide. She bragged. She said she was powerful and she said deserved it, and there was some blowback. There should not have been. I have seen a thousand articles like that from men but she's a woman and she shouldn't say things like that."
Summarizing her reason for coming forth with her "highest paid" revelation, Rhimes continued:
"When I made a deal with Netflix, I let them interview my salary wrong in the press, and then I did as few interviews as possible and I put my head down and worked. In other words, I hid. I'm getting this award for inspiring other women; how can I inspire anyone if I'm hiding?"
THR notes that the event, which was also attended by fellow honorees such as; Angela Bassett, Mia Farrow, Lady Gaga, Yara Shahidi, Charlize Theron, Keira Knightley, and Sarah Paulson,as well as presenters such as Jennifer Lopez, Lena Waithe, and Sandra Bullock, erupted in a standing ovation following Rhimes' monumental announcement.
In closing, Rhimes called for unification amongst women and ended her speech by making a major point which shared:
"The struggle we are in the midst of that feels so hard is hard. But it is not impossible. Not if you have a community, a real one, a supportive one and tonight we have one another but there are women out there who are struggling and alone who do not have other women on their set. They may be the only person of color at their company, who may be older than you're used to, or younger, or browner or less abled. Women you've forgotten to include in your conversations and your world.
She continued, "Be a person who pulls other women, new women, different women, into your circle. Widen your circle to hold more people. Lose your judgments of who someone is based on what you've heard or what you assume. Make some friends. Find some new sisters. Come together, work together, brag together, be powerful together and whenever we can we should be lifting one another up because lifting someone up is what lifts us."
As the fight for equality marches on, Shonda Rhimes' poignant comments serve as an inspirational reminder that women must continue to support one another while remaining proud of their accomplishments along the way.