Shonda Rhimes' New Netflix Projects Are Bringing So Much Inclusivity To TV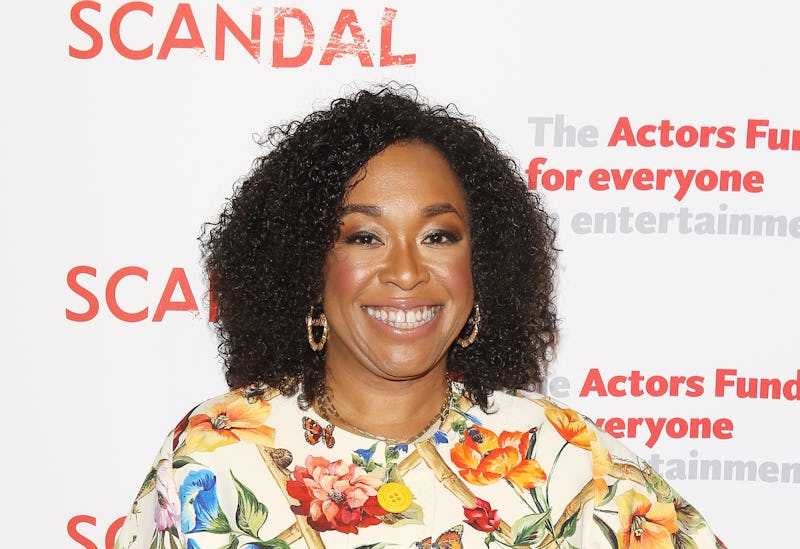 Michael Tran/Getty Images Entertainment/Getty Images
You've probably heard the reports already that media powerhouse Shonda Rhimes would be leaving her ABC roots to make the jump to Netflix. And after reviewing her agenda of both scripted and unscripted works, that move totally won't be in vain. Shonda Rhimes' new Netflix projects are taking a major step towards bringing inclusive stories to television, making Shondaland 2.0 another force to be reckoned with.
Rhimes has been pretty vocal about her disdain for the term "diversity," and instead chooses to replace it with "normalizing." As the television mastermind put it in her 2015 Human Rights Campaign Gala speech, titled, "You Are Not Alone," when producing content her aim is to make "the world of television normal." Rhimes continued, saying, "You should get to turn on the TV and see your tribe. And your tribe can be any kind of person, any one you identify with, anyone who feels like you, who feels like home, who feels like truth." And with her new host of programs hitting the Netflix platform soon, she'll be doing just that.
According to a recent Netflix press release, Shondaland will be introducing eight new programs — scripted and unscripted series and films — into the streaming plaform's fold real soon. And yes, all of the content accurately reflects Rhimes' goal to normalize television.
Starting with all of the series, there's an Untitled Shonda Rhimes Project, in which Rhimes will both create and executive produce, coming down the pipeline. The press release reads that the series is based on Jessica Pressler's 2018 New York Magazine article "How Anna Delvey Tricked New York's Party People," and will follow Delvy's controversial journey to becoming a Manhattan socialite. There's also a Untitled Bridgerton Project, of which Scandal's Chris Van Dusen will serve as showrunner and executive producer, adapting Julia Quinn's series of romance novels surrounding the secrets, lies, and scandals of Regency England.
Rhimes will also be handing the reigns over to renowned playwright Anna Deavere Smith, to executive produce and adapt Isabel Wilkerson's award-winning book The Warmth of Other Suns into a series by the same name. The episodic venture will touch on the 1916-1970 African-American migration from the Jim Crow South to the North and West. Emmy award-winning writer Janet Leahy will executive produce and create a series entitled Pico & Sepulveda, that will tell of the brutal war at the Mexican border in the 1840s — which resulted in America garnering the former-Mexican state of California. And writer and actor Jill Alexander is slated to co-executive produce and create a dark-comedy entitled Sunshine Scouts, based on a group of teenage girls who put their survival skills to the test in order to make it through sleepaway camp.
The press release noted that Shondaland at Netflix has also acquired the rights to a couple of nonfiction best-sellers — Kate Andersen Brower's The Residence: Inside the Private World of the White House, and Ellen Pao's Reset: My Fight for Inclusion and Lasting Change — to create separate projects surrounding tales of scandal and triumph. And lastly, Scandal director and director of photography Oliver Bokelberg will direct and produce a film surrounding Debbie Allen Dance Academy's award-winning ballet Hot Chocolate Nutcracker.
With the restraints of network television when it comes to the types of stories told, Rhimes' move to Netflix is shaping up to be the right one. Though garnering massive success with her shows Scandal, How to Get Away with Murder, and Grey's Anatomy on ABC, according to a 2017 interview on the Kara Swisher-hosted podcast "Recode Decode," Rhimes looked forward to having more creative freedom on Netflix.
"I love the creative freedom that's available [on Netflix]," Rhimes said on the podcast. "There's no restrictions. There's no broadcast standards and practices. There's no. 'It has to be this long' — I can make something that's an hour and a half long, I can make something that's 15 minutes long. There's no, 'We want to see more of this because that's what you've done before,'"
Rhimes and her staff will totally have their hands full as they roll out this magnificent host of programming, and, so far, with its own listing of inclusive storytelling, it looks like Netflix is going to be the perfect platform for them to live on.