Here's What Former 'Bachelor' Contestants Think About Bekah And Arie's Age Gap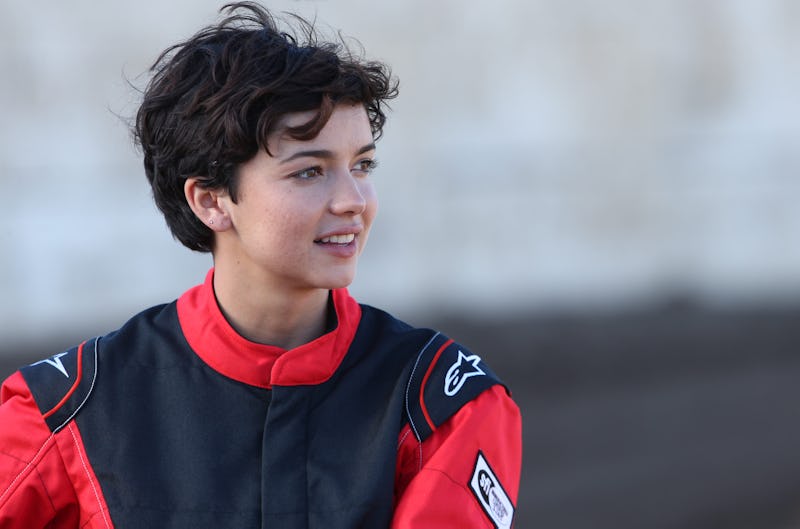 Dating IRL can be excruciating and confusing, but dating on The Bachelor is another thing entirely. Part of dating on television means you're put through a casting process, and contestants often don't know who the Bachelor will be when they sign up — never mind how old he is. So what happens when you're suddenly dating somebody who's significantly older or younger than you'd normally consider in real life? Does age matter on The Bachelor?
The question is especially poignant now thanks to the connection between contestant Bekah Martinez and Arie on this season of The Bachelor. Arie is 36, and Bekah is 22 — a 14-year age difference. But from the moment Bekah pulled into the driveway of the Bachelor mansion in that classic car, it was apparent she had a connection with Arie. He didn't know her age then, of course, and his reaction to her being 22 was both aggravating and understandable. Bekah told Arie that she didn't lead with her age because she didn't want him to put her in a box because of it, but Arie's response may have retroactively done that. "You're so young! Gosh. Have you ever dated anyone my age?" Arie said upon learning the news. "I obviously knew you were young when I met you, so that's why I was hesitant. I wanted to make sure you were ready for this."
Ready for what? Love? A relationship? No, Arie meant marriage. During the exchange, Arie kept telling Bekah that she couldn't possibly want what he wants, they couldn't possibly be on the same page. This is not only presumptuous, but it's sexist, too, to assume that a young woman doesn't know what she wants. How about Bekah tells us what she thinks she's ready for and not the other way around? Arie would not make the assertion that Bekah isn't ready for the life he imagines post-Bachelor if she were older.
Nick Viall was 36 when he was the Bachelor, and the average age of his contestants was 26. Arie is also 36, and his average contestant age is 27. Obviously, there are quite a few women on the season who are much younger than that. Should the contestants and Bachelor be closer in age? Is it The Bachelor's responsibility to even this playing field and not treat women like they're stale if they're over 30, especially when the Bachelor himself often is?
Alexis Waters, who was 23 when she appeared on Nick's season, tells Bustle, "In general, age does not matter to me. However, it does generally represent how mature or what stage [a person is at] in life... I can't see myself dating a 50-year-old or 20-year-old because those are two completely different stages in life." When it came to being on The Bachelor, she didn't think too much about the age gap. "I really wasn't concerned about my age. I grew up with four older sisters, so I felt as if I grew up fast," Alexis says. "In the end, Nick and I weren't compatible, and I don't think it had anything to do with my age. Well, maybe it did, because I was more into drinking the champagne during rose ceremonies than fighting with girls!"
Ashley Spivey was 26 when she appeared on Brad Womack's season (he was 38). When asked about the age difference between her and Brad, Ashley reveals she didn't know about it coming in. "I thought I was going on the show for someone who was much younger. I don't remember anyone ever asking me if I would be OK dating someone older on the show," she says. "Once I was on, however, our difference in age was very apparent. He was super reserved and gentlemanly and I'm a liberal and loud firecracker. I knew we were doomed when I asked his favorite movie and he said American History X."
Movie choices aside, both Alexis and Ashley think it's a good thing that viewers are questioning the age differences on The Bachelor. "I think it's wonderful that Bachelor nation fans are so outspoken. I do understand where they're coming from, because they most likely think that a very young contestant has no intention of finding love or settling down," Alexis says. "But as for Bekah… she is a lot more mature than most people I know."
I knew we were doomed when I asked his favorite movie and he said American History X."
Ashley thinks that the public outcry has a lot to do not only with today's social conversations but also with the age of the viewers.
"I've been on Twitter since my season so I've seen a ton of the same people who didn't have a problem with Emily and Brad's [13-year] age difference now have a problem with Arie and Bekah's age difference. I think that has a lot to do with the fans getting older and them putting themselves in the situation," she says. She also says that in the casting process, being close in age isn't necessarily a priority.
"You also have to keep in mind that these women were being cast before the Bachelor was chosen, so they pick from a pool and aim for what the person they are leaning towards will like. These women could have been on Peter [Kraus], Eric [Bigger], or Arie's season. Would they have been more age appropriate for Eric? Sure! However, I think a huge part of it has to do with what the ages are of the girls who are trying out for the show. After this season, I'm hoping ABC will take that into consideration and have some older women, or a younger Bachelor."
It's a fine line the show has to walk. The producers have to make the show exciting and interesting, which means you need to cast some big personalities, but it also has to be (semi) believable that these people could fall in love. But we also can't insinuate or insist that young women have no agency over their own bodies and choices. They're not being forced to appear on the show. These are women who are decidedly choosing to participate on The Bachelor, even though they're not sure what they'll find when they get there. That risk is seemingly worth the reward of everlasting love. That said, The Bachelor could do better to not proliferate the idea that life ends when women turn 30, and it's a conversation that the show — and viewers, too — should keep having.