7 Reasons You Shouldn't Quit Your Job — At Least Not Yet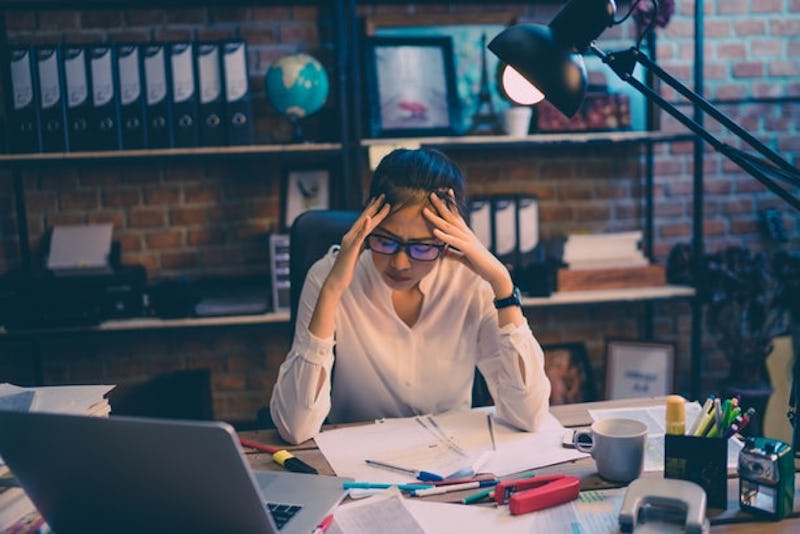 Fotolia
For the third year in a row, Bustle's Upstart Awards are honoring young women who are doing incredible things in the realms of business, STEM, fashion and beauty, the arts, philanthropy, and beyond. Want to be an Upstarts honoree one day? Read on for career tips, insights, and inspiration to help get you there.
After a year of being berated by a sexist boss in the fashion world, I quit my job. I didn't just quit my job, in that I gave my two weeks notice or anything, but on a coffee run for this boss, I decided to walk past the coffee shop and just kept walking, crying the whole way. I was done; I just couldn't do it anymore.
Although the next morning I woke up feeling relieved, knowing I'd never have to deal with such a hateful human being again, the relief was short-lived. I didn't have another job lined up, I had zero savings, no plan, and had to tell my parents that I had made a "huge, tiny mistake," to quote Gob Bluth from Arrested Development. I may have alleviated the emotional stress from my life, but in quitting the way I did, I just added a different type of stress to my life. As usual, I wasn't really thinking long-term; I just wanted out.
"The job market is so lean and challenging it can take months, or a year or more to find another job, so I would not recommend anyone quit or leave a job before having a firm offer in place from a new one," career coach and founder and recruiter of Ninja Recruiting, Jennifer Yeko, tells Bustle. "There is more to life than money and work, but I try to help people all day who can't find a new job — whether they have been laid off or still have a job and are unsatisfied — so I always say to be conservative."
So if you're thinking it's time for a job change, here's when you want to hold off on jumping ship.
Although you may initially think, while you fantasize about quitting your job, that you'll be better off, it's important to realize what it truly means to be with out that job. You're not just quitting the job, but quitting lots of things in the process.
"Quitting a job — even if you hate it — is a loss," creator of From the Inside Out Project, Laura MacLeod, LMSW, tells Bustle. "You will lose your routine, your colleagues, your income, your comfort with what you know. That means you need to prepare for the discomfort — possibly anger, sadness, relief, and feeling uprooted."
No job is perfect. That's just a fact. But if you can figure out why you're not happy, be cool with it, and understand it, it will put you in a good position to move forward.
"If you're unhappy it's important to understand why you want to leave [your job] before you do so," Moritz Kothe, CEO of kununu, tells Bustle. "If you can't come up with a solid reasoning for going through the job hunting process, consider sticking around until you truly understand what you're missing and what you need in order to move on to something better. The last thing you want to do is step out of a bad situation and move into another because you didn't really understand what went wrong in the first place."
You likely can't return to a job you've quit. Once you've given it up, it's gone. Because of this, you want to have an idea in your mind of what it means and what things will look like without it.
"Prepare by being absolutely sure this is the best decision," says MacLeod. "Ways to do that: Imagine your life without the job — take yourself through a day when you don't work there. Trust your gut feelings — relief and elation? Or uncertainty and panic? You need to know exactly how you feel without your job. You may want to make a list — pros and cons — is it really as bad as you think? Can anything be changed if you advocate?"
Although this should go without saying, you should have savings before you even consider quitting. Even if you're single and only have yourself to take care of, with zero dependents, if you only have a couple grand in your savings account, you can't expect that to go far at all.
"I would make sure you have eight to 12 months, if not more of your salary saved as a cushion and honestly, these days, two years would be better because the job market is pretty rough out there," says Yeko. "I've seen senior people making over six figures take one to two years, if not more to find a new job, if they ever do. Again, I would never, ever, ever advocate quitting a job unless you have a new job in place and the company is secure, and honestly, almost no job is secure these days."
Before you leave, it's important to not just have a bit of direction, but at least know the going rate at whatever new job you're considering and what it should look like. If you've been at the same company for a long time, you're probably out of the loop, so do your research and get back in the loop.
"Research other jobs and consult trusted colleagues, friends and family," says MacLeod. "Get a close look at what you would be moving to — so you can hold onto and welcome the new. You'll have to manage change — not easy for anyone — so the more prepared you are, knowing what's ahead, the better."
Even if you're still unsure of what you want to do when you grow up, as many of us are, you at least want to have an idea about what sort of company or work environment would be a good fit for you. For example, if you know that you can't do the corporate thing, then don't force yourself into a corporate atmosphere. It's really that simple.
"Understanding what went wrong is only part of the thought process," says Kothe. "You should also spend time (outside of work) considering what factors are important to you in your next role. What kind of company culture are you looking for? Is culture more important to you than salary or benefits? Fully understanding what you're looking for before you take the dramatic step of quitting tends to be the best approach."
Even if something looks good on paper, it doesn't mean it's necessarily stable. It's actually better to hang onto something stable, than risk something that's not so stable and potentially end up jobless.
"I wouldn't quit a stable job to go somewhere unknown, whether it's a new company or startup because a new place is almost always more risky than somewhere you've been," says Yeko. "Especially if you've been there a number of years and you have seniority, job stability, and a good working relationship with your boss and co-workers."
Although you're under no obligation to stay in any job you have, especially one that's making you miserable, you should have a game plan before you quit. You might think your life without that particular job will be great, but things always look better in theory. So prepare and consider what quitting really means.