All The Signs That Nick & Vanessa Were Doomed From Day One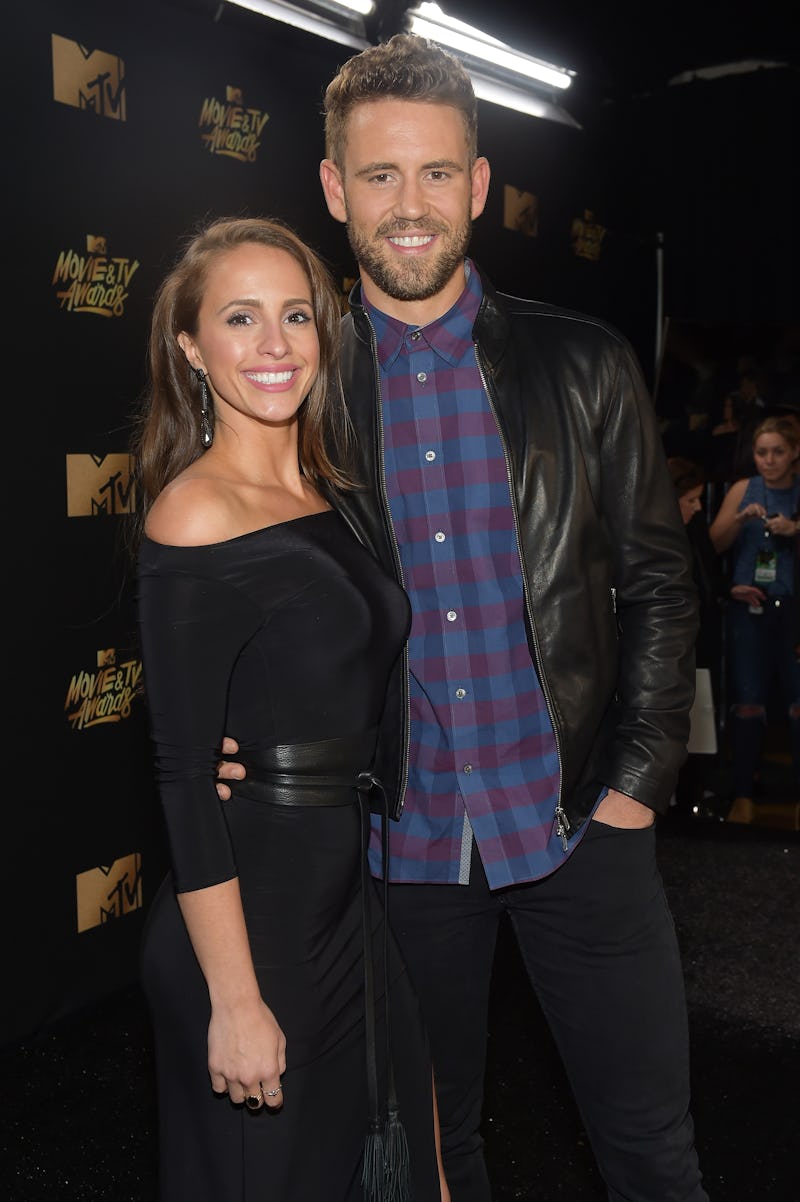 Matt Winkelmeyer/Getty Images Entertainment/Getty Images
It looks like yet another Bachelor couple won't quite make it down the aisle, and the world is... shocked? (OK, not quite.) After five months of engagement following The Bachelor Season 21 finale, Nick Viall and Vanessa Grimaldi called it quits. On Friday morning, E! News revealed the breakup with a joint statement, saying, "We gave this relationship our all and we are saddened that we did not get the fairytale ending we hoped for." While the sentiment seems sincere, it's questionable how genuine the actual relationship was. Bachelor fans may not be so thrown by the news considering signs that Nick and Vanessa were doomed were there all along.
Something about their chemistry (or lack thereof) was clear to fans even back when the two announced they were together in the spring. They just didn't have that thing. Plus, Nick's true intentions were questioned from the start since he had already been on so many seasons of the show and its franchises. Was he milking the spotlight? Did he just pick someone to get it over with already? It's all still very suspect.
While most fans are on the same page about how unsurprising Friday's news is, the telltale signs validate everything.
1. That Awkward After The Final Rose Episode
First off, their emergence into the world as a brand new couple said it all. Nick and Vanessa's beyond awkward After the Final Rose episode simply cannot be unseen. It created endless GIFs and memes, and was the talk of the town for a reason. Their distant body language and uncomfortable facial expressions, in a time that should've been pure bliss, were more like those of two small siblings fighting for shotgun.
2. Deflecting The Criticism
In a chat on The Ellen DeGeneres Show, Vanessa deflected the internet talk and said, "I don't think so. I think we both went in it wanting to be honest and open about couples." But if even the most hopeless romantic of fans were skeptical then, their intuition was definitely onto something.
3. The BiP Wedding
This screenshot from Carly Waddell and Evan Bass' wedding says it all. The two have uncomfortable looks on their faces matched with a 2-foot radius apart from one another. Although the special recently aired, the wedding actually took place in June. Talk about trouble in paradise.
4. Nick's Intentions
Nick had been on so many cycles of the show before The Bachelor. After appearing on not one, but two seasons of The Bachelorette (and getting runner-up), and Bachelor in Paradise, Nick gave a stab at being the franchise's leading man. Was Nick really looking for love? Or was it the attention?
5. No Plans For Marriage
In March, Nick openly said he wasn't planning on marrying his fiancée in the near future even though they were engaged. "Like Vanessa and I have said, it's too early for us right now," he told inTouch. "We're very open about the fact that we have a long way to go." A red flag to say the least.
6. The "Emotional Roller Coaster" Engagement
Rather than relishing in the moment of proposing, Nick admitted it wasn't quite fairy tale material. He told People that he still had emotions lingering from saying goodbye to Raven just before proposing to Vanessa. "In that world the engagement day is not your ideal day just because it's The Bachelor," he said. "Most people when they get engaged there's a lot of great, exciting anticipation and for me that was a very emotional roller coaster." But if you're with The One, the fireworks should be there with or without the cameras, right?
7. The Wrong Choice
When the proposal was revealed, fans freaked out over Nick's decision, saying he should've chose Raven in the end. Audiences recently relived this when Rachel Lindsay chose Brian over Peter. That can't be a good sign.
8. Trista's Shade
If the original Bachelorette, who's still married to her pick, questions the relationship, something is up. Trista and Ryan have been married for 14 years since being on the show, so if anyone has a right to sense something fishy, it's them.
9. Their Sudden Move
Just after announcing their engagement, Nick and Vanessa moved to LA to be together — where neither had previously lived. A new city is hard to get used to all alone, never mind adjusting to having a new fiancé in the process, and living a normal life outside reality TV. It was probably way too much too quickly.
Needless to say, Nick and Vanessa's peculiar relationship left much to be desired, and the Bachelor world has had much more shocking news.