Simone Biles Is Taking On A New Challenge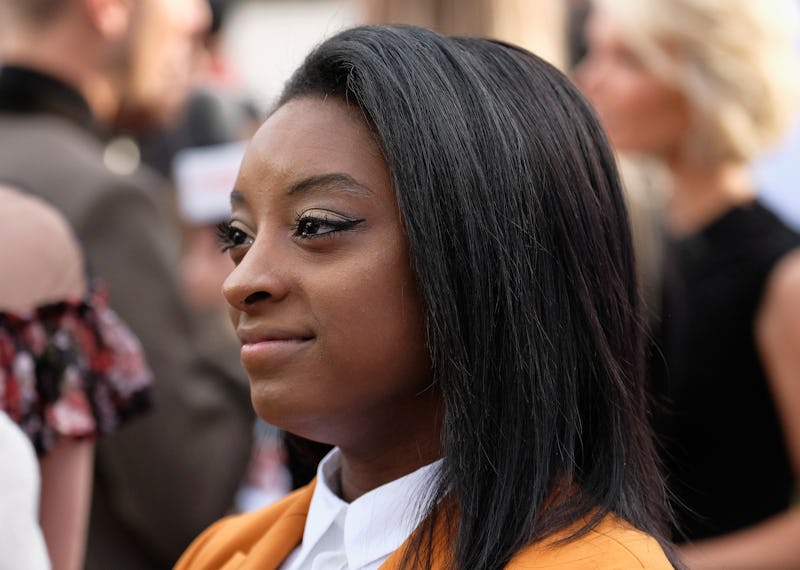 Frazer Harrison/Getty Images Entertainment/Getty Images
The casting details for Season 24 of Dancing With The Stars are slowly spilling, and by the looks of things, this may be the most entertaining season yet. Next up to strap on their dancing shoes are Olympian Simone Biles and pro-wrestler Mr. T. According to Variety, both Biles and Mr. T were recruited for DWTS Season 23, but scheduling conflicts wouldn't allow it. I'll admit that the casting does sound pretty random, but there's no need to pity any fools. This could mean great things for the 19-year-old gold medalist and her performance skills. Biles' Final Five teammate in the Rio de Janeiro games, Laurie Hernandez, took home the DWTS grand prize during Season 23, setting just enough precedence for her to do the same.
Biles, who hails from Columbus, Ohio, has been a gymnast since the age of 6. The star has such a powerful story — in that both of her parents struggled with drug addiction, she and her siblings spent time in foster care, and they were later adopted by her grandparents. In spite of it all, Biles has defeated the odds, and she's a true inspiration to many. She'll definitely be my favorite to watch, and I'm almost positive the rest of the world will cling to her too.
Also busting a move during the upcoming DWTS season are Olympian figure skater Nancy Kerrigan and an undisclosed member of the singing group Fifth Harmony. You may remember Kerrigan from competing in the '92 and '94 Olympic games — taking home bronze and silver medals, respectively.
Fifth Harmony has been in the spotlight recently with the December announcement of Camila Cabello leaving the quintet.
Season 21's The Bachelor star Nick Viall is also supposedly among the shortlist of DWTS hopefuls. According to Variety, ABC declined to comment on the casting rumors, but I can bet that, if available, Viall will totally be down to do it. He seems easygoing enough to handle any challenge coming his way.
But unless he has some form of dance training that the world doesn't know about, I'm not too sure he'll stand a chance against Biles or Kerrigan on the floor.
The full list of contenders won't be announced until March 1, but so far, it's shaping up to be pretty exciting season.