This Is What Simone Biles Thinks Of USA Gymnastics Possibly Getting Shut Down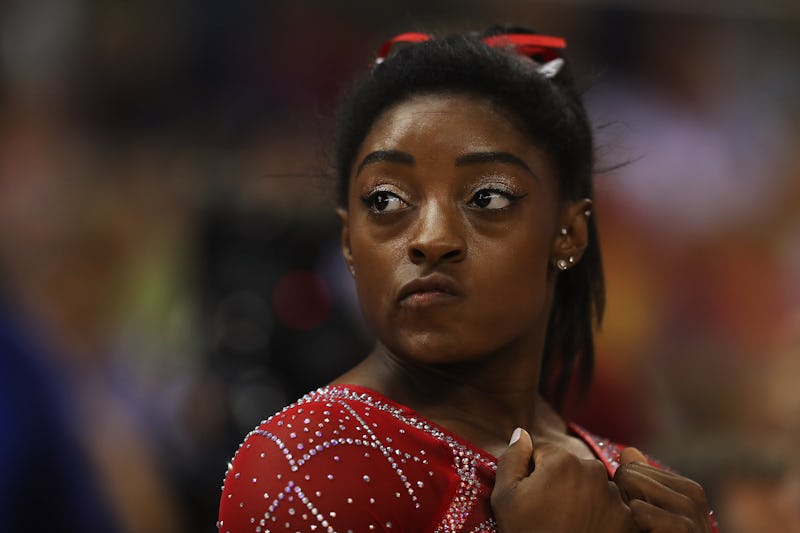 Francois Nel/Getty Images Sport/Getty Images
Over the past year, Simone Biles has been a vocal critic of how USA Gymnastics (USAG) moved to address the systemic issues that allowed a team doctor to abuse hundreds of athletes. Now, the Olympic and world champion gymnast is weighing in on the U.S. Olympic Committee's plan to pull USA Gymnastics authority as a governing body at the Olympic level. In an interview with NBC's TODAY show on Friday, Biles cautiously responded to the Olympic Committee's plan for USA Gymnastics.
"I definitely think they need to take initiative, but I think it's a start in the right direction," Biles said in response to news that the U.S. Olympic Committee had initiated a Section 8 proceeding against USA Gymnastics. "But then again, we still need a strong leader for the head of our company. I think it goes from there, but all we can do is sit down and watch and hope for the best."
The U.S. Olympic Committee announced Monday it had moved to begin the process of revoking USA Gymnastics' recognition as the national governing body for the sport at the Olympic level following the sexual abuse case involving former team doctor Larry Nassar.
"We believe the challenges facing [USA Gymnastics] are simply more than it is capable of overcoming in its current form," U.S. Olympic Committee CEO Sarah Hirshland wrote in an open letter to USAG gymnasts. "We have worked closely with the new USAG board over recent months to support them, but despite diligent effort, the NGB continues to struggle. And that's not fair to gymnasts around the country. Even weeks ago, I hoped there was a different way forward. But we now believe that is no longer possible."
According to USA Today, USA Gymnastics hasn't lost its recognition as the sport's national governing body just yet. Rather, Monday's announcement followed the formal filing of a complaint against USA Gymnastics. According to Hirshland, a review panel will be determined and a hearing will be held at which USA Gymnastics will be able to argue the allegations behind the complaint. The review panel will then issue a recommendation for action regarding USA Gymnastics' recognition, which the U.S. Olympic Committee board with vote on.
It's unclear how long the process will take, as the U.S. Olympic Committee's bylaws do not mandate specific a time frame. In her letter to the USAG gymnasts, Hirshland noted that she did not know how long the Section 8 process would take, but stressed that the U.S. Olympic Committee would "make every effort to proceed quickly."
Earlier this year, Biles accused Nassar of sexually abusing her. "I, too, am one of the many survivors that was sexually abused by Larry Nassar," the gymnast wrote in a statement shared over Twitter in January. "It is not normal to receive any type of treatment from a trusted team physician and refer to it horrifyingly as the 'special' treatment. This behavior is completely unacceptable, disgusting, and abusive, especially coming from someone whom I was TOLD to trust."
Overall more than 260 women and girls came forward to accuse Nassar of sexually assaulting them, including Biles' Olympic teammates Aly Raisman and Gabby Douglas as well as former Olympians McKayla Maroney and Jordyn Wieber. In February, a judge sentenced Nassar to 40 to 125 years in prison on three counts of criminal sexual conduct.