Charlotte Lawrence Knows She's Living The Dream Of Every Teen Singer-Songwriter Around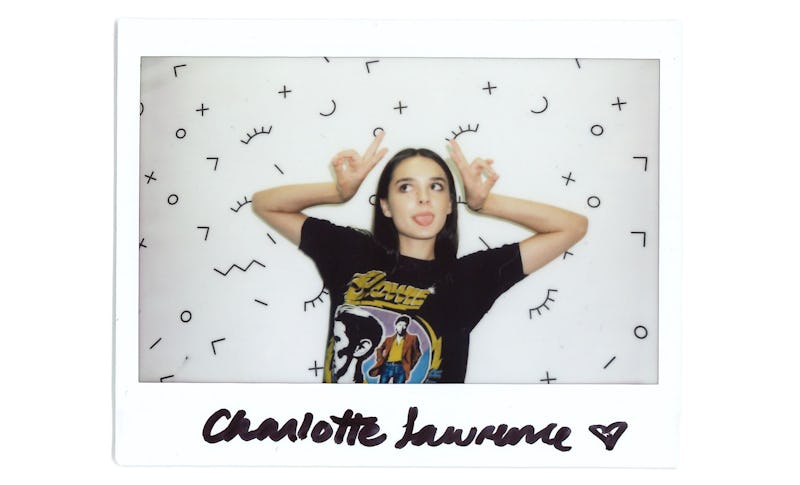 When celebrities hang out with Bustle editors, we want to give them the chance to leave their mark. Literally. So we hand them a pen, a piece of paper, a few questions, and ask them to get creative. The rest is up to them. This time, singer-songwriter Charlotte Lawrence is leaving her mark in the Bustle Booth.
Charlotte Lawrence has just flown in from Los Angeles when she comes into Bustle's New York office. She's been busy releasing a music video ("Falling Skies", with YUNGBLUD) and promoting a new song ("The Few Things", with JP Saxe). In a few months, she'll head out to Europe and across America for her first major tour, all while finishing up her second EP, out later this year. Oh, and while she's in NYC, she might get a tattoo — "Everybody Loves You", the name of one of her most popular songs. If it sounds like the 18-year-old Lawrence is living the dream of pretty much every singer-songwriter right now, you'd be right.
"To [be] a teen girl and to be able to be a musician and release this crazy music that I want to release and do things that I want to do and do the job that I want to do... I feel so lucky," she says when we sit down in Bustle's green room, her eyes wide as if she still can't believe it.
Although Lawrence is still a relative newcomer to the music industry (her first EP, Young, came out in June), she's already made a sizable impact. Young earned strong reviews and some serious Spotify remotion, and a four-city tour the singer did earlier this year sold out ("To have people scream the words back to me, even my unreleased songs, I was freaking out," Lawrence recalls). It's been a whirlwind year, but the singer isn't taking any of it for granted.
"Music's my passion, so it's so cool to see other people loving it too and responding to it and relating to it," she says. "When you get that final product that you love and you're so happy with, to perform it in front of people..." she trails off, clearly already thinking about that upcoming trip abroad.
While Lawrence may be just starting out, she has a better foundation than most. Her parents are actor Christa Miller and writer/producer Bill Lawrence, and her friend group includes Natalie Maines (who sang with her during an LA concert a few months ago) and model Kaia Gerber, a close friend since childhood. Like Lawrence, Gerber is also exploring Hollywood in her teens, and the two often lean on each other for support. "I think she's wise beyond her years, and I'll always go to her for advice for everything," says Lawrence. "She's a year and a half younger than me, and still I look up to her."
The singer may be in good company these days, but she's intent on marking a singular path; already, she's seen the impact that her most personal tracks, like "Everybody Loves You" and "Keep Me Up", have had on her fans. "I'll get paragraph messages like, this happened to me, this is how it felt, and your song made me feel like this," she explains. "It's so special because it makes me feel special, it makes me feel like I helped that person through music."
And with that upcoming tour and second EP, Lawrence will get to reach more people than ever before. Read on to see how she's leaving her mark.