This Is The Mark Of A Successful Date, According To 2,000 Singles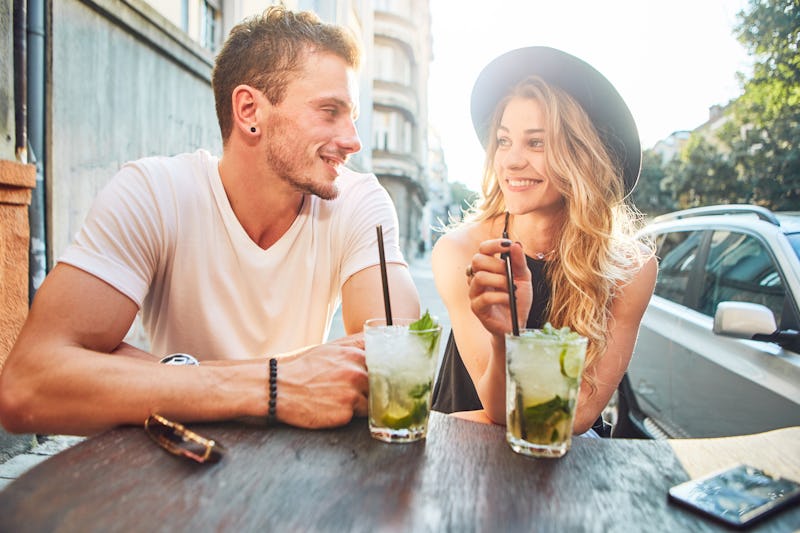 Astarot/Fotolia
If you've ever gone on a date with someone you really liked and wondered if it was a success, the answer is pretty simple. Just think back on the conversations you had. As a newly released survey conducted by Plenty of Fish found, nine out of 10 singles say great conversation is the number one sign of a successful date.
I know it seems pretty obvious. I mean, you can't just go out with someone, stare at each other the entire night and know you're meant to be. You have to talk to someone in order to know whether or not you really click. But according to the survey of 2,000 singles, it may not be as easy as it seems to connect on a date.
In fact, 65 percent of people believe that "conversation is a lost art" and another 61 percent blame technology for messing with our ability to have meaningful face-to-face conversations. If fear of rejection stops you from even just talking to someone you like, you're not alone — 48 percent of people say that's the number one reason why they're hesitant to make the first move. Not knowing what to say comes in at second.
Why A Good Conversation Makes Someone More Attractive
Having good banter over text seems great initially. But knowing how to have a great conversation in person is much more important. According to nearly 90 percent of singles, they say they found someone more attractive after having a conversation with them. In fact, good conversations can give you the opportunity to showcase your intelligence, your "sexy voice," or your sense of humor. According to singles, those are the top three things that made a date appear more attractive.
So if your face-to-face conversation skills are a little rusty, now's a great time to brush up on those skills! Here are some tips on how you can have great conversations on your dates: