'Skate Kitchen' Director Crystal Moselle Is Killing It — Even If She Doesn't Believe It Yet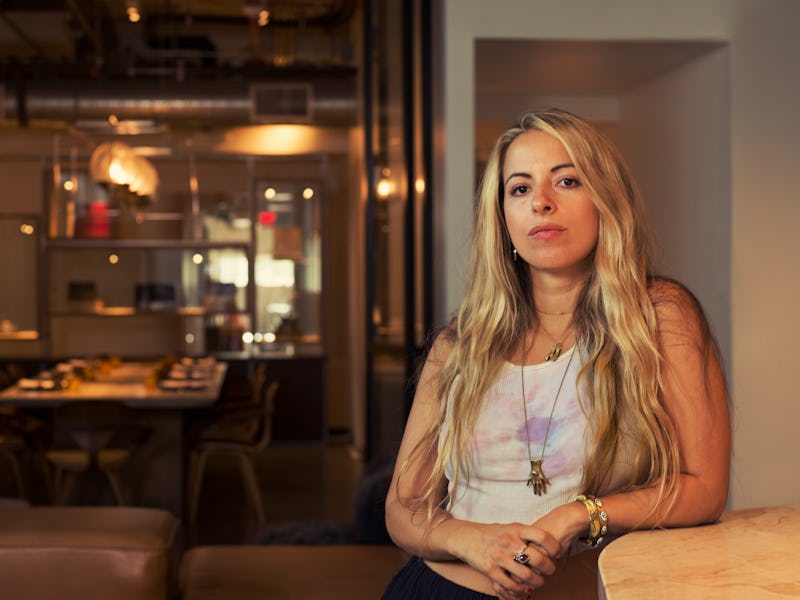 Moselle at NeueHouse Hollywood / Photographer: Tim Hans
In the film world, "killing it" takes a lot of different forms. You could be killing it if you're being commissioned to write or direct a slew of big blockbuster films, raking in the cash by the fistful. Or maybe, you're one of five people likely to be standing onstage at the Oscars this February, giving a speech and remembering, faithfully, to thank your mom. In Skate Kitchen director Crystal Moselle's case, killing it means riding into the August 17 premiere of a film — her second — that has already charmed critics by breaking pretty much every rule.
If Moselle's name sounds familiar, you've probably seen (or been begged by a friend to see) her critically beloved, award-winning documentary The Wolfpack (it's on Netflix, if you've somehow missed the boat). Moselle's film blew minds at Sundance in 2015, taking home the U.S. Documentary Grand Jury Prize — a decent reward for four years of hard work, following the lives of six brothers on New York's Lower East Side. These brothers were, for much of their lives, confined to their apartment by their father and turned to films, and recreating said films in their tiny apartment, as a way to understand the world. Moselle found them one day, on the streets of the city, dressed like the cast of Reservoir Dogs, and they quickly became her "muses" as she calls them.
"I like young people that are passionate about something. I really love to feel like a group of people are coming together and creating something together. That inspires me," she says, when we speak at Neuehouse in Hollywood. She's about to give a talk about her career, one of many events that the swanky co-working-space-slash-clubhouse for creatives has planned throughout the week, starting with a rooftop screening of her claim to fame and culminating in one big party for the premiere of Skate Kitchen. (See? Killing it.)
The film, starring Jaden Smith and a gaggle of real-life skater girls that Moselle met on the G train in New York (naturally), is a bit of a hybrid, not quite documentary, but not fully fiction. Moselle befriended these skater girls, observing their lives and their conversations, and later morphed it all into a narrative and a script. Ultimately, she chose to make her film with these real people rather than actors. The result had her putting the cast through rigorous rehearsals and once, for a scene in which the girls are talking about tampons and good ol' toxic shock syndrome, she had them rehearse and then shoot the scene 30 times. ("I'm a crazy person," she jokes to the crowd during her Neuehouse talk.) She also brought in real, jarring elements of their lives, like star Rachel Vinberg, whose character gets "credit-carded" while skating in the opening moments of the movie. (It's brutal.) That blunt, honest depiction of teen girls' lives originally made it difficult for the film to get acquired before Magnolia Pictures nabbed it, says Moselle.
"I think that that was another part of this film: That it's all women, it's a diverse crew of women, and they're talking about topics that no movie has ever discussed before, which scared a lot of people too," she offers, adding that these things just happen when the folks making decisions are "40- and 50-year-old white men."
"There are quite a few countries that won't buy our film at this point. It would blow your mind if you found out which ones," she teases. (Being the smart businesswoman she is, she refuses to name names.)
Still, critics who've seen the film seem to agree the risks were worth it — it's currently rocking a fresh rating on Rotten Tomatoes and its unconventional creation has been chronicled by NPR, Entertainment Weekly, and Vanity Fair. While this will mark the second time she's achieved critical acclaim by meeting people randomly, out in the wild, she swears this isn't something that happens all the time.
"I don't talk to people all the time, but I do have this strange instinct inside me that goes off and I become interested in somebody and I want to figure out what their story is or who they are," says the 39-year-old. And while she may, indeed, be much older than these young people she bonds with, it's easy to see why they're such fast friends. She's got a timelessly adolescent vibe about her, still hanging on to the laid-back California sensibilities of her childhood, despite being a New Yorker for the past 20 years. She also, by her own admission, still struggles with confidence — despite her smashing successes.
Though she's been a filmmaker since she was a teen, transitioning from acting ("I think I started to get really insecure. I kind of lost it, wasn't able to act anymore," she admits) to managing theater productions to eventually adding video elements into those productions and producing her own "art videos." As an adult, she made a living directing commercials and, in fact, creating branded content for the beauty industry ("A lot of beautiful women closing their eyes and opening them," she jests) is what gave her enough capital to spend years filming The Wolfpack. From there, she was hired to create a branded content/short film hybrid for couture fashion house, Miu Miu, which would eventually become the foundation for Skate Kitchen. She hired the skater girls from the G train to play out her vision — and wear some fabulous couture — and made sure to strike a deal that made her the sole owner of the concept should she choose to make it a feature-length film later. But that transformation almost didn't happen.
"I got really f*cked up after Wolfpack," she admits, referring to the rules that kept it out of the running for major awards. It wasn't until the head of programming at Sundance, Kim Yutani, convinced her that she dove into making Skate Kitchen as a narrative film rather than a documentary.
And even now, as critics are loving it and calling it a feminist triumph and a painstakingly accurate depiction of teenage life, there are some who detract, slamming the film for its light plot or lackadaisical pace. "I don't think plot is really my thing," she says. But while some people are bound to not get it, especially when Moselle makes films without regard for where the guard rails are supposed to be, she knows it's just part of the gig, especially as a woman in the film industry.
"Yeah, it's funny, it's like when I look back years, but I was never feeling [that my gender was a factor] when I started making films and doing things. I really never completely focused on it until Wolfpack came out and I started to get attention for my career and everything," she says. "Everyone was like, 'Has it been hard coming up as a woman?' ... I didn't think about it, but yeah I guess it probably was hard, but I didn't focus on it. Maybe I didn't get as many opportunities, but I just said in my head, 'Well that's the way it is for us.'"
Fortunately, that predilection for realism and for understanding that certain things just are the way they are is exactly why people are paying attention.