Here's How You Can See 'Sleepless In Seattle' When It Returns To Theaters This December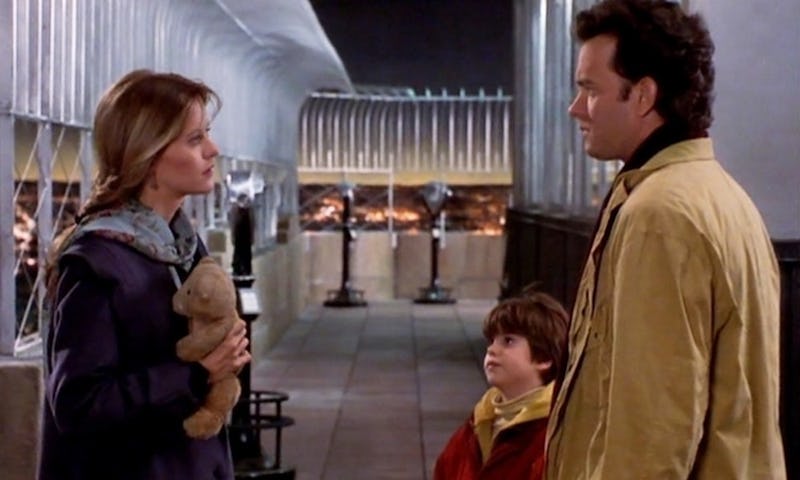 Sony Pictures Entertainment
Instead of heading to the top of the Empire State Building to celebrate the 25th anniversary of Sleepless in Seattle, why not go to your local movie house? Sleepless in Seattle is returning to theaters for two days in December, so you can fall in love with Tom Hanks and Meg Ryan all over again. Better start stocking up on tissues because you're gonna need them real soon.
According to E!, Fathom Events and Sony Pictures Entertainment will host screenings of Sleepless in Seattle in over 400 theaters across the country on Dec. 2 and 5. All those hopeless romantics will be joined by Ryan and the film's producer Gary Foster, who will introduce the film in a pre-recorded message before each of the showings.
"We couldn't let 2018 come to an end without honoring one of the truly great romantic comedies as it celebrates its 25th anniversary," Tom Lucas, Fathom Events VP of Studio Relations, said. "And we're doubly excited to have the help of Meg Ryan and Gary Foster, whose talents were so critical to making this film a success."
In this rom-com renaissance, thanks to Netflix's recent films like To All The Boys I've Loved Before and Sierra Burgess Is A Loser, it's worth rewatching this quintessential romantic comedy that has been imitated, but not exactly duplicated.
In the film, Hanks plays grieving widower Sam Baldwin who tells his heartbreaking story to a radio host that Ryan's Annie Reed, a newspaper writer, just so happens to be listening to. The story touches her so much that she starts thinking about how she wants what Sam had in her own life. Or, to be more exact, she wants Sam in her life instead of her horrible fiancé Walter. The film asks the question of whether a person can find love again. And, 25-year spoiler: they can!
While some may wonder why they'd want to pay to go see a film in theaters when they've possibly seen a hundred times on cable, it might actually be a chance to catch something new. It's safe to assume there's a lot of new things you might notice if you re-watch Sleepless in Seattle as an adult, like say, how quickly Sam's boss thinks he should move on after his wife's death. (Hello, he lost the love of his life, it's gonna take time, bow tie man!)
For those who haven't seen it yet, the big screen experience might help them understand why Sleepless in Seattle is such a classic love story that deserves to be everyone's go-to Valentine's Day movie. Others might realize that social media would have totally changed this film — and probably, not for the better.
And there definitely will be some that think Sleepless in Seattle is a toxic rom-com that doesn't deserve all the hubbub. Let's just go ahead and assume those people, who honestly, have some good points, think You've Got Mail is Hanks and Ryan's best film together and not this '90s cult classic.
But, maybe the best reason to go see Sleepless in Seattle in the theaters is because it offers an escape. Right now with everything going in the word, that's something a lot of us need.