'You've Got Mail' Is The Perfect Holiday Movie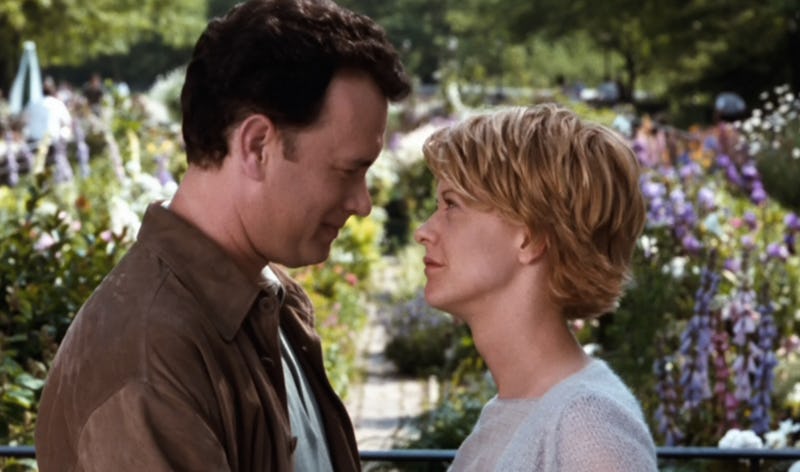 Remember back before Twitter and Facebook, when the Internet wasn't overrun with trolls or wannabe celebrities? Before the days of Grindr, Tinder, and whatever other hook up apps you have on your smartphone, people were meeting the old fashioned way — via e-mail. Yes, e-mail. At least that's how Joe Fox and Kathleen Kelly meet in the '90s classic You've Got Mail . Sometimes it's hard to remember that You've Got Mail isn't just an iconic romantic comedy starring Tom Hanks and Meg Ryan, but that it's also a Christmas movie. And this year, You've Got Mail is the one '90s movie you need to watch over the Holiday.
People generally seem to agree: 2016 was just the worst. Between all the heartbreaking celebrity deaths (RIP Alan Thicke), the rise of Twitter trolls, and the exhausting presidential election, it's been a tough year in pop culture. So this year for the Holidays, it's important that you treat yourself to something nice, romantic, and happy, not fantastic, or preachy, or tragic (as, let's face it, a lot of Christmas movies tend to be). You've Got Mail is every bit the movie you need to take you away from all the 2016 awfulness because it will help you believe in the magic of reality.
There's almost nothing more optimistic than a romantic comedy, like You've Got Mail, that takes place in the real world. The true love and the happy endings drive some people crazy for a reason — it can all feel too good to be true. But, when said happy ending is set in the real world, it makes it tangible. And, considering the year we've had, I think we could all use some help believing in happy endings again. If not for us, then at least for Joe and Kathleen. Moreover, that happily ever after ending is part of what makes You've Got Mail the perfect movie for the holidays.
The holidays are all about comfort. Something happens in December where you just feel the need to cuddle up in a mountain of blankets and forget about your troubles. While a movie might not be the same as a soft blanket, the comfort of a happy ending is certainly comparable. Watching Joe and Kathleen find their way past their initial dislike for one another is always comforting. Furthermore, around the holidays, there's always a huge emphasis on spending time with loved ones. And, I ask you, who is more beloved to everyone than Hanks and Ryan? They might as well get their own place settings at your family dinner table.
So, this holiday season, make some room for Joe and Kathleen and let them show you how beautiful and romantic this life of ours can be, if only for a few hours.
Images: Warner Bros; Giphy