This Adaptive Underwear Could Change The Game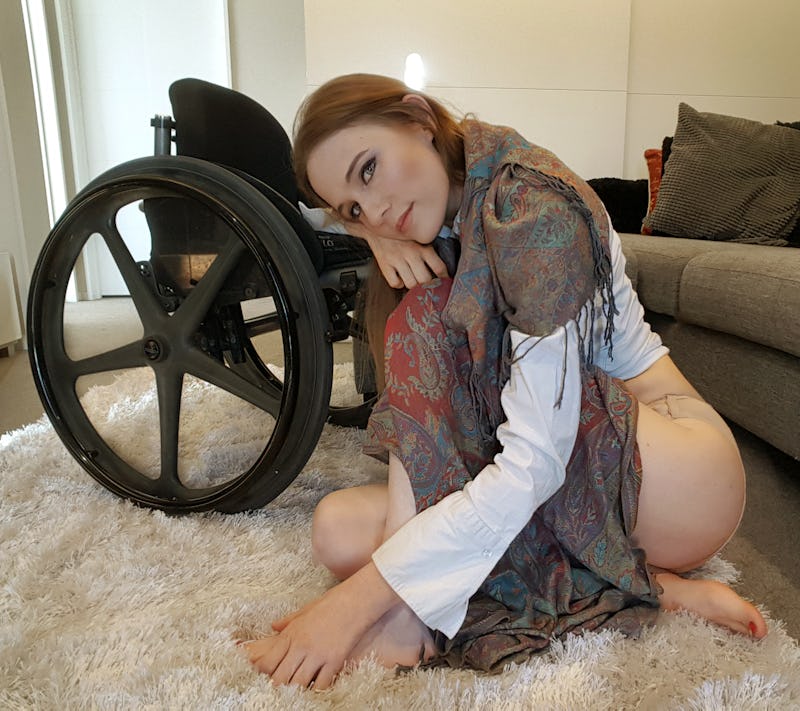 Helya Mohammadian, founder of underwear company Slick Chicks, didn't set out to create adaptive underwear for people with disabilities. At first, she focused on panties that could be changed quickly and discreetly by women on the go. In fact, it was an email from one woman that started it all.
"She reached out inquiring about larger sizing and shared with me that she had limited mobility and Slick Chicks would be so helpful for her," Mohammadian tells Bustle. "Her request made me realize that the innovative product I had created for women to have a convenient way to change their panties also had a use as adaptable clothing for people with disabilities."
One in five people in the U.S. has a disability, but adaptive clothing is only starting to be embraced by well-known brands, and finding stylish adaptive clothing is a struggle. Slick Chicks offers three styles of nylon/Spandex-blend underwear: thong, bikini brief, and boyshorts, all available in black, white, or beige. Each style comes with a front panel, a rear panel, and a lining, and closes on the side, so the panties don't need to be pulled up over the legs.
Producing cute, easy-to-use underwear with hook-and-eye closures only involves "a little extra material or trim in the long run," Mohammadian says. "There may be a few more obstacles to figure out, but it doesn't make it unattainable or significantly costly to make fashionable clothing or accessories for the disabled community."
Once Mohammadian realized how naturally adaptive her design was, her biggest mission became helping those with disabilities maintain dignity and confidence, she says. She teamed up with Dr. Danielle Sheypuk, a wheelchair-user and disability rights activist who also works with (and models for) the adaptive clothing nonprofit Runway of Dreams.
"She knows firsthand the challenges facing the disabled community," Mohammadian says. "Our focus is on how to include people with disabilities in our brand and really tap into this demographic the way that no other lingerie brand has done before."
Right now, Slick Chicks' wares are produced solely for people with female bodies, but Mohammadian says designs for male-bodied people are in the works too, along with bras. Currently, available sizes range from XS (0-2) to XXL (18-20).
"We have already started to develop a 'sister' line of products geared towards the medical market where we already see a huge void," she says. "Right now the only options for adaptable undergarments are diapers and incontinence [products] that seem to be made out of cotton or polyester. How can anyone feel confident or regain their dignity when they're wearing something designed decades ago? This industry needs a complete facelift and we are here to revolutionize it."
Ultimately, Mohammadian says, "We want to bridge the gap between fashion and function and hope that smaller brands, like Slick Chicks, can influence big names to be more inclusive."