Snoop Dogg's ASL Interpreter Will Blow You Away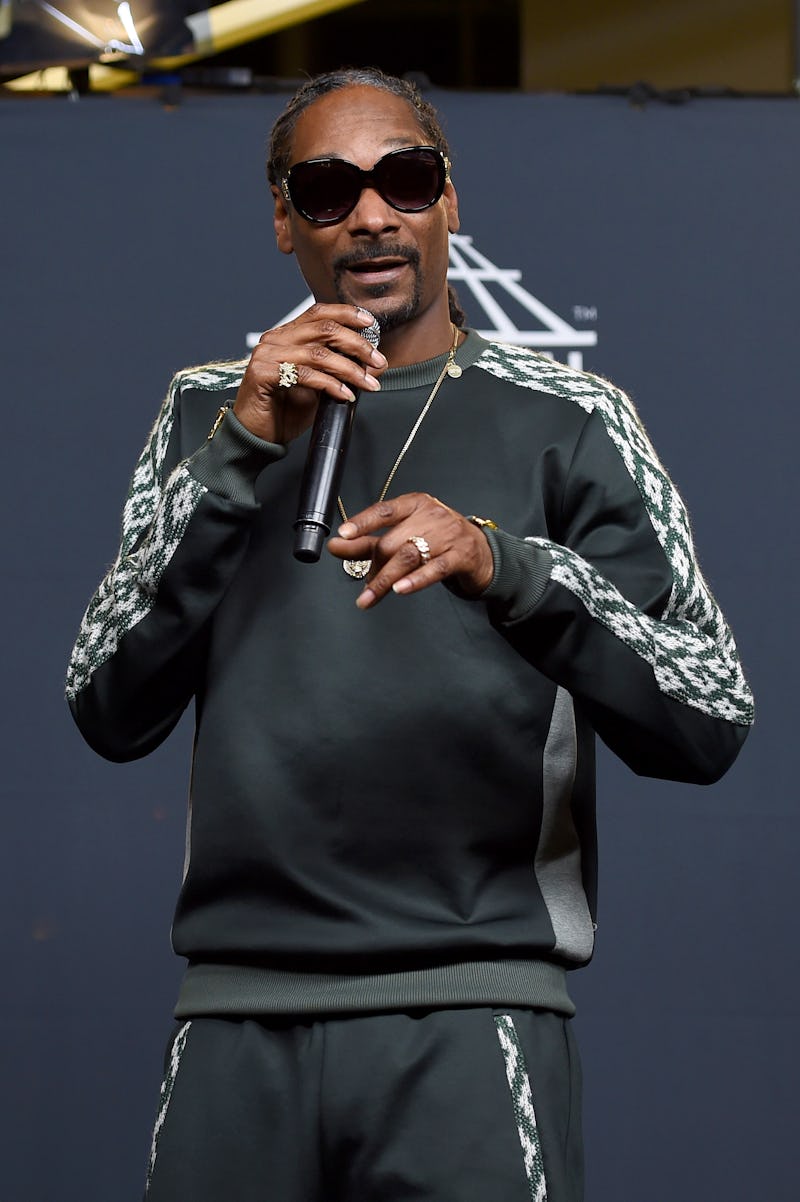 Nicholas Hunt/Getty Images Entertainment/Getty Images
Hip-hop has a new unsung hero. During a recent concert, Snoop Dogg's sign language interpreter completely stole the spotlight — and rightfully so. According to People, Holly Maniatty, a certified sign language interpreter, gained major recognition during Snoop's performance of "P.I.M.P." at the Jazz Fest in New Orleans last weekend. And all of the attention is well-deserved, while also shining a spotlight on American Sign Language in the process.
Maniatty's signed rap skills gained quick internet notoriety after a video of her performance posted on the Facebook page of The Good Life Radio Show racked up over 13 million views and spread to Twitter, too. There's no doubt in my mind that Maniatty's enthusiasm and fervor for the music help her convey the lyrics with such passion. It was honestly hard for me to take my eyes off her and return to watching Snoop. She's just that good.
Although she reportedly has been certified interpreter for more than 17 years, rap signing is still a time-consuming task for the ASL interpreter. She once revealed that it takes her between 50-80 hours to study before a hip-hop performance, according to People. She told the magazine,
"In order to make the interpretations as authentic as possible so the deaf patron is getting as close to the same experience as the hearing people are getting, I'm using signs that are, you know, indigenous to where that person, you know, grew up, or where they're from or where they're living currently."
Anyone that's ever been to a hip-hop concert knows that just keeping up with the energy in the room can be exhausting all on its own. So I can't even imagine trying to compete with everything that's going on stage while signing every single word in front of a crowd of screaming fans. Maniatty somehow does just that, totally proving that she's the real MVP. Check out the astonishing performance for yourself:
She's really amazing, right? This isn't her first foray into the musical genre either. She's also worked with the likes of huge acts such as Wu-Tang Clan, Beastie Boys, Killer Mike, and Public Enemy, gaining internet attention over the years for their concerts. And people on Twitter were clearly loving her latest performance.
In a 2013 interview with Noisey, Maniatty shared how exhausting interpreting a high octane hip-hop concert can get, as she detailed her experiences with Wu-Tang and Beastie Boys concerts. Still, she explained her commitment to bringing the energy to the deaf community. Maniatty said,
"With the Beastie Boys, you have a commitment to bring it. And that's what I felt like about Wu-Tang ... If this one of their last 5, 10 concerts they do — you've really got to make sure that the deaf people are having a 'this is happening right now' kind of experience."
Thanks to Maniatty and her dedication, deaf fans around the world get the chance to join in the concert experience without ever missing a beat. And that's the real victory here.