Why Sofia Is Another Power-Hungry Woman You'll Want To Root For On 'Gotham'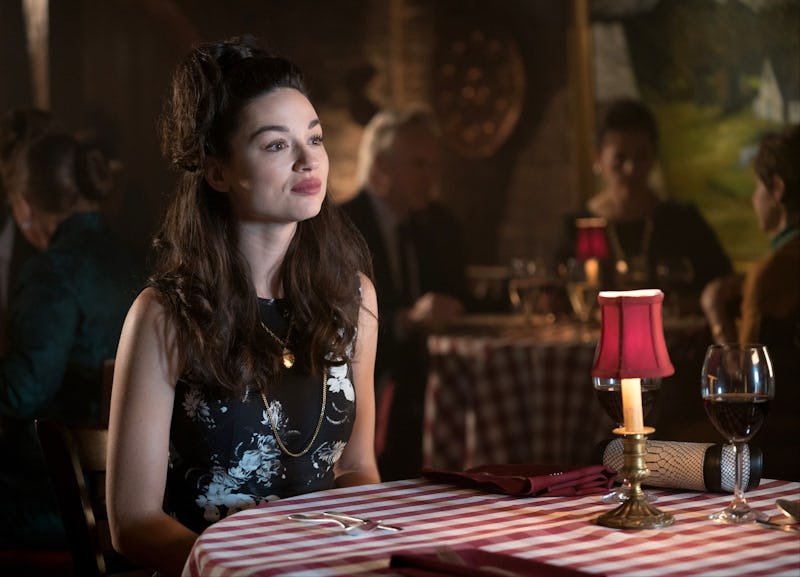 Jessica Miglio/FOX
For Gotham, comic book history is a loose guideline, with certain characters dipping in and out of their established canon whenever it makes the most sense for the procedural prequel. Gotham Season 4 introduced new characters like Sofia Falcone (Crystal Reed), and has pressed fast-forward on many of the series' longest-running storylines, propelling Bruce Wayne into the streets as a vigilante and forming a version of the Gotham City Sirens. While she's still a mysterious newcomer, Sofia Falcone's history in DC Comics hints at where her character could go in future Gotham episodes.
In the comics and in Gotham, Sofia is Carmine Falcone's daughter. On the show, Sofia is now officially back in the city and hoping to take over the criminal enterprise that her father sacrificed after he decided to leave and look for a less deadly life elsewhere. Sofia's first appearance in the comics in the book Batman: The Long Halloween, a Falcone-focused story about Holiday, a serial killer who helps accelerate a mob war between the Falcones and the Maronis by targeting different members of both families. In that book, Sofia is married to Rocco Gigante, and is released from prison around St. Patrick's Day, in the comic's sixth installment. Sofia is initially convinced that Sal Maroni is the Holiday killer, while he becomes convinced that she is. At the end of the series, Holiday's identity is revealed: he is actually Alberto Falcone, a member of the family who faked his own death.
The Long Halloween is also the origin story for beloved Batman villain Harvey Dent, who is injured when Sal Maroni, pretending to be a cooperative witness, throws acid in his face while in court. The subsequent injuries take Dent from principled District Attorney to Two-Face, the disfigured supervillain with a chance-based method of deciding which petty criminals who cross his path live or die. Dent adopts the same murderous tactics of Holiday, killing any Maroni or Falcone who crosses his path, and in the final confrontation to bring them both down, Sofia is seriously injured.
Throughout The Long Halloween, Sofia is a strategist, spy, and soldier for her father. On Gotham, Carmine wants to keep his daughter safe and separate from organized crime. But by the time the character is introduced in in the comics, she's a huge part of the family business, as is Carla Vitti, her aunt. On the show, it seems Carmine is acting out of fear for his daughter in the aftermath for his son's death, not necessarily out of sexism. Carmine isn't underestimating Sofia on Gotham just because she's a young woman. On the show — as in the comics —women have risen to prominence in his organization before — remember Fish Mooney?
But one thing that's never been a part of Sofia Falcone's comics storyline is dating Jim Gordon, or supporting the GCPD in any way. In fact, this is a huge departure for the character. In the Long Halloween sequel storyline, Batman: Dark Victory, the now disabled Sofia uses her remaining influence and her vengeful rage to adopt her own murderous alias, targeting members of the GCPD and former colleagues of Harvey Dent in hopes of exacting revenge on them for how his origins contributed to the death and torture of many of her family members.
If Sofia is able to prove herself as a queenpin, the comics suggest that she might wind up in prison at some point. And her close relationship with Jim Gordon on Gotham suggests that he could become privy to her plans to rebuild the Falcone empire and be the one to bring her down. But this character's DC Comics run also shows that she's a formidable ally, a devoted daughter, and even willing to put on a mask in order to settle a score.