Sofia Richie & Scott Disick Have Reportedly Split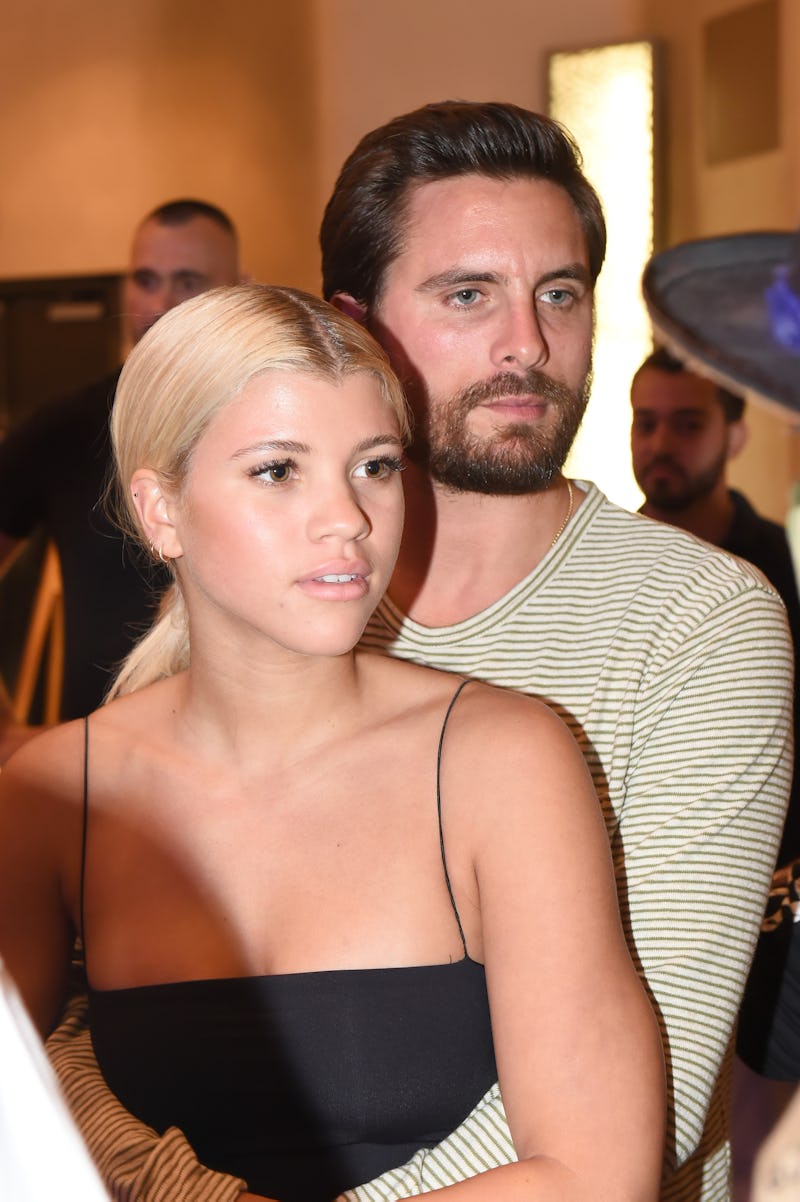 Romain Maurice/Getty Images Entertainment/Getty Images
Who else is having a hard time keeping up with the details of Sofia Richie and Scott Disick's reported split? The weekend's news circuit has been buzzing with speculation about the details surrounding the pair's reported breakup, after having dated for almost a year. "Sofia broke it off," a source told E! News, in a report that claimed Sofia Richie reportedly broke up with Scott Disick after he allegedly cheated on her earlier this month during a trip to Miami. Bustle reached out to both Richie and Disick's respective reps for comment on the breakup reports, but did not receive an immediate response.
It's probably also worth mentioning here that neither Richie nor Disick has confirmed the rumors of the reality star's alleged infidelity. In fact, as far as official statements go, the reported breakup hasn't been confirmed, either. At this point, the reports commenting on the state of Richie and Disick's relationship rely pretty much entirely on the testimonies of several unidentified sources who've spoken to news outlets about the situation. (That being said, more seasoned fans of Keeping Up With The Kardashians have unfortunately watched similar behavior, on Disick's part, play out in his previous relationship.) Still, after parsing through a sizable chunk of those reports, many of the sources seem to be saying the same thing.
"[Disick] cheated on her, and she confronted him," a different source claimed to People in the outlet's recent report on Richie and Disick's possible breakup, published Sunday morning, June 3. An earlier report by Us Weekly elaborated on this particular claim, citing yet another source who alleged that 19-year-old Richie didn't learn about the alleged Miami incident until after she and Disick's weekend getaway to St. Bart's in celebration of his 35th birthday.
Understandably, the same source told Us Weekly that Disick's alleged cheating coming to light "caused huge problems in their relationship." But if the weekend's roll-out of comments regarding the events that led to the duo's apparent split are any indication, Disick's alleged Miami hookup might not have been the nail in the proverbial coffin, as far as their relationship status was concerned.
As that particular source continued on to tell Us Weekly, Richie and Disick were, apparently, "technically still together" in the days following their St. Bart's vacation. If that's true, then Richie and Disick would have still been together during Kanye West's listening party to unveil his new album in Wyoming. As those who've been following the pair's relationship news will probably have a hard time forgetting, that was the event after which TMZ reportedly spotted Disick getting "more than friendly" with an unidentified woman who, allegedly, wasn't Richie.
"He went to Wyoming because of [the alleged Miami cheating incident] and was photographed with another girl," Us Weekly's source continued. "And that was the icing on the cake for her to break up with him."
As for any hopes of reconciling, an "insider" source told People that Richie and Disick's relationship might not be "totally over," since the pair has supposedly "broken up multiple times since they started dating and always ended up back together." While proponents of the famous duo's relationship might like to believe that, it seems this particular reported breakup — judging by the slew of speculative reports and unidentified source comments, at least — might prove itself more complicated than the couple's previous splits.
In pretty much direct contrast with the claims that appear in People's report, Us Weekly's source alleged that the relationship might really be over for good. On the issue of getting back together, the source told Us Weekly, "Sofia is upset but is leaning towards sticking with her family and Lionel because she realizes the severity of [Disick's alleged behavior]."
At this point, the details of Richie and Disick's reported breakup remain a bit murky. But still, it's not difficult to see that — regardless of who did what — a split of this nature and scope has got to be seriously emotionally taxing for all parties involved, especially Richie. So, whatever's really going on in her relationship, here's to hoping she's hanging in there, standing up for herself, and above all, doing what's right for her.