Scott Disick's New Comments About Sofia Richie Are Actually Pretty Surprising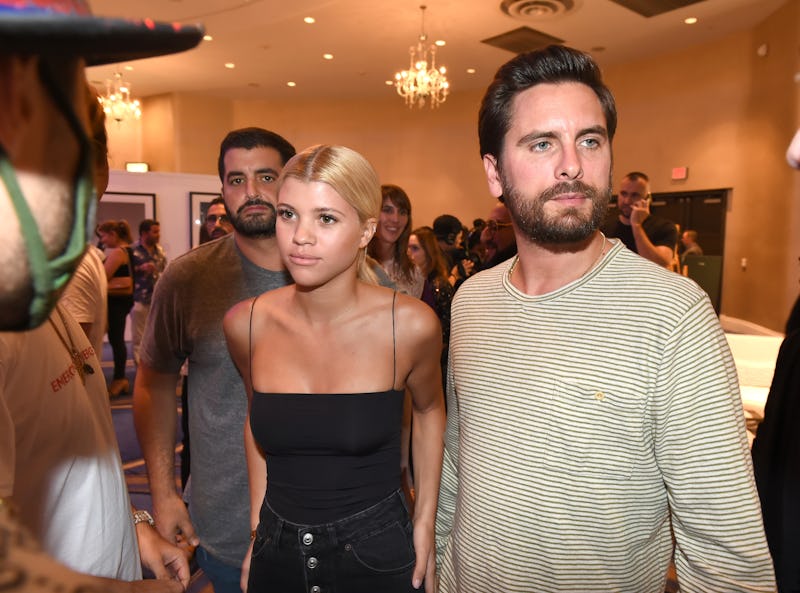 Romain Maurice/Getty Images Entertainment/Getty Images
The reality start hasn't been the most forthcoming in the past about his relationship, but Scott Disick finally commented on Sofia Richie. And if you're someone who's aware of how the 34-year-old has spoken about the budding romance before, then what he says will surprise you. Instead of being standoffish and closely guarding the details of his relationship with the 19-year-old fashion model, Disick actually opened up a bit in a recent interview.
In a conversation with PEOPLE published on Mar. 24, Disick doesn't seem to fully understand the fascination with his personal life or with the 15-year difference in his and Richie's ages. But he seems to have realized by now that he can't control what other people think, so instead of shutting people out or getting defensive, he's elected to take all the added attention as a compliment, according to the publication:
"I guess it's kind of flattering that people care. It's not like I'm mad about it. Everybody's worried about something. Everybody is worried about other people's things, so it's fine."
It's a healthy attitude to take, and one that will likely serve Disick well down the line, no matter what happens with this relationship. It also presents a real contrast from the attitude that the reality star presented the first time he was asked publicly about his connection to Richie.
The incident in question was on an episode of Keeping Up with the Kardashians that aired in early February, when Kris Jenner asked Disick if he was seeing anyone. The footage of their conversation was less than a minute long, but it was steeped in discomfort. Even the short clip had fans squirming in their seats as Disick answered the minimum number of questions about his love life, and tried to deflect the rest. "Are you dating?" Jenner asked him, leaning forward with her hand under her chin. "Sure," Disick responded noncommittally, betraying nothing with his face.
Jenner wasn't put off by the one-word answers or evasive delivery by the father of her grandchildren, however. This was not her first rodeo, and she chased down the info she wanted. After confirming that Disick was seeing just one person, she mouthed, "Sofia?" across the table at him. "I mean, I guess you know who it is," is all he was willing to give away, shrugging all the while.
In the clip, with his arms crossed, he corrected Jenner's guesses about his and Richie's respective ages — 20 and 32 — to the accurate numbers, 19 and 34. And when the momager tried to throw him a bone by comparing Disick and Richie's relationship to her own with the late Robert Kardashian, he swatted away the attempt. Jenner was 17 to Kardashian's 29, and even though the age difference is three years smaller than the one in his own relationship, Disick was quick to jump on another fact: "You were underage," he points out. "She's not."
The brief conversation ended in a bit of a stalemate, with neither party looking thrilled that the topic was brought up. But the relationship has a few more months under its belt now, so it makes sense that Disick has relaxed a bit since that awkward KUWTK clip. After the years-long muddle that was Disick's breakup with Kourtney Kardashian, the Vegas host's dating life had been all over the place.
However, rumors began linking him more exclusively to Lionel Richie's youngest daughter in May 2017, rumors that she shot down by insisting that the pair were "just homies" on Twitter. That is, until the couple went Instagram-official a few months later in September. Since then, they've become a lot more open about their romance, posting photos together to their respective social media feeds, and now even answering questions about their connection publicly.
Ultimately, whether you're a fan of this relationship or not, it's refreshing to see Disick settling into it a bit more. The spotlight on him has been intense over the past few years, and that's unlikely to go away anytime soon. Adopting this mindset of the attention being flattering instead of something to close themselves off against is probably the healthiest one possible.