Scott Disick & Sofia Richie Took A Major Step In Their Relationship & It's Literally Adorable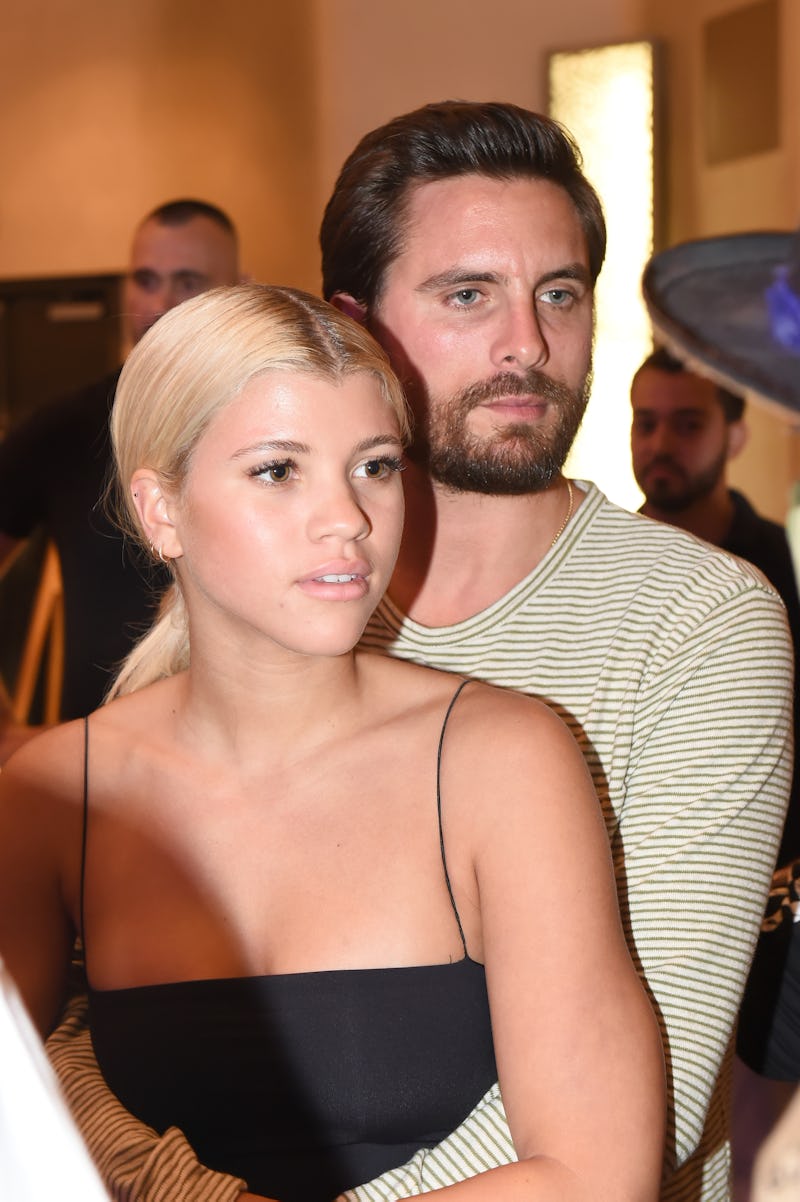 Romain Maurice/Getty Images Entertainment/Getty Images
Scott Disick and Sofia Richie may be a somewhat random celebrity couple, but they actually took a semi-major step to make their relationship more serious. According to People, Scott Disick and Sofia Richie got a dog together. Yep, the couple got an adorable pup and even agreed on a name for their adorable new pet.
Disick's girlfriend attended the Issey Miyake Launch Party in Los Angeles, where she excitedly spoke about her new dog's name. She told the publication, "Her name's [Hershela]." She continued to say, "My boyfriend named her … I kind of just ran with it. It made me laugh. I liked Hershey and he liked Hershela, so it was like a middle ground." People noted that she didn't specify exactly how to spell the name, but it's likely some derivative of the Hershey spelling.
She went on to say that it was Disick who surprised her with the dog. "He wanted the dog for a while, but he ended up surprising me with it." While it sounds like little Hershela could have been given as a present to Richie, it sure seems like the pair got the dog to take care of together. In a video from her Instagram story, she shows off the pup adorably resting on her chest and captioned the video with "Our newest family member." A new addition to the pair's family? This certainly sounds like a serious step for the couple.
While things may be moving in a more serious direction for their relationship, not everyone is here for the couple. According to the Daily Telegraph, Richie's father, Lionel Richie, believes that their relationship is a fleeting thing. He told the publication (via E! News), "She's 19. When you're 19 you know everything. Is it going to be for life? I don't know. But for right now it's just a phase and I'm going to stand real still in the corner, get me a good drink and not make too much noise." It wasn't an outright diss to Disick and Richie's relationship, but it didn't offer too much hope for the pair's long-term chances.
The Kardashian family has been a bit more supportive when it comes to the pair's relationship. On the Feb. 11 episode of Keeping Up with the Kardashians (executive producer: Farnaz Farjam), Kim Kardashian said that the pair's relationship may be a positive thing for Disick, according to E! News. She said, "whatever makes him happy, I don't judge, I don't care." She continued to say, "I think it's a good thing. I just hope that he's making good choices and having fun and nothing's getting crazy."
Kris Jenner echoed similar statements on KUWTK when Disick confirmed the relationship to her during a slightly awkward conversation. Ultimately though, Jenner just wished for Disick to be happy, no matter who he's dating. Since his family has started to voice their support for the couple, it seems like yet another sign that these two are the real deal.
There may be some "puppy love" within their relationship, but it does seem like these two are actually getting pretty serious. After all, they have been linked together for some time now. People reported that the two were hanging out in May 2017 in Cannes, so they've potentially been dating for almost a year now. And on Feb. 23, Richie called Disick, "the male version of me" when speaking with E! News. So, it seems like with (some) of their family's support and this new puppy addition to their family, things are headed in the right direction as far as Disick and Richie are concerned.