What Will Solange & Beyonce Wear To The Grammys?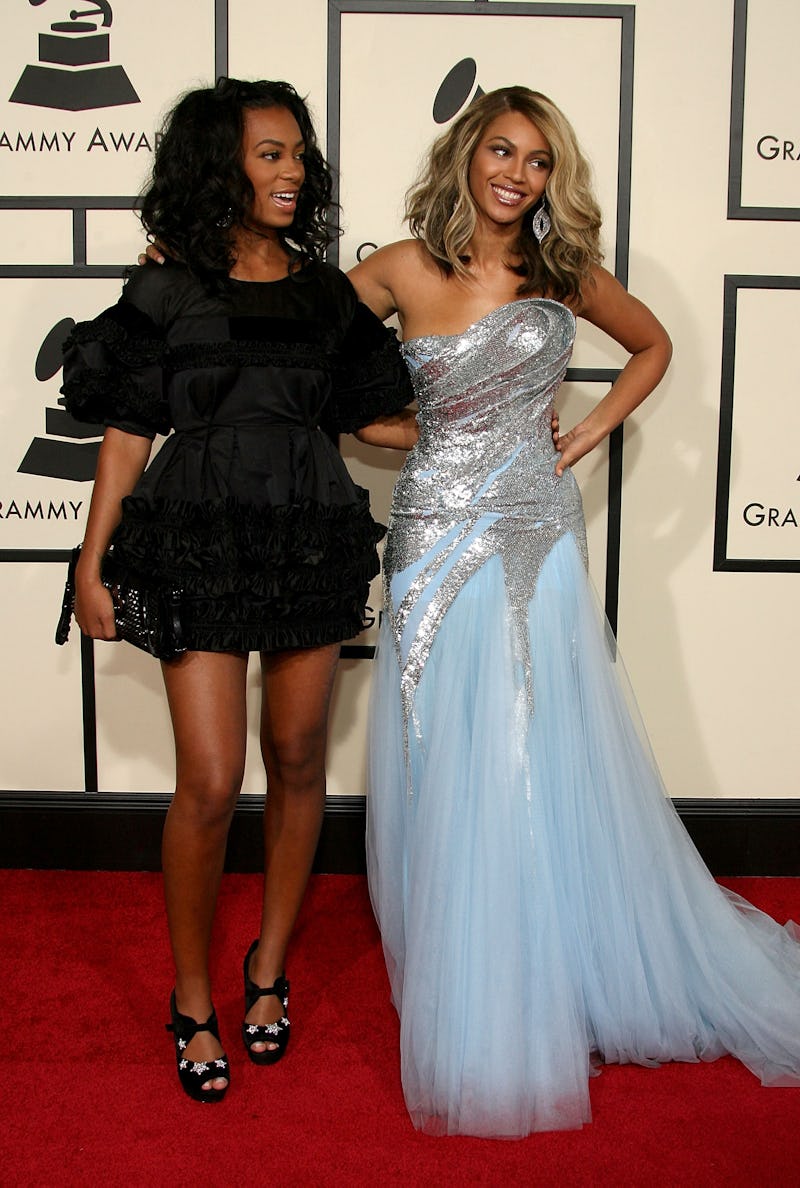 Frazer Harrison/Getty Images Entertainment/Getty Images
As a 20-time Grammy winner up for nine nominations this year, it should come at no surprise that Beyoncé isn't a stranger to the biggest music awards show of the year. Solange and Beyoncé's 2008 Grammys appearance shows Queen Bee was all for bringing her little sister along for the ride. But it looks like the baby Knowles sister will be making a grand entrance of her own this year because Solange just got her first Grammy nomination.
If Beyoncé's Lemonade visual album and Solange's A Seat at the Table videos are any indication, the Knowles women's style has evolved well beyond their former fashions. These sisters have seriously been on another level lately that's hardly explainable. Bey nearly breaks the internet every time she steps in front of a camera and Solange has proven herself as a force to be reckoned with given her mesmerizing sense of style.
The Knowles sisters hardly come from absolutely tragic fashion beginnings, but their Grammys wardrobe from nearly a decade ago probably won't even compare to what they'll break out this year. The anticipation will finally be over this Sunday, Feb. 12 when the Grammys air on CBS. But for now, travel down memory lane to see just how far Solange and Beyoncé's fashion senses have come.
In 2008, Beyoncé graced the red carpet in a light blue asymmetrical Elie Saab gown with metallic detailing. There's no denying that the R&B diva is still a fan of curve-hugging silhouettes and shimmering embellishments. But layers of tulle don't really fit the queen's profile these days.
Bey would probably opt for a much more show-stopping gown at this year's ceremony. Her latest fashions prove she's all about turning heads with sheer, racy numbers that reveal her honey skin underneath overlays of sparkle. She's definitely not afraid to play with texture either, often combining patterns, lacy details, and even feathers in her dresses. Although the soon-to-be mother of twins is currently expecting, Beyoncé will likely find a way to drop jaws in a daring, yet sophisticated gown like she has been known to do.
Before shutting down the 2016 MTV Video Music Awards with a mini concert, Bey slayed in a floor-length dress that featured a feathery neckline and glittery accents. She has been on a roll with sheer illusion gowns as of late, and this dress was no exception.
Embellished to the nines, Bey's 2016 CMA gown was pure magic. Super sheer and ultra glitzy, just how the queen likes it these days.
This sultry gown Beyoncé wore to the Tidal X 1015 charity concert is a long way from her 2008 Grammys dress. Slinky and chic, it featured a beaded pattern that's in keeping with the intricate formal style Bey has developed.
If it weren't for the family resemblance, you'd hardly recognize Solange by her 2008 Grammys attire. The singer was all legs in a black mini dress featuring a patchwork pattern and a boxy top. She's a lot more covered when in the spotlight today, but Solange's latest fashions are nothing short of captivating.
Let's just refer to her as the epitome of black girl magic. Solange's best beauty moments make the loudest and proudest statements that would put her former Grammys dress to shame. Often rocking natural hair and eccentric pieces, Solange does monochromatic fashions perhaps better than anyone.
Attending the 2016 Met Gala in a lemon yellow pleated top and matching latex pants, Solange stood out in all of the right ways. She's a big fan of a matching head-to-toe color scheme and does it oh so well.
Showing up to the 2017 Grammys in pants wouldn't be completely out of the ordinary for the fashionista either. Who better to do a metallic, monochromatic pants suit with matching hair clips than Solange?
Solange also knows just how to create dimension with cascading layers without looking frumpy. Her 2015 Oscars wardrobe combined an asymmetric, long-sleeved top with oversized trousers, and it was all too on point. It won't be surprising if she goes against the grain and opt for a flowy getup like this as opposed to the usual skin-tight gowns the Grammys brings out.
Although there's no telling what impressive pieces Bey and Solange will pull out of their closets, one thing's for sure: They've completely transformed their styles over the years. With such sophistication and grace, the Knowles sisters completely OWN every single alluring thing they wear. Here's to hoping another boss Solange and Beyonce sibling pic will come out of this year's Grammys when the two hit the red carpet.
Images: Getty (8)