13 Best Beauty Moments In Solange's New Videos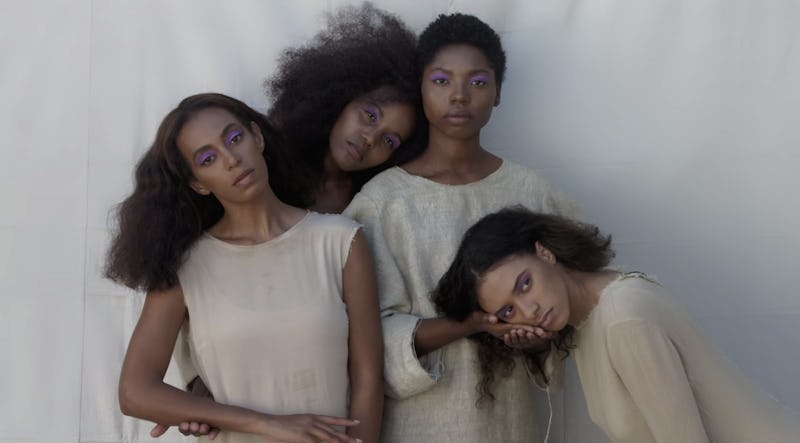 As if releasing her first album since 2012 wasn't enough, Solange Knowles hit us with two new videos for A Seat At The Table on Oct. 2. What's more? The visuals to accompany the tracks, "Don't Touch My Hair" and "Cranes in the Sky" serve some of Solange's best beauty moments.
We already knew the baby Knowles sister to be a daring and quirky fashionista, but these videos take her unique sense of style to another level. Sensual vocals, sweeping landscapes, and more melanin than you can handle, her newest music videos are practically art in motion. Every scene will leave you awestruck as Solange and her entourage show off their natural hair styles and matching monochromatic fashions in both videos. There isn't a single getup in either video that isn't the embodiment of black girl magic, making her videos the stuff African American empowerment is made of.
Considering Solange always puts a ton of thought into her ensembles, you can expect her newest visuals to blow you away like never before. Although every single one of her hair and fashion choices were so captivating, these 13 looks from both videos were the best, hands down.
1. The Opening Shot In "Don't Touch My Hair"
"Don't Touch My Hair" begins with Solange shaking a head full of assorted pony beads and puka shells. I'm betting nearly all of my fellow sistas remember sitting for hours while our moms weaved dozens of beads into our braids as children. Solange took it all the way back with this style, making this one of her best looks of the video.
2. The Satin Quilted Coat
It doesn't get more regal than faux fur and draping satin. Every look in this scene has such an air of luxury. The juxtaposition of do-rags and oversized fur creates something that pays homage to black style but also feels majestic.
3. The Short-Sleeved Leotard & Matching Boots
Throughout both videos, Solange stuck with monochromatic fashions and made them look darn good. She slayed in this peachy body suit with matching thigh-high boots.
4. The Romantic Finger Waves
From blown out afros to beaded braids, a number of beautiful afrocentric hairstyles were featured in "Don't Touch My Hair." But the finger waves in particular, were just absolutely breathtaking.
5. The Orange Two-Pieces
The use of color is what makes Solange's videos so picturesque. Posing in crop tops and matching high-waisted shorts, everything about Solange and her girls is so spot on here. The muted orange fits perfectly with their brown skin, making it impossible to take your eyes off of them.
6. Every Minimalist Outfit
This aerial shot features some of the more simple fashions of the entire piece, but they are no less stunning. The mix of earth tones, pale hues, and heavenly whites mesh so well together.
7. The Leaf Looks
Try not to faint when Solange appears on screen in a garment made entirely of what looks like leaves. It's nearly impossible to choose a favorite look from "Cranes in the Sky" (seriously, it's all too damn perfect!), but these leafy getups make it hard for any of the other looks to compete.
8. The Nude Gown
Solange seriously looks like a real-life Pocahontas standing in the middle of this lake. Her earth-toned gown almost blends into her beautiful brown skin and her tamed locks couldn't be more gorgeous.
9. The Infinity Lavender Dresses
Connected through sweeping fabric, Solange and her crew stood mountainside in such a powerful shot. This, my friends, is ethereal beauty at its finest.
10. The High-Waisted Bikini
Solange probably couldn't look like more of a goddess if she tried. Everything about this scene is pure perfection, from her poofy hair to the sleek cutouts in her white bathing suit.
11. The Purple Eyeshadow
Lavender washes of color for the eyes was such a smart choice here. Given the pale beige ensembles and white backdrop, the eyes really pop in this still. Of all the minimalist getups in both videos, these looks are probably the most striking.
12. The Mega Pink Coat
Solange didn't need anyone backing her up because that oversized, blush pink jacket owns this scene.
13. The Coordinating White
Showcasing myriad shades of melanin and hair textures, this shot of Solange and her girl squad is a true celebration of WOC. It doesn't get any better than than a group of black beauties staring the camera down as they embrace one another in solidarity.
If Solange never released another visual in her entire life, we'd probably be survive. The major fashion moments in these two videos alone are more than enough to keep us going. You have officially slayed our entire lives, Solange.
Images: solangeknowlesmusic/YouTube (13)