Some Members Of Congress Sleep In Their Office & There's A Couple Problems With That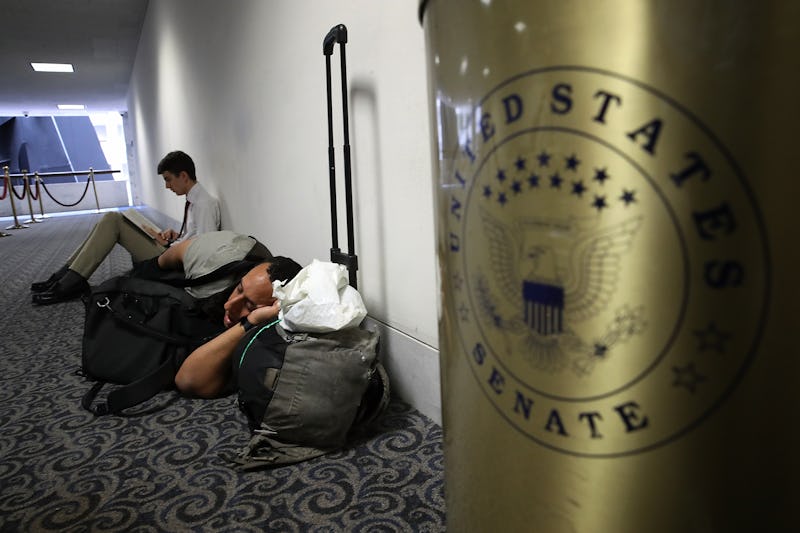 Win McNamee/Getty Images News/Getty Images
When the U.S. House of Representatives is in session, Speaker Paul Ryan dozes off on a cot in his office every night rather than go all the way back to his official Capitol suite. He's not alone: it's apparently pretty common for other members of Congress to sleep in their offices rather than pay for a pricey Washington, D.C. apartment. It turns out, though, that some members of Congress who sleep in their office may be violating House rules — or even federal law.
More than two dozen members of the Congressional Black Caucus sent a letter to the House Ethics Committee questioning the "legality and propriety" of sleeping in one's office. "Members who sleep overnight in their offices receive free lodging, free cable, free security, free cleaning services, and utilize other utilities free of charge in direct violation of the ethics rules which prohibit official resources from being used for personal purposes," the letter reads. It asks the Ethics Committee to review whether or not sleeping in one's office violates House rules or any federal law. The letter argues that those members should at least be taxed the market value of a Capitol Hill apartment.
Rep. Bennie Thompson (D-MS) told Politico that it's not just unethical, it's dirty. "There's something unsanitary about bringing people to your office who are talking about public policy where you spent the night," he said. "And some people would say it's almost nasty."
Thompson signed the letter along with other high ranking House members, including Reps. Elijah Cummings (D-MD), Jim Clyburn (D-SC), Cedric Richmond (D-LA), and John Lewis (D-GA). The previously unreported letter is dated December 13 and asked the Ethics Committee for a response by January 5. Politico reports that they have not yet heard back.
Though the letter didn't name names or mention a particular political party, it's more common for Republican representatives to crash on office cots. As NPR's Susan Davis noted in 2015, "It's good politics, particularly among conservatives, to make it known back home they're not getting too comfortable in Washington."
After living in a nearby apartment, Rep. Lynn Jenkins (R-KS) told The New York Times in 2015 that she decided to start living out of her office. "I watched the boys do it," she said. "You buy a bed. You buy a couch, and then all of the sudden you think, 'I'm getting too comfortable here.' I don't want to get too comfortable in this town."
It's also a way for members to portray that they're mindful about spending. Congressional Black Caucus members who asked the Ethics Committee to investigate the practice say members sleeping in their offices are misusing taxpayer-funded resources, however. The letter also took issue with the fact that living out of one's office can subject other Capitol Hill employees to seeing a representative in their pajamas, underwear, or even partially naked. The letter calls this behavior "intimidating and offensive," saying it contributes to a hostile work environment.
"The House office buildings are not apartment complexes, homes, or any other kind of residence," the letter reads. "In effect, members who sleep in their offices are turning the people's House into private bedrooms. Subjecting staff, constituents, and House guests to Members' private bedrooms is inappropriate, disrespectful, and unsanitary."
Since the committee reportedly didn't respond, it's unclear if raising the issue will spur more representatives to pay for apartments near Capitol Hill. Congress is typically in session for less than six months out the year, meaning members who sleep in their office could spend more than 100 nights a year on a cot in Capitol Hill. The 30 Congressional Black Caucus members advocating for them to move out think they should invest in real beds.