Some Parkland Victims' Families Say Trump Still Hasn't Contacted Them To This Day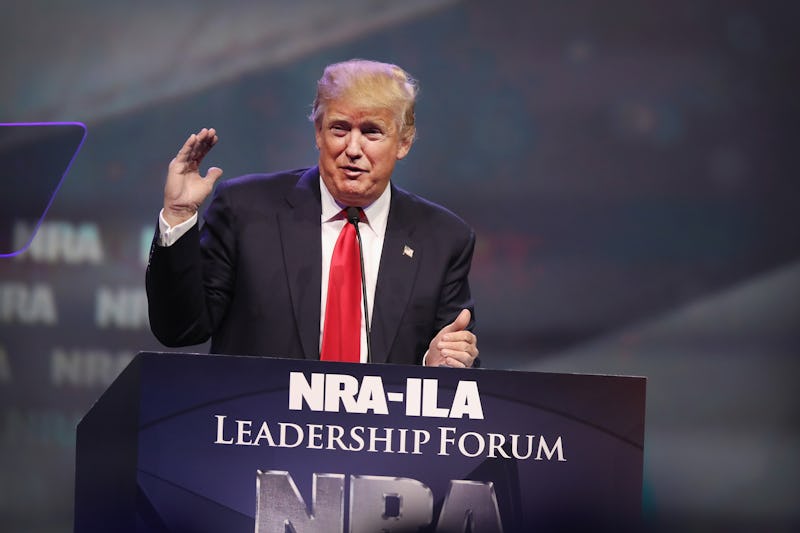 Scott Olson/Getty Images News/Getty Images
In a speech to the National Rifle Association on Friday, President Trump referenced the 17 people who were killed in the shooting at Marjory Stoneman Douglas High School in Parkland, Florida in February, and said that "we mourn for the victims and their families." But some parents of the Parkland victims say Trump hasn't once reached out to them since the shooting, and are criticizing him for referencing the shooting in political speeches. Bustle has reached out to the White House for comment.
"Trump said, 'Our hearts break for every American who has suffered the horrors of this school shooting,' tweeted Philip Schentrup, whose 16-year-old daughter was killed in the massacre, about Trump's speech on Friday. "Surprising since I've never heard from him, Pence, or his staff since Carmen's murder. Received heartfelt outpouring from thousands of other Americans. They make America strong." Schentrup later told BuzzFeed that, although both Republican and Democratic lawmakers have contacted him to offer their condolences, nobody from the Trump administration has done so.
In total, eight families of Parkland victims told BuzzFeed that they hadn't received any word from Trump or anyone in the Trump administration since their children were killed. One family said that they did hear from, and meet with, Trump after the shooting, while several others declined to comment.
Fred Guttenberg, whose daughter Jaime was killed in the shooting, also said that Trump hasn't contacted him or his family since Jaime's killing.
"If he doesn't want to reach out to me, nobody has the obligation to offer condolence. To me, in his position, it would have been the right thing to do, but no one's obligated," Guttenberg told BuzzFeed. "However, don't use my daughter's life for a political moment, and that's what he did, and that pisses me off." On Twitter, Guttenberg said that he suspects Trump didn't reach out to him because he's 'been outspoken in my belief that guns were an issue in this as my daughter was murdered by one.'"
A sticking point for several of the families appears to be the fact that Trump, despite opposing stronger gun control laws, referenced the Parkland shooting victims and their families while addressing the NRA. Manuel Oliver, who lost his 17-year-old son Juan in the shooting, told BuzzFeed that while he wasn't initially shocked not to hear from Trump, hearing the president reference Parkland in the NRA speech was "the tipping point of this whole situation."
Not all of the victims' families have been out of contact with Trump since the shooting. Andrew Pollack, who publicly supports Republican proposals to station armed personnel on school campuses, says that met with Trump twice in the first month after the shooting, and also received a letter from the president after his 18-year-old daughter Meadow was killed in Parkland.
According to BuzzFeed, Trump also hasn't reached out to Debra Hixon, whose husband Chris died trying to disarm the shooter; Michael Schulman and Linda Beigel Schulman, whose son Scott, a geography teacher, saved several students' lives during the massacre; Lori Alhadeff, whose 14-year-old daughter Alyssa lost her life in the shooting; Tony Montalto, the father of 14-year-old victim Gina Rose Montalto; or Max Schachter, who lost his 14-year-old son Alex in the shooting.
Schachter said that he has met with Vice President Mike Pence, but was disappointed not to hear from the president.
"I wish the president would have reached out to me," Schachter told BuzzFeed. "It's not too late. I would like his help to make schools safe. Pence was extremely gracious to meet with me and my family and I would certainly like more help from the administration."
Trump did reach out to some of the victims of the shooting, including Samantha Fuentes, a Parkland student who survived gunshots to both legs. Fuentes told the Times in February that Trump called her while she was in the hospital, but that the president "didn't make me feel better in the slightest."
"He said he heard that I was a big fan of his, and then he said, 'I'm a big fan of yours too,'" Fuentes recalled. "I'm pretty sure he made that up." She added that she's "never been so unimpressed with a person in my life" as she was when speaking with Trump.