People Are Convinced Obama Won Trivia HQ & Twitter Is Having A Field Day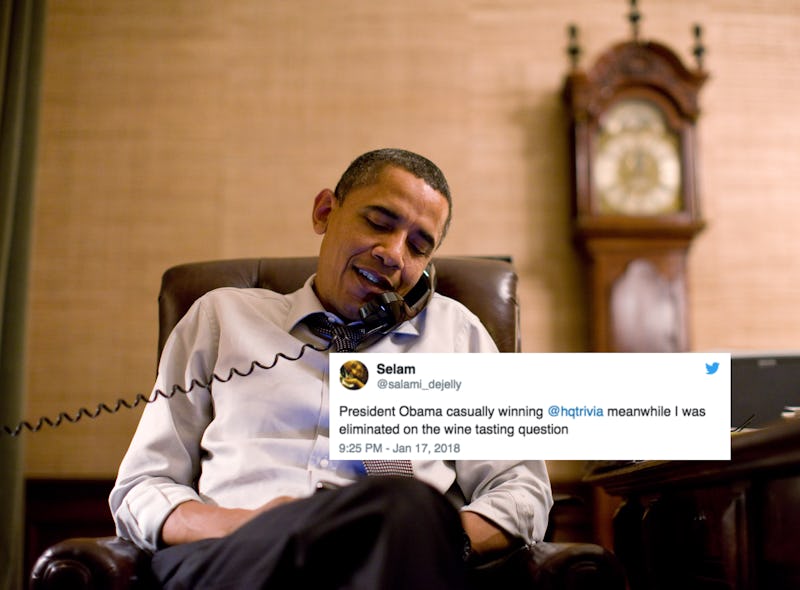 Getty Images News / The White House / Handout
The good news: Our beloved ex-pres, Barack Obama, is apparently using his time as non-POTUS still being a boss. The bad news: it might be at the cost of your HQ Trivia ranking, because people on Twitter are convinced that Obama won HQ Trivia last night.
For those who don't know: HQ Trivia is a game show phone app (only to be played if you have a decent amount of self esteem at a given time, TBH...) created by the guys behind Vine. It's been on iOS since last year, but just came to Android this month. The host, Scott Rogowsky, broadcasts from New York at 9 p.m. Eastern time every day and 3 p.m. on weekdays and asks twelve multiple choice questions, each with three possible answers.
All players online at that time who get the questions correct within the 10 second limit move to the next round, while losers are eliminated. The players that correctly answer the final question split the prize money, which is $2,000 for most games, but has been as high as $18,000. It's apparently attracted over 1 million concurrent players. Basically, it can ruin your life.
The questions are no laughing matter either — yet people have somehow legitimately won stuff on there. And last night, one of those players was President O??
That's right — after Wednesday night's round that saw 91 people win big, a player bearing the username "Obama" came out of the woodwork and walked away with $21.98 in winnings. All players online were puzzled. Could it be that the former leader of our nation was now spending his days sitting around, probably a glass of cognac in hand, laughing at the suckers he was beating in trivia??
The thought of why Obama could have been even on Trivia has Twitter buzzing: