'Son Of Zorn' Isn't The Only Pop Culture Parody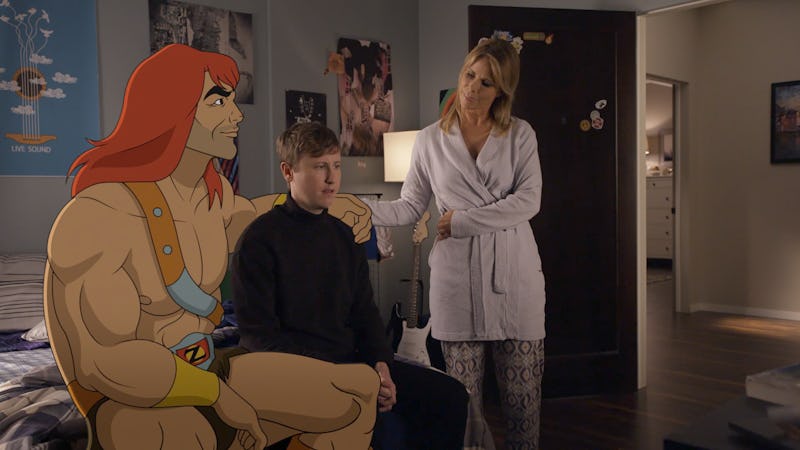 FOX
Son of Zorn is a show that seems almost too weird to exist. Fox has long been the home of the animated family sitcom, giving life to classic shows like The Simpsons, Futurama, and the Seth MacFarlane empire of Family Guy and its related shows. But even with those predecessors, Son of Zorn delivered a unique first season by mixing live-action with animation, and takes a sizeable risk while fitting nicely alongside the rest of Fox's roster. Unfortunately, this bold and hilarious sitcom is already finishing its first season on Sunday, Feb. 19, and there will be nothing on television quite like it unless Son of Zorn is renewed for Season 2.
Fox has yet to make an official announcement on whether or not Son of Zorn will return after its 13-episode first season comes to an end. It could go either way, as Son Of Zorn hasn't yet matched the impact of the network's major sitcoms, New Girl or Brooklyn Nine-Nine, but is also still in its infancy and could grow a larger audience with another season. Additionally, the show is produced by Christopher Lord and Phil Miller, the visionaries behind fellow quirky Fox sitcom The Last Man On Earth, the film adaptation of 21 Jump Street, and The Lego Movie. Fox's relationship with them could be enough to bring back Son of Zorn in Fall 2017.
While Zorn's fate is unclear, fans of the show's willingness to poke and prod at its inspirations (namely, '80s cartoons) should find solace in these series that take a similarly irreverent approach to pop culture.
Robot Chicken
Would Son of Zorn exist if it wasn't for Robot Chicken? Possibly, but there's no denying that Son of Zorn owes a great debt to Adult Swim's twisted stop-motion sketch show. Robot Chicken turned the act of mocking He-Man and other '80s cartoons into an absolute art form, and takes a demented look at nearly every other pop culture franchise that has ever existed.
The Last Man On Earth
The Last Man On Earth doesn't make fun of specific facets of pop culture as much as it asks the question: "What do we do with all this culture when none of it really matters anymore?" Also produced by the creative team of Lord and Miller and featuring an extended guest appearance by Zorn star Jason Sudeikis, these two shows share a lot of comedic DNA. High-concept borderline-fantasy premise? Check. Fumbling man trying to make it through an unfamiliar world? Absolutely. Surprise Mad Men reunion? Son of Zorn isn't there yet, but it could catch up!
Making History
While Son of Zorn is leaving the air in February, fans of Lord and Miller will only have to wait a few weeks for a brand new show from the duo. Making History takes another big idea — someone goes back in time and dates Paul Revere's daughter, thus altering the course of human history — and puts it in hilarious hands. Starring Happy Endings' Adam Pally and Gossip Girl star Leighton Meester, Making History will follow in the footsteps of The Last Man on Earth and Son of Zorn by mixing big laughs with big concepts.
While the future seems uncertain for Son of Zorn, its style of comedy won't be going away anytime soon. As long as people want to make wild comedy sketches with their old action figures, or take ideas that could fill an entire sci-fi book series and turn them into a half-hour sitcom, there will always be a place on TV for shows like Son of Zorn.