Sophia Bush & Hilarie Burton Made Their Thoughts About Mark Schwahn's Firing Crystal Clear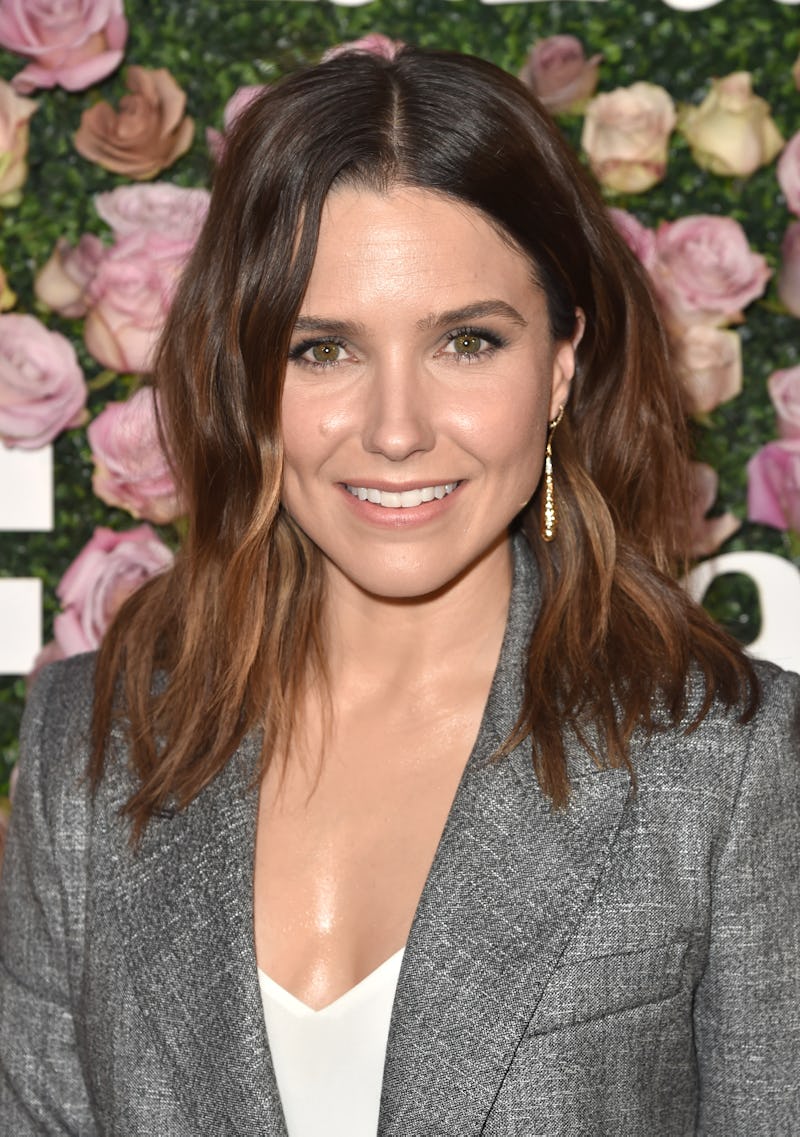 Frazer Harrison/Getty Images Entertainment/Getty Images
Mark Schwahn was fired from The Royals Thursday following multiple sexual misconduct allegations against him, and now Sophia Bush and Hilarie Burton are reacting to Schwahn's firing. The actors, who previously worked with the showrunner on One Tree Hill, are overjoyed about him being cut from the show and what they believe this means for others who have been or will be accused of sexual misconduct and have yet to face consequences. (Schwahn has yet to comment on the claims. Bustle reached out to Schwahn's rep for comment regarding his firing, but did not receive a response at the time of publication.)
"43 women came forward. To the ones who did and to the ones who didn't or couldn't, I hope this news is a salve to your souls," Bush tweeted. "To the other predators out there? I hope this is a lesson that sometimes, even if it takes time, justice is served. You're next."
Burton posted a thread of tweets, one of which reads, "The reason we cannot condone 'degrees of harassment' is because one day you get your butt or boob grabbed at work. And you laugh it off. You become conditioned. 'She's such a good sport' they say. And then? You meet a Schwahn. A Weinstein."
The 35-year-old actor, who played lead Peyton Swayer on OTH went onto thank the other series' she's starred in (Forever, Grey's Anatomy, and Lethal Weapon) since leaving OTH for treating her respectfully and showing her "how it's SUPPOSED to be" in a working environment as an actor. She also thanked her "OTH sisters" and wrote, "You women are amazing. When I left all those years ago, I could have never anticipated how strong this bond would remain. It's a good day, gals. Your art matters. It's what got me here. Xoxoxo"
The Royals' production company, Lionsgate, released the following statement to Variety regarding Schwahn's termination:
We have concluded our investigation and Mark will not be returning to The Royals. The fourth season of the show has already completed production and will air as scheduled on E! in the spring.
According to Deadline, a decision about The Royals Season 5 has not been determined at this time.
Bush and Burton's responses are just as powerful as when they initially commented on the first sexual harassment allegations made publicly by OTH writer Audrey Wauchope in November against "the showrunner". At the time, Wauchope didn't mention Schwahn by name. Following her series of tweets, 18 female cast and crew members from OTH, including Bush and Burton, released a joint statement to Variety describing how they were allegedly treated and spoken to on set, while working with Schwahn. Part of the letter claimed:
Many of us were, to varying degrees, manipulated psychologically and emotionally. More than one of us is still in treatment for post-traumatic stress. Many of us were put in uncomfortable positions and had to swiftly learn to fight back, sometimes physically, because it was made clear to us that the supervisors in the room were not the protectors they were supposed to be. Many of us were spoken to in ways that ran the spectrum from deeply upsetting, to traumatizing, to downright illegal. And a few of us were put in positions where we felt physically unsafe. More than one woman on our show had her career trajectory threatened.
You can read the entire letter here. Bustle also reached out to an agent and lawyer for Schwahn for comment regarding the letter, but did not receive a response.
In a separate interview with Variety in November, Burton detailed further sexual harassment allegations against Schwahn, including claiming that she felt as if she were "being groomed as bait." She also claimed that after leaving the drama, "The fear of being forced into another one of these situations was crippling. I never wanted to be the lead female on any show ever, ever, ever again." At the time, Bustle reached out to Schwahn's lawyer and agent for comment on Burton's claims, but has not yet heard back.
Before his firing, Schwahn was suspended from The Royals in November. "E!, Universal Cable Productions and Lionsgate Television take sexual harassment allegations very seriously, investigate them thoroughly and independently, and take appropriate action," the statement from the studios provided to Variety read in part. After his suspension, The Royals star Alexandra Park accused Schwahn of sexual misconduct on set and 25 female cast and crew members from the E! series wrote a letter alleging "repeated unwanted sexual harassment" advances. Regarding Parks and the cast and crew's allegations, Schwahn's agent and lawyer did not respond to Bustle's request for comment.
Like Burton and Bush, other women from OTH are commenting on Schwahn being fired, including Wauchope, Kate Voegele, India de Beaufort, and Shantel Van Santen. You can read their responses here:
It's clear the action that has been taken against Schwahn is giving these women hope for the future of their industry and the for the retribution alleged predators will continue to face.
If you or someone you know has been sexually assaulted, call the National Sexual Assault Telephone Hotline at 800-656-HOPE (4673) or visit online.rainn.org.