Peyton & Brooke's 'OTH' Friendship Lives On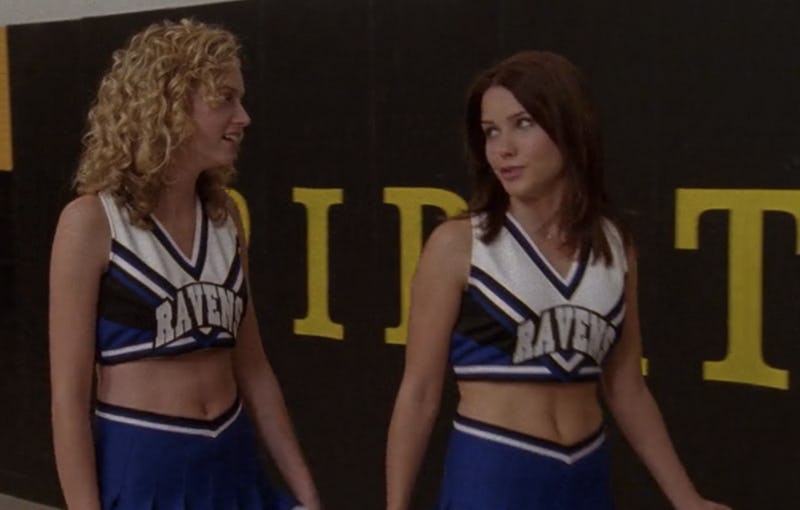 Warner Bros. Television Distribution
The dynamic duo of B. Davis and P. Sawyer lives on. As One Tree Hill fans know, there's no bond quite like that between these two Ravens cheerleaders. Proving that their friendship extends beyond the show, Sophia Bush welcomed Hilarie Burton to Twitter on Tuesday, in an exchange that will give you all the OTH feels. Apparently, this is Burton's first time on the social media site, despite some phonies pretending to be her in the past. The actor tweeted to Bush:
1st tweet HAS to be to thank this golden woman - for being my defender against imposters and my voice for years. Love you @SophiaBush !!!
Oh, and she even included a GIF of Peyton and Brooke hugging from the show. Naturally, Bush had Burton's back, responding, "Love you sister. Welcome to the batsh*t crazy, wonderful world of Twitter. I've got your back," complete with a kiss emoji.
As an avid fan of the early '00s WB/CW series, I must admit this conversation gives me as much joy as Lucas scoring the winning basket. Or, you know, Haley hitting the perfect note. Sure, Peyton and Brooke had their share of ups and downs (and serious cat fights) over the course of the show, but they always had each other's backs when it mattered most.
Granted, this real-life friendship shouldn't come as a shock to their fans. Back in January, Burton told Refinery29 the secret behind she and Bush stay so close:
"I think, underneath, there was an understanding between the two of us, like, we're in this to win it. And we've got all these male bosses telling us how teenage girls should act and feel, and we've got all these different variables coming at us. And I think now, as grown-up women, we can look back, the same way Brooke and Peyton could, and be like, Man, we survived some stuff together, huh? And that's a good feeling."
How sweet is that?
So it's official: P. and B. are still BFFs. And now, you can enjoy their witty exchanges right on your Twitter feed. I'm sure it'll be the next best thing to rewatching OTH on Netflix for the hundredth time. (Don't act like you don't still do that, too.)