Sophia Bush Does A Dramatic Reading Of Brooke Davis' Best Lines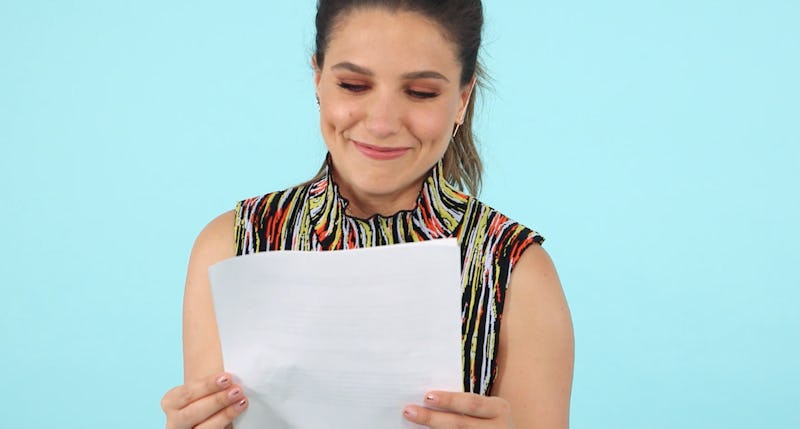 Cosmopolitan
If you thought you enjoyed just straight up reminiscing about One Tree Hill, wait until you try it with one of the original cast members. Cosmopolitan had Sophia Bush recreate Brooke Davis' best lines from the series, and the 35-year-old's dramatic reading of them really turned into more of a walk down memory lane. And hearing Bush's current takes on her old lines really takes things to the next level.
One Tree Hill went off the air in 2012, and Bush has only grown older and wiser in the last five years. While reading these lines that Brooke once so confidently spoke, the actress discovered that some of them hold up and some of them open up a whole other can of worms. After she reads, "Somebody please tell me you've got love figured out, because I've got news for you — it is pretty darn messy right now," Bush goes on a mini-tangent, saying, "Worse now with dating apps! I mean, what? Like, the complaints I hear about Tinder, I'm like, 'We are making things worse, not better.'"
It does feel like Bush wishes she could give her younger character self some insight, at times almost rolling her eyes or laughing. "This is hilarious," she quips after, "People who are meant to be together always find their way in the end." And she almost doesn't even read, "I'd rather feel nothing — it's better, it's easier," because it makes her so sad.
But as Bush gets further into the video, some of the old Brooke Davis quotes start to hit home a bit more. About one of the lines about being defined by herself and her potential instead of boys, Bush shares, "I like that one, still." And she ends with her favorite: "There's a day when you realize that you're not just a survivor, you're a warrior. You're tougher than anything life throws your way."
That could certainly go for the fandom of One Tree Hill as well. Because if there's one thing that this video reveals, it's that the magic of the show is really in the fact that the series and its stars still hold a special place in our hearts, even years after it's gone off the air.