You Can Thank This Celebrity For Playing Matchmaker Between Sophie Turner & Joe Jonas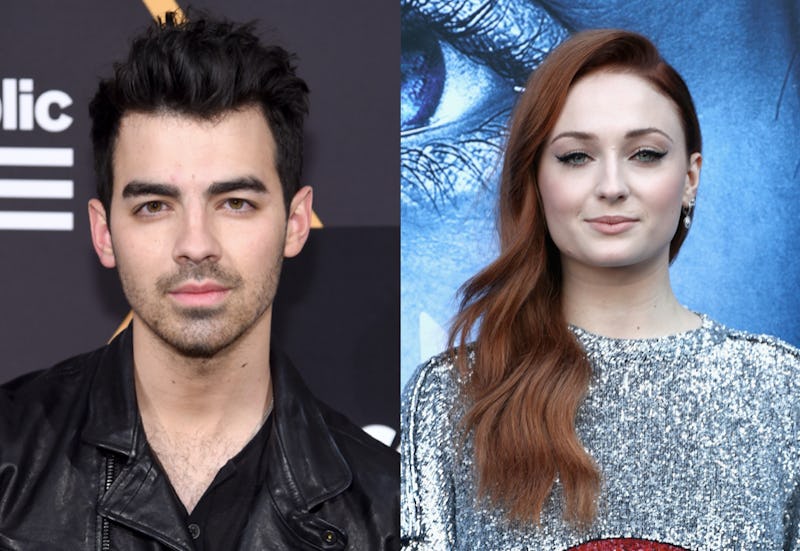 Jamie McCarthy/Getty Images Entertainment/Getty Images; Frederick M. Brown/Getty Images Entertainment/Getty Images
Details surrounding the whirlwind romance of Joe Jonas and Sophie Turner includes the help of an unexpected matchmaker. According to E! News, during a recent interview with Nova 96.9, Hailee Steinfeld revealed that she actually had a major influence on Jonas and Turner's relationship, which ultimately resulted in their engagement last year. Good friends with both entertainers, Steinfeld openly gushed about their recent decision to marry, telling the Sydney, Australia-based radio station, "So Joe just got engaged to my really good friend Sophie Turner, and I'm freaking out about it."
The Edge of Seventeen actor went on to share her role in urging Turner to date Jonas in the first place. Revealing that it was Turner who first expressed interest in the Camp Rock star, Steinfeld said,
"I will say I did get that text from Sophie saying, 'So tell me about Joe?' and I was like: 'Go for it!'"
For the record, Steinfeld became close to the singer during her collaboration with his band DNCE on her chart-topping single "Rock Bottom," which was released in 2016. It seems that Steinfeld's friendship with Jonas became a stepping stone, which would lead Turner straight into Jonas' heart.
Jonas and Turner began dating in 2016, and later made their huge engagement announcement via social media in October 2017. He celebrated the moment by posting an Instagram photo of his and Turner's hands showcasing the engagement ring, along with a caption that simply read: "She said yes." Meanwhile, Turner shared similar sentiments while posting the same snapshot on her Instagram account, writing: "I said yes."
Though wedding details for the couple remain scarce, it was revealed that Turner's Game of Thrones co-star Maisie Williams will have an important role in the highly anticipated wedding. Williams — who plays Arya Stark, sister to Turner's Sansa Stark, on the HBO fantasy drama — shared with Radio Times that she's already secured a spot as one of Turner's bridesmaids. Explaining her thoughts on the being a part of the coveted bridal party, Williams said, "Oh, already got it. Yeah, it's very, very exciting. It's kind of bizarre though."
Despite remaining mostly private about their courtship, Turner shared some details with Marie Claire about her relationship with the DNCE singer in 2016, telling the magazine that she was "very happy" dating the former Disney star. However, she also went on to explain some of the downsides to being attached to someone as popular as Jonas. Turner said,
"You do feel like you're living in a fishbowl. It's frustrating (that) it's the most mundane things that make the news — how boring!"
Even before her engagement to Jonas, Turner discussed the celebrity couple moniker "Jophie," which fans had bestowed upon their, still relatively, young relationship. Referring to her close relationship with co-star — and soon to be bridesmaid — Williams, the 21-year-old X-Men actor flipped that sentiment and told Marie Claire:
"I prefer 'Mophie.' What's that thing they say? Relationships come and go but friendship is always there."
Now engaged, Turner showed off her ring, but decided to play it coy when it came to answering questions about her romance with Jonas while on the red carpet for CAA's pre-Golden Globes party earlier this month. During her chat with Extra's Mario Lopez, Turner remained mum, saying: "I'm not saying anything. I don't know who you're talking about," when he asked about her height difference compared to Jonas.
With her relationship with Jonas taking such major steps forward, it's great to see that Turner has the support of great friends, such as Steinfeld and Williams, to help her along the way.