Maisie Williams Just Revealed Her Major Role In Sophie Turner's Wedding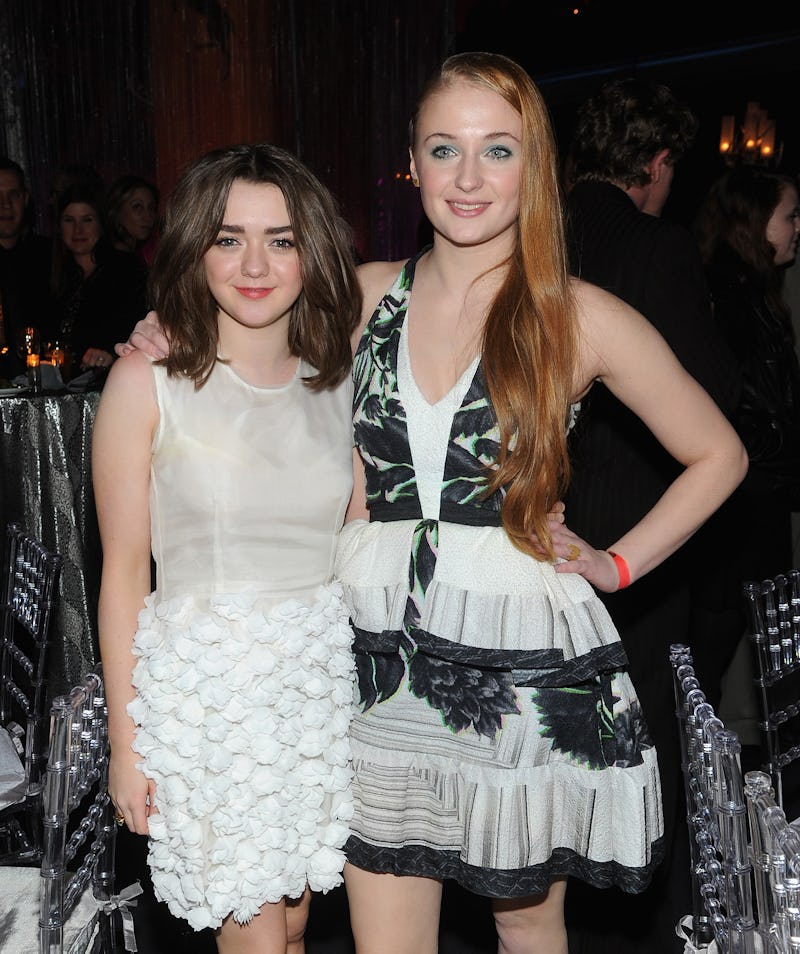 Jamie McCarthy/Getty Images Entertainment/Getty Images
They play sisters in the insanely popular HBO series Game of Thrones, and in real life Maisie Williams and Sophie Turner are actually really good friends. So much so that Williams is going to be a bridesmaid in Turner's wedding to DNCE singer and former member of the Jonas Brothers, Joe Jonas. Between Turner's GoT (director: Michelle MacLaren) and X-Men co-stars, plus Jonas' famous family members, it sure seems like their wedding is going to be quite the star-studded event.
Williams revealed the exciting news during an interview with Radio Times to promote her upcoming film, Early Man (casting: Gail Stevens). When asked if she was vying for a role as a bridesmaid in Turner's wedding, Williams quickly responded, "I've already got it." The actor seemed almost surprised by the question, with her body language indicating that she was an obvious choice to be one of Turner's bridesmaids. Williams added, "Yes, it's very exciting," before also saying, "It's kind of bizarre."
Indeed, it does feel somewhat strange talking about Turner and Jonas getting married, as the couple only really went public about their relationship a year or so ago. Their engagement surprised quite a few fans when the couple first announced the happy news with a photo shared to Instagram of Turner's ring back in October.
The betrothed couple has yet to publicly confirm a date for their upcoming wedding, but according to Williams, Turner is waiting to jump into wedding planning until after production on the final season of GoT (production designer: Deborah Riley) concludes, which suggests that it could be a while before Turner walks down the aisle.
"We're waiting until this season's done until we get into any of that," Williams told Radio Times when asked if she was helping Turner plan the wedding, "but I think she's already let her little heart wander and imagine."
In addition to playing Sansa Stark on GoT, Turner is also known and loved by fans for her role in the X-Men universe. The English actor first appeared in 2016's X-Men: Apocalypse (supervising art director: Michele Laliberte) where she played the telepathic superhero Jean Grey who later becomes the Phoenix, and is set to reprise her role as the title character in this year's X-Men: Dark Phoenix (associate producer: Kathleen McGill).
Williams, who plays Arya Stark on GoT, also recently became a part of the X-Men universe. The actor is set to portray Rahne Sinclair (also known as Wolfsbane) in The New Mutants (costume designer: Leesa Evans), which is set to be released in February of 2019.
Given that Williams and Turner are both part of the X-Men family it would only make sense for them to co-star in a future X-Men movie together, wouldn't it? Well, Radio Times asked Williams that very question, and the actor seems to be on board! "We're like sort of in the same world," Williams explained, "I think it would be a missed opportunity if they didn't. Purely because we just have so much fun... it would be a great atmosphere with us on set together." Undoubtedly people who GoT would be interested in seeing the Stark sisters reunited on the big screen in an X-Men film!
But whether or not we see Williams and Turner on the big screen together, being that Williams is going to be one of Turner's bridesmaids we can definitely look forward to pics of the two GoT stars at Turner's wedding to Jonas. Although it isn't known exactly when the two stars are planning to say, "I do," one thing is for sure — this wedding can't come soon enough!