People Think Sophie Turner's New Tattoo Reveals The Fate Of The Starks & OMG REALLY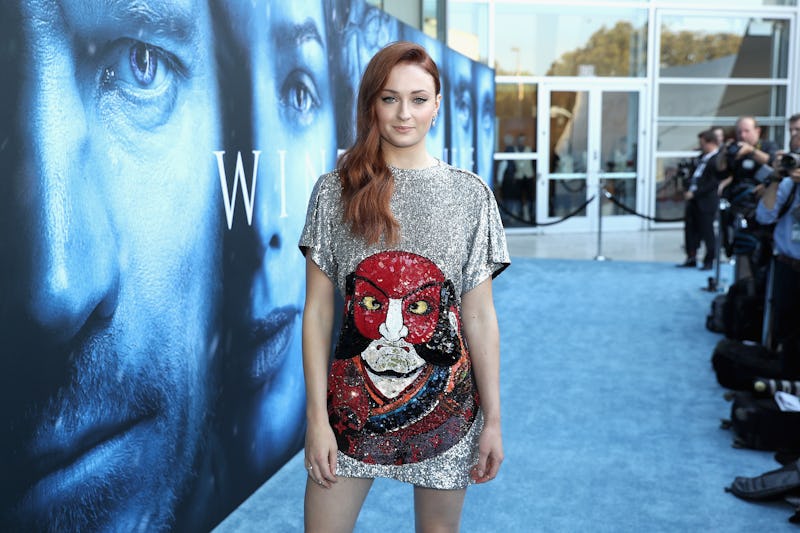 Neilson Barnard/Getty Images Entertainment/Getty Images
As the countdown gets ever nearer, yet so bloomin far, to the latest and penultimate season of Game Of Thrones, stars of the show have been sworn to secrecy and made sign infinity NDAs, been misled with multiple scripts, and kept under a tight reign. Too right, I say. With nobody any the wiser as to how the story ends, looks like they are doing a pretty swell job. But then Sophie Turner's Game of Thrones tattoo emerged and now I'm thinking twice.
Needless to say, I'm sure the press team over at GOT HQ were exchanging some worried AF looks after star of the show Sophie Turner, who plays Sansa Stark, went on down the local tattoo parlour and got herself some new work that may or may not have a spoiler in it.
What's interesting is that Turner chose not to publish an image of the tattoo herself. Instead, the image comes from her tattoo artist, Lauren Winzer, who casually shared it with her 270k followers and tagged @sophiet. This could mean one of two things. Either she knows it really is a spoiler and spoilers ruin everything or, she doesn't want her parents to kick her butt (likely).
You can view the tattoo in its full glory here. Lauren captioned the image, "First tattoo back home! Thank you so much for getting this from me @sophiet ! 🐺 bad ass !" The ink itself, which reads "The pack survives," is just about the most annoying little tease you could imagine. What the hell does it mean Sophie?! Tell us! Phew, OK I need to calm down. Let's analyse this until there's not a drop of information left.
Assuming the pack means the Stark family, what with the dire wolf above the text, does this mean the Starks are ruling the show? Is that the happy ending we want? If history has taught us anything (cough, red wedding) those Machiavellian writers have no issue whatsoever with killing off like, everyone. So although this happy ending would be nice, you genuinely just do not know what they are thinking right now.
Does it mean that maybe the pack (the Starks) survive, like, outside the show? I mean, they seem to be pretty chummy IRL. Turner has made no secret of being BFFs with co—star Maisie Williams who plays her sister Arya Stark on the show, so perhaps the tattoo alludes to their enduring familial bond once the show is over.
I think I like this BFFs forever theory but honestly, it seems like an unlikely one, especially considering that the pair already got matching BFF tattoos. As Turner reportedly told Elle UK: "We always said that we wanted them so we got the date 07.08.09 on our arms because that's the date that both of us found out we'd got our roles in Game Of Thrones. So when we had a day off from filming in Belfast we just went to a tattoo place and got it done."
Whatever the tattoo means, it's important to remember that history shows that nobody is safe in Game Of Thrones. In December 2017, Vanity Fair also reported a rumour from HBO Programming President Casey Bloys that in order to ensure the series finale remained secret, Game of Thrones would film multiple endings. In an interview with the Telegraph around the same time, Emilia Clarke also added that "They've written a number of different endings. So none of the cast know what the actual ending is. If there's ever a leak of any kind, don't believe it because it's probably not true." Well there you have it, but either way, when you go to sleep tonight, at least you are one sleep closer to the new season.