Sophie Turner Has A Secret Instagram Account About This Food & You Need To Follow It ASAP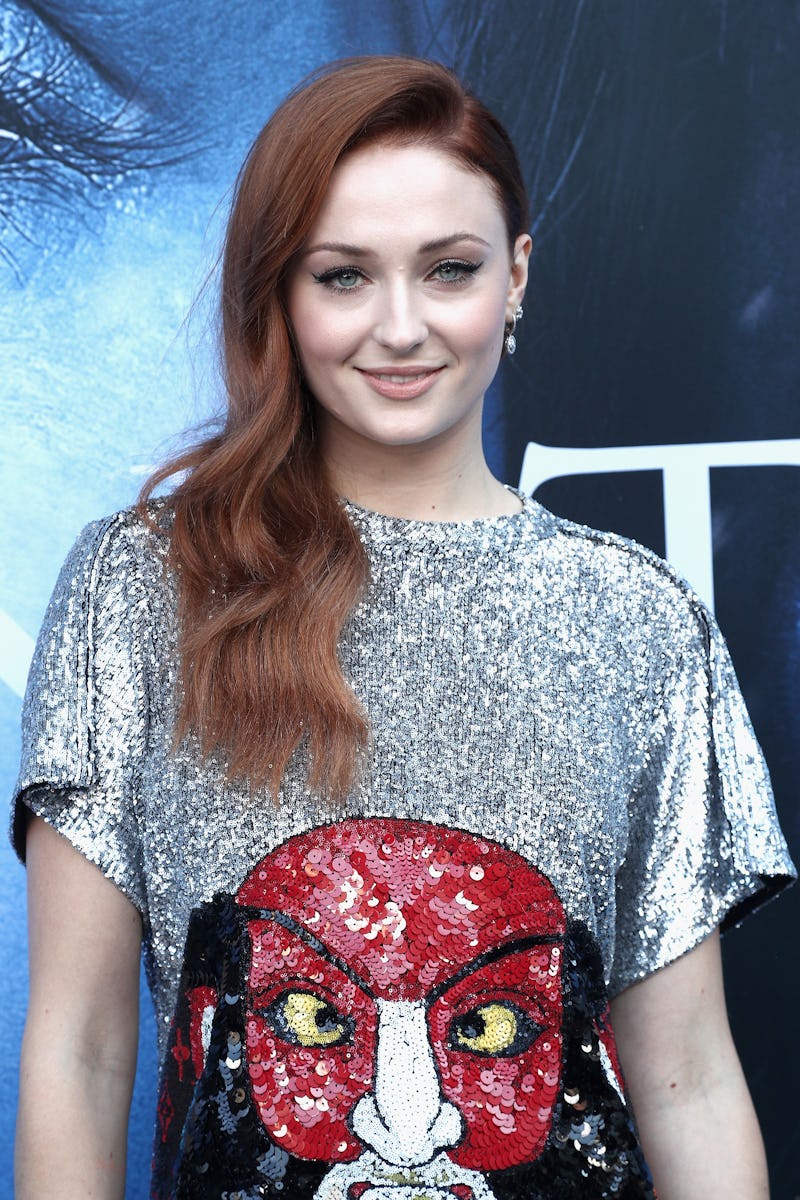 Frederick M. Brown/Getty Images Entertainment/Getty Images
Sansa Stark may be busy rebuilding Winterfell on Game of Thrones, but it turns out that her real life counterpart, Sophie Turner, has been leading a secret life of her own, unbeknownst to many fans. Thanks to some super sleuthing on BuzzFeed's part, it has been discovered that Sophie Turner reportedly has a secret Instagram for rating sausages, so this clearly needs to be every Game of Thrones fans' new obsession. Because when the House Stark plays the game of sausages, it needs to be acknowledged.
Turner wouldn't be the first Hollywood star to try their hand as a social media food critic, of sorts. Back in 2017, Lorde had an Instagram dedicated solely to reviewing onion rings, though after word got out that it was, in fact, Lorde behind the account, it was quickly deleted, leaving all fans to judge the taste of future onion rings for ourselves. "I feel like it reads like the kind of thing a pop star would do to look relatable, which I wasn't doing," Lorde told Jimmy Fallon last June in regards to the account. One can only hope that Turner's sausage reviews won't meet the same tragic fate — because based on the critiques she's already posted (as well as the bio itself, which reads "Passionate Bout The Saus"), this is definitely something that the world needs.
As of now, the account consists of only nine posts, seven of which are reviews of actual sausages. But don't let the small number fool you. It's clear that, if the account truly belongs to the actor, Turner takes her work here very seriously and makes sure to get as descriptive as possible in the captions about the taste and overall experience, followed by the exact rating said sausage has earned. Take, for example, her very first sausage review, which was posted on April 4, 2018:
"#nofilter London, England. A classic Cumberland. Juicy on the bite. Skin not too tough. Around the size of my middle finger: perfect. However I might have liked the skin to be a little crispier. For what it is..... Result: 7/10"
Her no-nonsense review makes it clear that Turner is a true sausage aficionado.
The classic Cumberland was just the beginning. Some sausages went on to get even higher marks, like this one which earned high praise with a whopping 8.5 out of 10:
The caption, in full, reads:
#nofilter London, England. A classic Cumberland. Tastes so nice I ate it twice. A really impressive sausage, of course the English nail it. Soft on the inside, crispy in parts on the outside, surprisingly and impressively, the skin came away with body of the sausage rather separating and, like most Cumberland's, getting stuck in your teeth. I'm impressed 8.5/10 I would challenge it to be a little crispier as it's obvious which side was left on the griddle longer. But I'm very impressed. Side note: wow. This airport lounge also serves freshly squeezed grapefruit juice. Nothing more a girl needs than a good sausage and some freshly squeezed grapefruit juice
However, Turner isn't afraid to shell out some lower ratings if necessary. Much like Sansa herself, the actor stands up for her convictions. So when a sausage comes around that is sub-par, you better believe she's going to say something about it, much like she did in this review:
#nofilter #sausagesurpriseoftheweek Los Angeles, California Sausage sauce on the sly. Sausage gravy on biscuit. Slightly spicy. More bitty than expected but the taste of the biscuit really complements this gravy. Without the biscuit who knows where we'd be. 4/10
Turner's latest subject earned top marks, though it couldn't be given a perfect score due to the fact that it was a sauce and not a full-on sausage:
Unfortunately, this was posted on April 14, and Turner has yet to share any other reviews since then. Could this mean that her days as a food critic are over, or has she simply not eaten any sausage since then? It's impossible to say for sure, but let's pray to the gods, both old and new, that there will be many more reviews in the future. Any other outcome would simply be the wurst. (You're welcome.)