The Author Of 'Speak' Is Writing A Memoir About Sexual Assault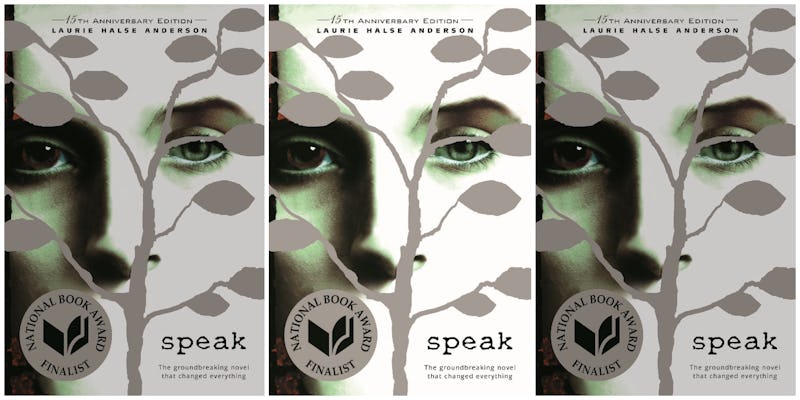 When it was first published in 1999, Speak was heralded for its honest and emotional portrayal of sexual assault and its aftermath. Now, nearly 20 years later, New York Times bestselling author Laurie Halse Anderson is returning to the important topic in Shout, a searing new memoir in verse about her personal experience as a rape survivor and her journey to healing.
Since its publication, Speak has become an iconic work of literature for young people, one that helped spark a national conversation about sexual assault. Unfortunately, it's a conversation that hasn't changed much in the two decades since it started. According to recent statistics, someone in the United States is sexually assaulted every 98 seconds, and younger people are at the highest risk. According to a press release announcing the upcoming title, that is why, at least in part, Anderson wanted to share her own experience of sexual violence with readers: because she is angry that, 20 years after Speak, rape culture still persists.
Scheduled for publication March 2019 from Viking Children's Books, Shout is a collection of free verse that chronicles Anderson's personal experience as a rape survivor, including the many steps towards healing the author has taken since.
"I lost my voice for a very long time after I was raped," Anderson said in a statement about the upcoming memoir. "I lost myself, too. Shout is a poetry tapestry that shares the darkness of my silent years and shows how writing helped me speak up. Shout is a declaration of war against rape culture and a celebration of survival."
The author of several critically acclaimed titles, Anderson is best known for Speak. A powerful novel about sexual assault, trauma, and healing, it was considered a game-changer when it was published, and continues to be one of the most celebrated and frequently read young adult novels. It is also one of the most frequently banned books in the country, which is one of the reasons Anderson has become one of the loudest voices to speak out against censorship, especially in schools.
A bestselling author whose books for young readers, teens, and adults have sold more than 8 million copies, Anderson is a fierce advocate for sexual assault awareness. She is also one of the most prominent voices in the fight against censorship who regularly speaks out on behalf of diversity in publishing. She has been nominated for the Astrid Lindgren Memorial Award on two separate occasions, and two of her books, Speak and Chains, were National Book Award Finalists. Chains was also short-listed for the Carnegie medal. In 2009, she was the recipient of the American Library Association's Margaret A. Edwards Award, and has been honored on several occasions for her ongoing fight for intellectual freedom.
"A new book from Laurie is always a significant event, not just for Viking and Penguin but for a worldwide community of readers who eagerly anticipate each new release from her," said Ken Wright, President and Publisher, Viking Children's Books, in a statement announcing Shout's publication. "And this one is particularly special. It is the most personal, most close-to-the-bone book Laurie has written and we couldn't be more proud to be publishing it."
Although it does not hit shelves until next March, there are still plenty of Anderson books to read while you wait for Shout, including her historical Seeds of America series, a variety of children's books, and several young adult novels. In addition to Speak, a new graphic novel adaptation of the modern classic, illustrated by Emily Carroll, was released in February. A special 20th anniversary edition of Speak is also expected next January.