A 'Speak' Graphic Novel Is Coming & The Author Is Celebrating In A Powerful Way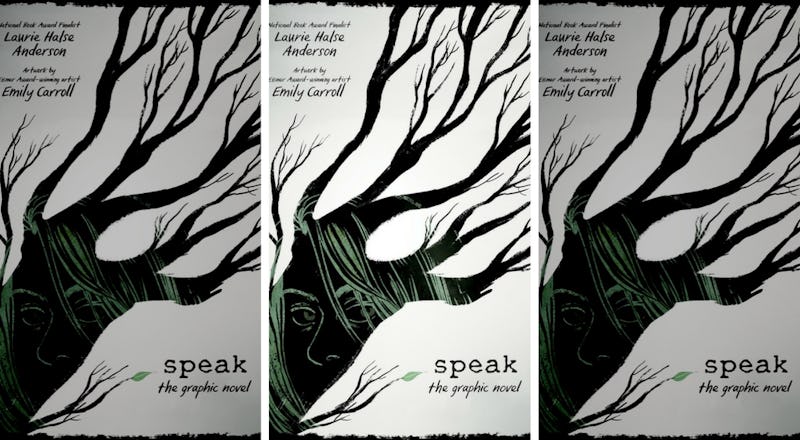 When it was published in 1999, Laurie Halse Anderson's novel Speak was heralded for its groundbreaking depiction of sexual violence and its aftermath. Now, the multiple award-winning book is getting a powerful and charitable makeover in Speak: The Graphic Novel. Throughout the month of February, publisher Macmillan is partnering with RAINN for a matching donation campaign that makes the books re-release, which is essential in light of the #MeToo movement, even more important.
Nearly two decades before Alyssa Milano inspired millions of women to come forward with their stories of sexual violence using the hashtag #MeToo, and a decade before activist Tarana Burke started the original awareness campaign, author Laurie Halse Anderson published Speak. It tells a potent and uncompromising story of one teenage girl's heartbreaking struggle to find her voice in the aftermath of a devastating sexual assault that left her hurt, depressed, and alone.
At the time, few other books had dealt with sexual assault or the trauma thereafter with such care, honesty, or insight. Speak became an instant classic, and was heralded as a necessary addition to the young adult cannon. The novel went on to win several awards and honors, and was named a Michal L. Printz Honor Book, a National Book Award Finalist, and ALA Top Ten Best Book for Young Adults, among others.
Speak: The Graphic Novel by Laurie Halse Anderson and Emily Carroll, $13, Amazon
Now, nearly 20 years after its original release and in the midst of the United State's ongoing conversation about our culture of sexual violence, the re-release of Speak a stunning new graphic form feels more relevant — and more necessary — than ever.
Like its original source material, Speak: A Graphic Novel tackles issues of sexual violence, misogyny, and gender disparity head-on. Eisner Award winning illustrator Emily Carroll, best known for her haunting graphic story collection Through the Woods, brings Anderson's original story to life in powerful grayscale artwork that perfectly captures Melinda's depression and despair.
"It feels, in many ways, ahead of its time," Joy Peskin, the editor of the graphic novel, said of the original book in a 2017 interview with Bustle. "I mean Laurie [Halse Anderson] can speak for herself, but I don't think she would've, could've, or should've written it any differently than she did. I feel like these things weren't talked about as much then as they are now... but in a way it's a bit tragic that 20 years later, we're still talking about this and we're still having these conversations and it's still surprising to the world at large."
A unique and powerful adaptation, Speak: The Graphic Novel will help a whole new generation of readers navigate the complicated and frightening world of sexual violence and its aftermath. What's more, its publication will directly impact survivors of sexual violence. Throughout the month of February, Macmillan Publishing is partnering with RAINN — Rape, Abuse & Incest National Network — to raise funds for the nation's largest anti-sexual violence program. Macmillan will match up to $5,000 in donations, and is even help organize an incentives program to encourage people to donate.
The campaign, #Speak4RAINN, is asking participants to donate money in exchange for unique gifts from the creators of Speak: The Graphic Novel. include an intimate lunch with Laurie Halse Anderson ($300), original artwork by Emily Carroll ($1,000), a "Speak Up" necklace ($35), and a signed graphic novel ($50), among other cool items related to Speak. The campaign ends on Feb. 28, so you still have plenty of time to pick out your unique incentives and donate to this important organization.
This is not the first time Macmillan has partnered with RAINN in support of Speak. In the past, the publisher has worked with the book's author on two other charitable campaigns for the organization, which is near and dear to Anderson's heart. In the nearly two decades since the original publication of Speak, and in the nearly 25 years since RAINN was founded, there have been several occasions to combine forces to raise money and awareness for victims and survivors of sexual assault. This year, in the wake of the #MeToo movement, another perfect opportunity has presented itself.
While it is frustrating to Anderson that, all these years later, little progress has been made in the fight against sexual violence, the author admits to being mildly optimistic about the current conversation. "The victims of sexual violence are still held responsible for their attacks," she told Bustle in October 2017. "Parents are still afraid to have ongoing, sensible conversations about human sexuality with their children. Too many schools hesitate to foster conversations about these issues, and too many police and judicial systems — largely run by men — ignore or belittle victims demanding justice. Until America's adults really start talking about the sexual violence, rape culture, and consent, nothing will change. But I think that the #MeToo movement might be the beginning of that conversation."
To kick off the month-long campaign, Anderson and Carroll will be appearing at a joint event on Feb. 6 at Politics & Prose in Washington, DC. The evening is just one part of the store's ongoing "Can We Talk About This" series that encourages meaningful conversations between teens, adults, and authors about timely issues, including sexual assault. During the Feb. 6 event, customers who purchase Speak, or any other book in the store, can donate 20 percent of their purchase for RAINN. You can find out more on the Politics & Prose event page here.