Speidi Wants To Attend Justin Bieber's Wedding & Here's Why It *Might* Actually Happen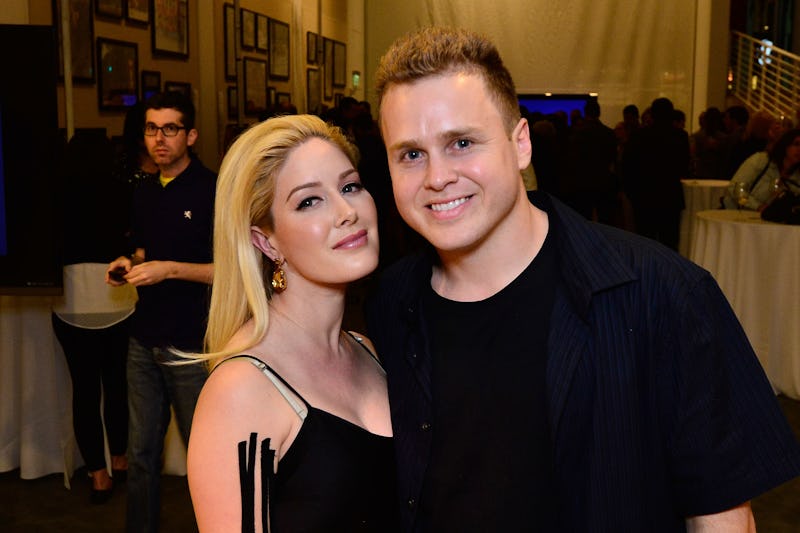 Jerod Harris/Getty Images Entertainment/Getty Images
Now that they've officially confirmed their engagement, it goes without saying that Justin Bieber and Hailey Baldwin's wedding is probably going to be amazing. So is it really surprising that a certain reality couple is dying for an invite? Spencer Pratt and Heidi Montag are hoping to go to Bieber and Baldwin's wedding, and these former stars of The Hills are crossing their fingers they can use an old connection of theirs to score an invitation.
While talking to Entertainment Tonight at a party for Daily Mail on Wednesday, Pratt and Montag opened up about the Biebs' big news — and how excited they are for what's sure to be the wedding of the century. Remember when they were on the show I'm A Celebrity... Get Me Out Of Here back in 2009? Baldwin's famous dad, Stephen, was on their season too, and now they're hoping he'll hook them up if Pratt slides into his DMs at just the right moment. After all, they did share a few scenes together.
"I was telling my weight lifting coach, 'God, I wish I stayed in more contact with the man who baptized me in a Costa Rican river on a reality show, because I would be going to the JB/Hailey frickin' wedding,'" Pratt told ET. "I've been DM'ing him like, 'Hey, hey.'"
Pratt admitted that he hasn't actually DMed Baldwin yet, and that he's planning to wait until the wedding is closer — and right now, a date hasn't even been set yet. Even when Pratt does send that message, it wouldn't be surprising if Baldwin took a while getting back to him, if he does at all. Being that Baldwin's daughter is part of a very high-profile engagement, Pratt is probably just one of the many who want to talk to him right now, and he's likely far from the only one who's angling for an invite. Still, there's always the off chance that a DM could work.
But whether or not they actually end up going to the wedding (and if they do, there's no doubt their Instagram Stories are going to be amazing), it sounds like Pratt and Montag are just happy for the newly engaged couple, especially since they did meet Baldwin when she was younger.
"We're so excited though. Last time we saw Hailey, she was like 12, so she's certainly grown up," Montag said. Um, yeah. Twenty-one years old and engaged with a full blown modeling career? That's a pretty big difference. And when it comes to Bieber? Well, this photo from Pratt's Instagram speaks for itself:
Did they become best friends that night? It's possible, especially if Bieber is into crystals, Pratt's favorite topic of conversation. Maybe that's enough to get him on the wedding guest list, just in case his Baldwin route doesn't work out. In the ET interview, Pratt did list Bieber (along with Taylor Swift and Ben Affleck) as one of "the most amazing humans that I have ever come in contact with" and said that he was "so frickin' nice." But is he frickin' nice enough to hook Pratt and Montag up with a place at his wedding? Only time will tell.
No matter how you feel about Pratt and Montag, you have to admire how sure they sound about going to Bieber and Baldwin's wedding, because honestly, who wouldn't want to go? Unfortunately, the rest of us just have to plan on living vicariously through the photos they will hopefully share. And if that's not good enough? Well, you could always follow Pratt's lead and try sliding into Baldwin's DMs.