Spencer Pratt Twinned With His Son In Matching Blazers At The VMAs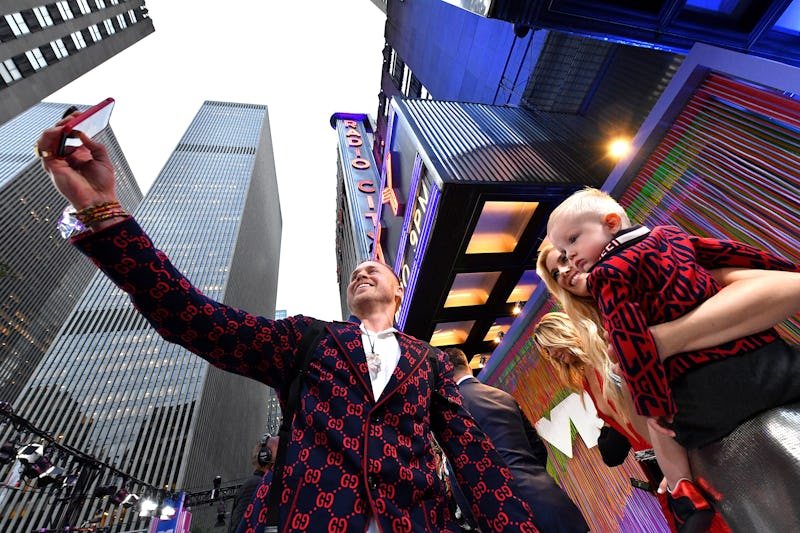 Dia Dipasupil/Getty Images Entertainment/Getty Images
The Hills alum Spencer Pratt and his son Gunner are the new DJ Khaled and his son Asahd. As any awards shows watcher knows, Khaled usually brings his fashionable little dude with him to all red carpet events and he's always one of the best-dressed. Well, Spencer and Gunner Pratt twinned at the 2018 MTV VMAs and did the same as Khaled and his handsome baby boy — at least for one night. Father and son were decked out in coordinated black and red blazers and the presentation was utterly adorable.
For the longest time, you wouldn't see many — if any, for that matter — positive press mentions regarding Pratt, who is one-half of the "Speidi" supercouple with Heidi Montag. That's because he was always the villain of The Hills and it was a role he seemed to relish. But seeing him as a proud papa and with an incredibly cute offspring should cause you to change your tune and soften a bit towards him.
The well-dressed duo wore charcoal bottoms with their bold, print jackets. They were also flanked by wife and mom Heidi, as well. Her long, platinum locks tumbled around her face and she rocked a metallic, silver mini. It dipped dangerously low in the back. But she totally owned her slip dress.
The Pratts were indeed a well-dressed family as they made their return to the VMAs red carpet in anticipation and ahead of a hotly rumored The Hills reunion. Despite Gunner, who is just under a year old, looking heartily unimpressed in this shot, he is quite a cutie, isn't he? No wonder his mama is looking down at him while beaming with pride. What's not to love about the lil' guy?
Check out dad and his little dude. Do those "Gs" stand for "Gucci?" Or do they stand for "Gunner?" We cannot help but wonder. We also are loving Gunner's shorts and his double-strap sneakers. He was stylin' and profilin' from top to bottom.
Despite being one of the best dressed people who is single digits in age, Gunner looked like he'd rather be at home watching cartoons of some sort. That or sleeping.
Spencer and Gunner were not quite copycats. They were well-coordinated with their color schemes. But make no mistake — Gunner is most certainly his dad's mini-me.
OK, so Spencer and Gunner couldn't have all of the fashion fun at the 2018 VMAs. Mom Heidi showed off lots of leg with her deceptively simple dress. The tank silhouette appeared simple. But it was the color and the movement of this mini that made it anything but basic. The strappy, black and bejeweled hairs were a perfect choice of footwear to go with the dress.
Even so, her best accessories were her husband and her son. They were just too cute.
The VMA red carpet isn't the only place that Speidi and Gunner have shown off their current styles. Check out the well-dressed family from a prior event.
Gunner Pratt is our new fave style star, especially due to his 2018 MTV VMAs look.