'Spice World' Is Returning To, Hopefully, As Many Theaters As Possible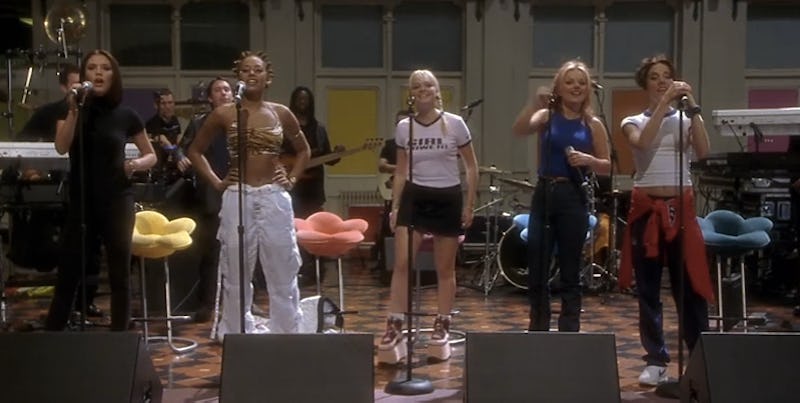 Columbia Pictures
It was surreal, it was kitschy, and it showed us a whole other side of the '90s girl group. So thank heavens Spice World is returning to theaters for its 20th birthday for special anniversary screenings. A Facebook post on the Spice Girls News page reels off a long list of venues for the September screenings, which is exactly the sort of news that may have excitable readers all prepped to co-ordinate cinema tickets with their friend group with military precision — except there's just one issue. If you're not Britain-based, this could get a little complicated, since at the moment "this is just for cinemas in the UK."
But don't fret, the Facebook post promises "we are hoping to organise something for fans across the world soon," so watch this space. If you're not based in Britain, then arguably this would be a great reason to shell out for a ticket to the Queen's own country, swing by London, and do a little shopping on Oxford Street. But if your bank account is feeling the effects of your summer holiday, you're going to want to make alternative plans. Like watching Spice World elsewhere if U.S. screening dates don't come through. (They better!)
Unfortunately, the Spice Girls' movie is not on Netflix in the U.S. However, Spice World is available on Amazon, where you can go extra '90s and actually buy the DVD for $8.99 or rent (or buy) a digital copy via Amazon Video for just $3.99 (or $12.99). So, if you're in a part of the world where you won't have cinematic access to a film Philadelphia Enquirer critic Steven Rea dubbed a "fanciful view of fame and female camaraderie in the fabulous '90s" it's worth considering doing it right and organizing your own screening in the comfort of your bedroom.
To truly appreciate the joy of this movie, it's worth recognizing it as part of one very specific genre: the pop-band-makes-a-movie film. Just like A Hard Day's Night and Help! (both featuring another popular British band you might have heard about once or twice, The Beatles), the movie plays fast and loose with plot in order to keep attention focused on the film's real weapon: its leads' charisma and energy. As such, it could be worth watching it back to back with either of The Beatles' movies cited above or alternatively, with another movie that pits a feisty girl group against the scheming of those in control of the media — Josie And The Pussycats.
In the words of the "Wannabe" singers themselves, "If you wanna get with me, better make it fast." It's not long until September 29, when British fans will be rewatching the movie in cinemas. Start planning your viewing party now so even the worst-case scenario of the movie not making it to U.S. theaters is worthy of a band as transcendental as the Spice Girls.