Spike Lee Won His First Oscar For 'BlacKkKlansman' & It's An Honor Long Overdue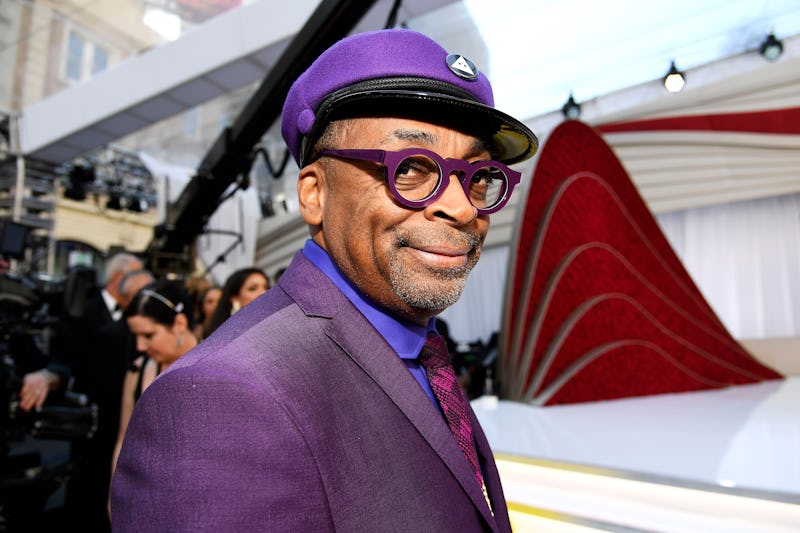 Kevork Djansezian/Getty Images Entertainment/Getty Images
This year's Academy Awards included a ton of touching moments, and Spike Lee winning the Best Adapted Screenplay award was one of them. As mind-boggling as it might be, this was the first time the filmmaking icon has won an Oscar. Well, sort of. According to The Hollywood Reporter, Lee was given an honorary Academy Award in 2016, and he was nominated in 1998 for Best Documentary Feature and in 1990 for Best Original Screenplay for Do The Right Thing. But this is the first real Oscar win for the legendary filmmaker.
Lee and his BlacKkKlansman co-writers Kevin Willmott, David Rabinowitz, and Charlie Wachtel went up against Barry Jenkins for If Beale Street Could Talk, Bradley Cooper and the rest of the A Star Is Born writing team, Joel and Ethan Coen and their team for The Ballad Of Buster Scruggs, and Nicole Holofcener and Jeff Whitty for Can You Ever Forgive Me. Lee was also nominated for Best Director and for Best Picture, though lost to Alfonso Cuaron and Green Book, respectively.
Brie Larson and Samuel L. Jackson presented the category, and both of them audibly gasped when they read that it would be Lee and the BlacKkKlansman crew who would be taking home the honor. After Lee's impassioned speech, Jackson even stuck around on stage to give the icon his award and a huge hug.
It's a very big deal that Lee finally won an Oscar after being in the business for so long, and being the creative force behind influential movies that have inspired generations of filmmakers. During this broadcast alone, Best Costume Design winner Ruth Carter and Best Production Design winner Hannah Beachler thanked Lee for his help in shaping their own careers in film. Lee might have summed it up best in his speech when he said that the "word of the night" was "irony" — it is a little ironic that a Hollywood staple like Lee is only now, in 2019, getting awards for his work.
Lee dedicated his speech to his family, specifically the women in his life. He noted that it's been 400 years since the height of the African slave trade. Lee said, "My grandmother, who lived to be 100 years young, who was a Spelman College graduate even though her mother was a slave. My grandmother who saved 50 years of social security checks to put her first grandchild — she called me Spikie-poo — she put me through Morehouse College and N.Y.U. grad film."
Lee also took the time to call people to action, as he often does in his work and public life. "The 2020 presidential election is around the corner. Let's all mobilize. Let's all be on the right side of history. Make the moral choice between love versus hate. Let's do the right thing! You know I had to get that in there," he said, referencing the title of his classic movie.
And fans were stoked for his milestone win:
While it's kind of a bummer that Lee didn't win for Best Director, since that's what he's arguably best known for, and that the controversial Green Book took home the Best Picture award, it was still satisfying to see Lee up on that stage, thanking his grandmother, and finally getting some love from the Academy. There will hopefully be many awards to win in his future.