The 'She's Gotta Have It' Remake Trailer Introduces The Sex-Positive Role Model You Need In Your Life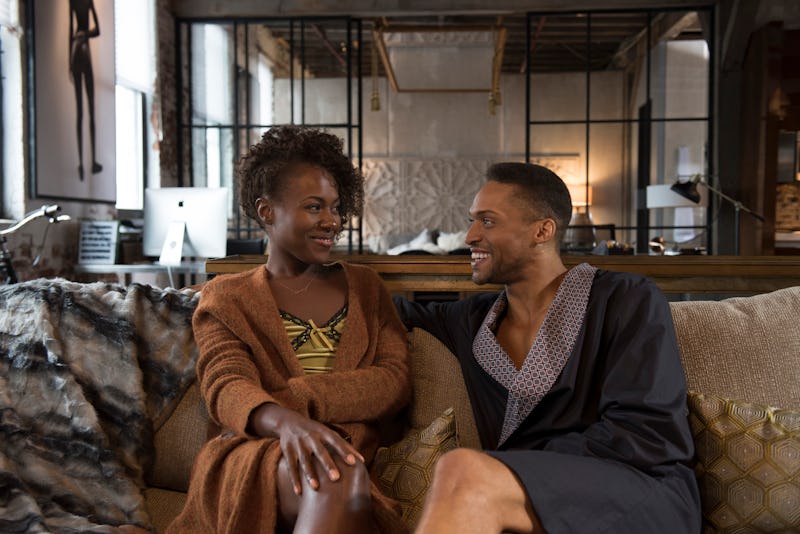 David Lee/Netflix
If you think Spike Lee's film She's Gotta Have It is a classic, just wait until you get your hands on the trailer for the remake. The story of the independent and sex-positive Nola Darling is coming to Netflix in the form of an episodic series, and the She's Gotta Have It trailer released on Thursday proves that the 1986 film's plot still holds up today. Nola Darling is the 2017 role model that women didn't even realize they needed until now, and the series' trailer does a perfect job at introducing her boldness to the masses.
Taking place in the streets of 1980s' New York, the original She's Gotta Have It examines the love life of artist Nola Darling. For Darling, one man isn't enough to satisfy her, and so the unconventional black woman defies all laws of nature as she navigates all of her relationships fearlessly and unashamedly — open about her sexual prowess and needs. Interviews with her lovers Mars Blackmon, Jamie Overstreet, and Greer Childs — as well as her father, therapist, and ex-roommate — are compiled in the hopes of getting to the bottom of what exactly makes Nola Darling tick. And though many close to her are confused by her lifestyle, Darling is unrelenting in maintaining the ownership of her mind, body, and choices.
DeWanda Wise takes on the lead role of the self-proclaimed polyamorous Darling in the new Netflix series — originally tackled by Tracy Camilla Johns. And by the looks of the trailer, Wise is bringing some relatable 2017 flair to the iconic role. As if the wardrobe wasn't a dead giveaway that Darling's story has finally landed in the new millennium, explaining just what sexuality boxes she checks to her therapist totally will.
Coming to the streaming platform on Thursday, Nov. 23, Lee's 10-episode extended remake seems like it's going to do far more than entertain. Nola Darling may not be "a freak," a "sex addict," or "nobody's property," as she says in the trailer, but she's definitely going to serve as a much-needed and defiant form of protest for a lot of women tuning in.
Just as the movie's been doing since 1986, the She's Gotta Have It series is bound to leave a lasting impression on its viewers. With the news of the Trump administration's healthcare executive order continuing to pose a threat to women's health and family planning — including the offering up of an "exemption to any employer that objects to covering contraception services" — having art that shows women owning their sexuality and walking proudly in their paths to self-discovery is needed more than ever. And what better person to bring this to life than an unapologetic, gallant, and carefree black woman?
Over the course of her career thus far, Wise is best known for bringing to life strong and unforgettable characters — including one of her most recent roles of Clara, a daughter of enslaved preacher, opposite Amirah Vann's groundbreaking character of Ernestine in WGN's Underground. In her short time in the series, Clara's determination to take ownership over her body captivated the Underground audience, and with giving kudos to Wise for her spectacular performance, the talented actor is bringing that same fearlessness to 2017's Darling. Though in two totally different time frames, the characters are both fighting to possess ownership over their bodies — a battle that women in today's age know all too well.
Even if you haven't seen the original film, you'll still be able to appreciate 2017's Darling for her candidness, strength, and beauty. The remake's first look weave in all three characteristics wonderfully, making it almost impossible for those who watch to ignore the upcoming series' potential. And the reactions on Twitter, from both fans of the original and those seemingly being introduced to Darling's story for the first time, definitely prove this to be true.
It looks like Netflix fiends will have a lot more than turkey to be thankful for on Thanksgiving, because Lee's She's Gotta Have It remake is shaping up to be yet another classic.