A Flamin' Hot Cheetos Cupcake Exists — Here's What's In It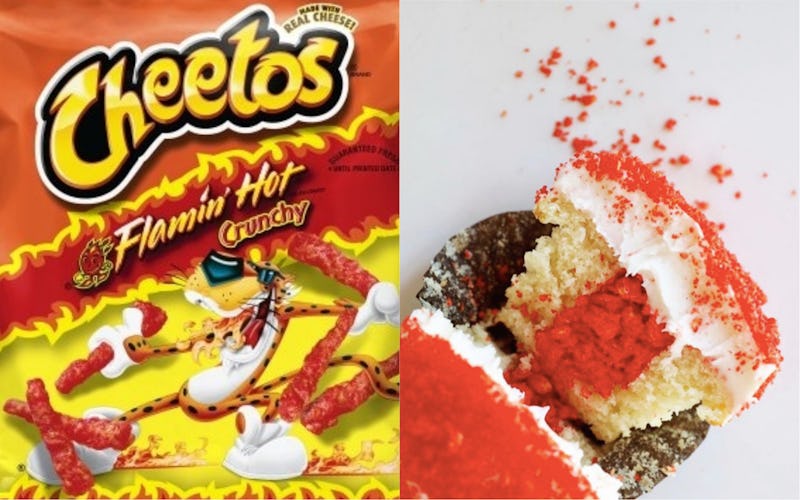 Cheetos; Sprinkles
Outlandish cupcakes were the "it" food of the early 2000s — and they have definitely stood the test of time. Sprinkles, especially, has kept people enchanted by the cupcake flavors, its famous vending machine, and ice cream innovations. It helps that even the shop's classic flavors like dark chocolate, vanilla, and red velvet taste like something extra special. But, next week Sprinkles is releasing a flavor so unexpected, it may change the cupcake world FOREVER. For three days only — July 26 through July 29 — you can get a Sprinkles Flamin' Hot Cheetos Cupcake at locations nationwide.
For the curious among us, Sprinkles Flamin' Hot Cheetos Cupcake is a fluffy vanilla cupcake, cored, then filled with crumbled Flamin' Hot Cheetos, according to Sprinkles. It is topped with a creamy white cheddar icing (maybe similar to a red velvet's cream cheese icing) and finished with a sprinkling (heh) of Flamin' Hot Cheetos dust. The treat is about as atypical as you can imagine, but the Sprinkles team has clearly worked meticulously to transform a spicy snack into a daring dessert. The website puts it best; this cupcake is "bright red, savory and sweet, and delicious!"
For as long as the snack has been on shelves, Flamin' Hot Cheetos have been a fan favorite. The devotion to the little crispy, cheesy morsels has influenced everything from entertainment to beauty. But why do people love Flamin' Hot Cheetos so much? Further, are even the most devoted Cheetos fans ready for a Flamin' Hot Cheetos cupcake?
If you think about it, the fanfare kind of makes sense. Few flavors are as appealing as cheese and spice. In fact, there is evidence to suggest a person can actually become addicted to cheese. Combine cheese with spice and the two will only get more delicious. By that logic, combining Flamin' Hot Cheetos with something sugary should equip the final product with an unparalleled level of deliciousness.
But, Sprinkles is actually not alone in this idea that Flamin' Hot Cheetos may just be the *perfect* ingredient for an after-dinner sweet fix. Take, for instance, the interpretation from NYC-based bakery Macaron Parlour: a Flamin' Hot Cheetos MACARON. The confection takes a classic, airy Macaron and adds some "Cheetos-infused white chocolate ganache" to the mix. It is finished with cheese dust to create a neon sweet unlike anything you have ever before eaten. According to reports of taste testers on Instagram, the macaron may not be for everyone, but it definitely tastes like Cheetos.
One of NYC's most notable sweet shops, The Big Gay Ice Cream store, is also getting in on the Cheetos craze. The shop recently reintroduced its ever-popular Cheet-Oh's ice cream, according to Time Out. A cone soft serve is rolled in a thick coating of crushed Cheetos dust to create a salty-cheesy-sweet, VERY orange treat. Oh, and the soft serve? It's not the classic vanilla. It, too, is flavored like cheese. Intrigued, yet? Time Out New York reports the combination is actually delicious, and ice cream bears a likeness to other cheesy-sweet eats like cheesecake or a blintz.
The jury is still out on the Flamin' Hot Cheetos Cupcake, though. Head to your nearest Sprinkles to pick one up. But, don't wait too long, the flavor is only available through July 29.