Stacey Abrams Called Out Her GOP Opponent For Supporting A "Problematic" Voter ID Law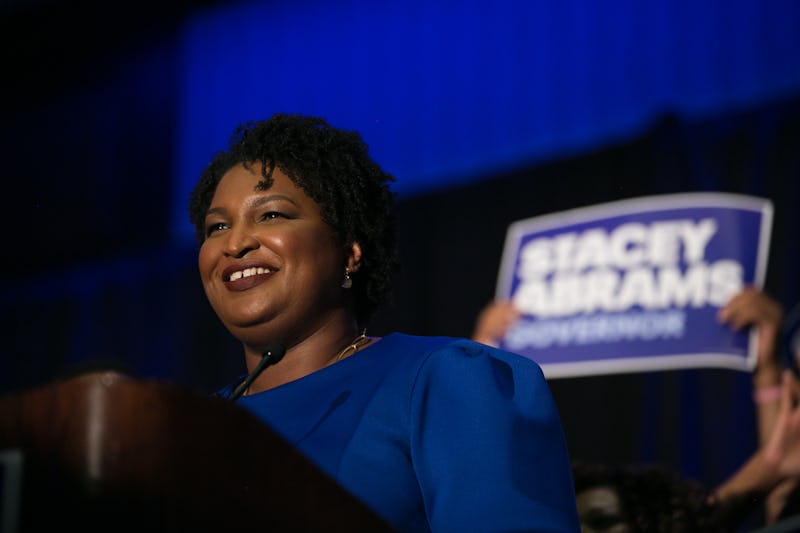 Jessica McGowan/Getty Images News/Getty Images
The Democrat running to be the next governor of Georgia went on the attack Sunday and told CNN that her Republican opponent was targeting the voter registrations of women and people of color in particular. Stacey Abrams responded to Georgia's "exact match" law for voter registration and called it an attempt by the Republican Secretary of State Brian Kemp — her opponent — to suppress the vote.
UPDATE: After publication, Kemp's press secretary, Candice Broce, sent Bustle a statement reading:
This is a publicity stunt that the media falls for year after year. Their claims are bogus. It is a complete waste of our time and taxpayer dollars. This so-called 'exact match' law was passed by the legislature and signed by Governor Deal. It mirrors a Florida law recently upheld in the 11th Circuit. The 53,000 Georgians cited in their complaint can vote in the November 6th election. Any claims to the contrary are politically motivated and utterly false.
EARLIER: Abrams spoke with Jake Tapper on CNN's State of the Union about the 53,000 Georgians whose voter registrations have been placed on hold thanks to the "exact match" law. The law says that if any voter's personal information doesn't match their Georgia driver's license, social security card, or state ID, their registration gets flagged and put on hold. About 80 percent of those whose registrations are still pending are people of color.
Tapper asked Abrams if she thought Kemp's move to put the registrations on hold was racially motivated. "When you know what you're doing is going to have a disproportionate effect on people of color and on women, and you do it anyway, that erodes the public trust in the system, and that's problematic," Abrams responded. Bustle reached out to Kemp through his office for comment.
Abrams argued that this is the second time that Georgia Republicans have attempted to limit registration in this way. Kemp and the state were sued in 2016 over the effect of using "exact match" on minority registrations and as a result, the state decided not to use the system that November and settled the federal lawsuit.
In 2016, "exact match" was just a policy Kemp instituted, but in 2017, Georgia passed a law that made the process part of state election law in order to bypass the lawsuit settlement, The Atlanta Journal-Constitution reported.
"This is simply a redux of a failed system that is designed to both scare people out of voting and make it harder for those who are willing to push through, make it harder for them to vote," Abram told Tapper.
"Voting should not be a question of trust on the part of voters, whether they can trust the system," Abrams said. "And, right now, [Kemp] is eroding the public trust in the system because 53,000 people have been told, you may be able to vote, you may not, it's up to you to prove it. ... The miasma of fear that is created through voter suppression is as much about terrifying people about trying to vote as it is about actually blocking their ability to do so."
The way the law works is that the affected 53,000 voters can still vote if they bring an ID that shows they should be able to. The problem, critics argue, is that then it is up to the person working the poll to decide who can vote and who cannot — an argument Abrams brought up with Tapper.
"You have 159 counties, thousands of volunteer and paid poll workers, who are going to be asked to substantially verify that these IDs are sufficient. And the challenge is that this is a subjective standard," Abrams said. "It would be much easier if [Kemp] would do his job."
Earlier this week, Abrams called on Kemp to step down when news broke that 53,000 registrations had been put on hold — some for discrepancies that amount to a hyphen. Kemp has also been sued by civil rights groups earlier this week over "exact match" for violating the Voting Rights Act, the National Voter Registration Act, and the First and 14th Amendments.