Starbucks & ban.do Launched Another Drinkware Line & You'll Want Every Piece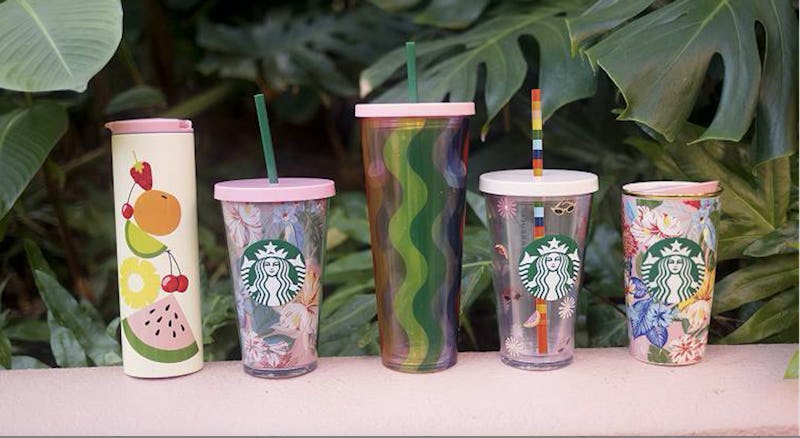 Courtesy of Ban.do and Starbucks
If you missed out on both of LA-based lifestyle brand Ban.do's collaborations with Starbucks last summer, good news: The Ban.do x Starbucks collab is back for 2018, and it's full of all of the rainbows and sunshine you'd expect it to have. The collection of drinkware and other accessories drops on June 25 — but like last year, there's a catch: It will only be available for purchase at select Starbucks locations in the Asia-Pacific markets. There's good news, too, though; if you're based anywhere outside those markets — like, say, in the United States — you'll have the opportunity to win some items from the collection, too. Heck, and yes.
Ban.do and Starbucks first teamed up in the spring of 2017 on a collection of drinkware, tote clutches, and other accessories that proved to so popular, nearly three-quarters of the available items were sold the day the collection dropped, according to a press release. Fans couldn't get enough of the colorful cold cups, the "Good Times" tote bags and travel tumblers, and other tropical floral-adorned items — and 50 lucky winners in a giveaway run by Ban.do were treated to items from the collection, even if they weren't located in the countries in which the collection was available for purchase.
Part 1 of the 2017 Ban.do x Starbucks collaboration.
The same was true of a second collaboration — or "Part 2," as they called it — that dropped later in the summer: It was only available in select Asia-Pacific markets, but a giveaway gave 50 people the chance to snatch up some pieces from the collection. The design scheme was different for the second part of the collab, featuring bold pink and orange stripes instead of leafy green prints, but both had a playful, California-inspired vibe.
And now we're back for round three. Like the previous two collections, the 2018 Ban.do x Starbucks collection takes its design cues from bright, sunshine-y Los Angeles — which, y'know, makes sense, given that Ban.do is an LA-based company. According to Ban.do Creative Director Ali Labelle via a press release, "This year's collection is all about bright colors and beachy LA vibes — like an epic pool party." (That "epic pool party" feeling, by the way, also serves to celebrate Ban.do's birthday; the company turns 10 this year.)
The 12 pieces of the collection, five of which are Starbucks drinkware and seven of which are classic Ban.do items, all feature colorful fruits inspired by the fruit stands that dot the roads in Southern California, rainbows inspired by vintage LA skating rink Moonlight Rollerway, and beachy floral patterns that just scream Southern California. You can check out some highlights of the collection at Starbucks-X.com; this year, they include an updated version of Ban.do's watermelon cooler bag, a fruity tote bag, a tropical floral travel clutch, a travel "peekaboo" clutch with a transparent panel, sticky notes and notepads, a variety of Starbucks cold cups, and some super cute travel mugs.
Items from the 2018 Ban.do x Starbucks collaboration.
It's not known right now whether there will be a second part to the collaboration again this year; even if there isn't, though, the collection that's already been announced looks like tons of fun. Said Starbucks Asia Pacific SVP Category and Marketing Michele Waits in a press release, "We are big fans of Ban.do's colorful palettes and prints and are thrilled to work with their inspiring design team to help bring the LA vibe to the region this summer. It's a delight to share stylish lifestyle brands with our customers that align so closely with our mission, values and passion for fun."
The 2018 Ban.do x Starbucks collection will arrive on June 25 at select Starbucks locations in China, Hong Kong, Indonesia, Korea, the Philippines, Singapore, Thailand, and Taiwan. You can find out more about the whole collection at Starbucks-X.com (and download a few free desktop wallpapers while you're at it) — but, and perhaps more importantly, you can enter Ban.do's giveaway for the chance to win items from the collection here. If you're located in the United States, that's likely the only way you'll be able to get a hold of them (unless you feel like doing some diligent eBay-ing), so act now if you want to throw your hat in the ring.
Good luck!