Starbucks Is Launching A Limited Edition Cold Brew Negroni — Here's What It Tastes Like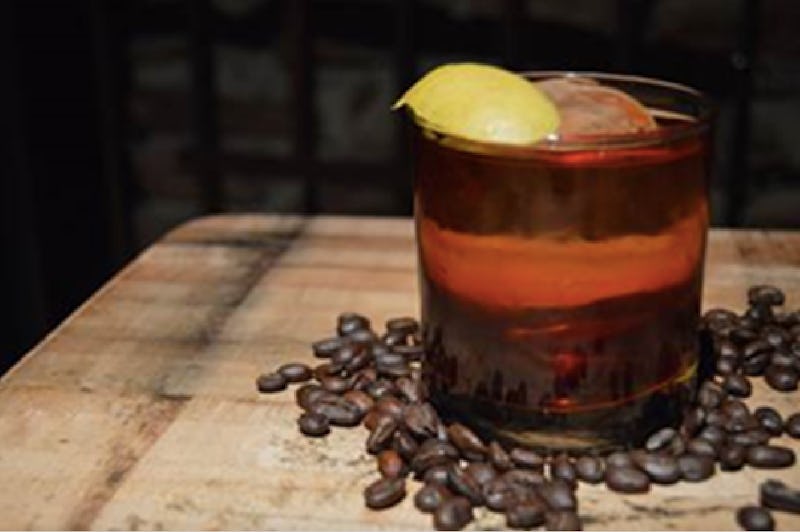 Some people (people who hate fun) think there are too many informal holidays. While it is true the internet seems to have decided almost every day celebrate something, why is that so bad? Dedicating a day to something simple like cheese or doughnuts allows people to recognize when they're taking its full potential for granted. Perhaps it is for this reason Starbucks' Cold Brew Negroni is the perfect way to celebrate National Negroni Week, which is observed June 4 through June 10.
Drinking coffee cold is the only way to do it in summer. Leave it to Starbucks to turn your morning drink of choice into a a delicious, complex happy hour menu addition. The Starbucks Cold Brew Negroni — a unique signature cocktail available at its Reserve Roastery in Seattle — features Campari, sweet vermouth, orange bitters, and burnt cinnamon syrup, with an added kick of Starbucks Reserve Cold Brew. Coffee in a cocktail? Sounds pretty cool.
According to liquor.com, a traditional Negroni combines equal parts sweet vermouth, Campari, and Gin. It is "said to have been invented in Florence by a dauntless Italian count who demanded that the bartender replace the club soda in his Americano with gin." Since coffee makes all good things even better, it makes sense Starbucks would add it to a cult-favorite drink. You can snag an *authentic* Starbucks Cold Brew Negroni from the chain's Reserve Roastery in its hometown, Seattle, or you can mix one up at home with a recipe provided to Bustle.
To make your own Cold Brew Negroni at home, you'll need:
3/4 ounces of Campari
Two ounces of Uncut Starbucks Cold Brew
A dash of Orange Bitters
A quarter of an ounce of Cinnamon Simple Syrup.
Simple syrup is a cocktail staple that is made by dissolving equal parts of regular sugar in water on the stove. Toss in a cinnamon stick and add the sugary water to your Negroni once it has cooled. Stir the whole cocktail mixture with ice, and strain into a martini glass. Garnish with an orange peel and you will forget all about not being in the country's coffee capital to enjoy your cocktail.
If you're still not sold on the whole idea of a whole week devoted to one drink, consider how much good Negroni Week can do. Negroni Week — now in its sixth year — is presented by a partnership between Imbibe Magazine and Campari. The holiday encourages bars (and other distributors of the beverage) to get creative with Negroni-themed offerings. Then, a portion of the sales are donated to charity. According to the official Negroni Week website, this year's celebration may just be the biggest one yet. In its first five years, Negroni Week has grown from a little over 100 participants to more than 7,000 participants worldwide.
The best part?
Negroni Week has collectively raised almost $1.5 million for charitable causes since its inception in 2013. That number is sure to rise after this week concludes. As of writing this, 46 different charities are being honored during Negroni Week 2018. These include recognizable names like Autism Speaks (Autism Awareness), No Kid Hungry (childhood Hunger), Lambda Legal (LGBTQ rights), and the Surfrider Foundation (ocean protection and sustainability). You can find out which specific charities are being honored by participants where you live online here.
Next time someone tries to tell you there are too many holidays, push back. Not all informal holidays are purely for celebratory purposes. Some, like Negroni Week, have far more altruistic intentions. Head out to a participating bar (preferably with an outdoor seating area; it is summer). Order a Negroni special from a participating distributor, and take comfort in the knowledge you are not only enjoying a refreshing summer sip, but simultaneously helping some pretty great charities.
Cheers!