Starbucks Just Opened A New Store Serving Artisanal Sandwiches & The Menu Is So Fancy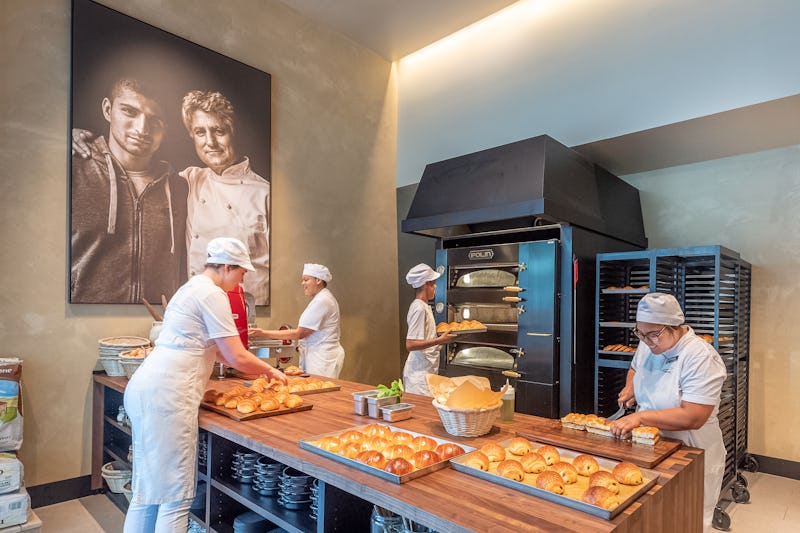 Starbucks
On Tuesday, Seattle, WA became home to Starbucks' very first standalone Princi bakery location. If you're a Starbucks fan who is not familiar with the artisanal bakery Princi, trust me: You're going to want to be. The bakery was founded Milan in 1986 by the Italian baker Rocco Princi, who had made a reputation for himself as an inventive baker thanks to his innovative ideas of adding fresh olive oil, figs, lemons, and rosemary to his breads.
Princi went on to expand to a few locations in cities like London, but their partnership with Starbucks didn't begin until 2016, when the coffee chain stepped in as an investor. Shortly after, Princi's artisanal breads began being sold at the Starbucks Reserve Roastery in Seattle, then their Shanghai Roastery. And now, Starbucks has opened a Princi standalone store in downtown Seattle, which offers the same delicious, artisanal sandwiches, bread, and other food items that made the bakery so popular in the first place. On Jul. 31 to coincide with the new location's opening, Starbucks released images of the new store, which not only look like an Instagrammer's dream (just look at that lighting!), but also prove that though Princi is expanding greatly, its dedication to its roots is totally unwavering.
The neutral color scheme in the space reflects the original simplicity of Princi's very first bakery in Milan, but the large scale production launches the Princi brand upward. With Starbucks behind it, its baked goods have and will continue to reach people across the globe.
If you live near Seattle, you can check out the storefront yourself on the north end of downtown Seattle, on 2118 Westlake Avenue in South Lake Westlake at 9th Avenue. But if you're not local, you'll just have to settle for a few pictures for now. That said, Starbucks did reveal there are plans for a New York and Chicago location to open in the fall, so there will soon be more options.
The space revolves around the oven, which is the main attraction and life force of the brand. And, you know, the thing that brings us bread. Like in a traditional bakery, glass food cases display cornetto, brioche, focaccia, ciabatta, pizza and sweets. There's also a few breakfast menu items like steel-cut oats with Italian jam and baked eggs with spicy tomato sauce. For lunch there's soups and salads and sandwiches featuring the different breads. For the evening, there's hot entrees, tarts, cakes and cocktails, beer, wine, and more small plates.
You can dine inside or on the balcony, where you'll be surrounded by rosemary plants that Princi planted to create an atmosphere that was reminiscent of his home town. No matter what time of day you head to the location, you'll be greeted with a authentic taste of Italy and the fresh fragrance of baked bread.
What's more, because Starbucks is behind this venture, you know that you can rely on the coffee being on-point. For many of us, the ability to rely on a single cafe to have both fresh and delicious baked goods and fresh and delicious coffee is rare.