Starbucks Just Launched 3 New Holiday Pastries With Flavors That Are Festive As Heck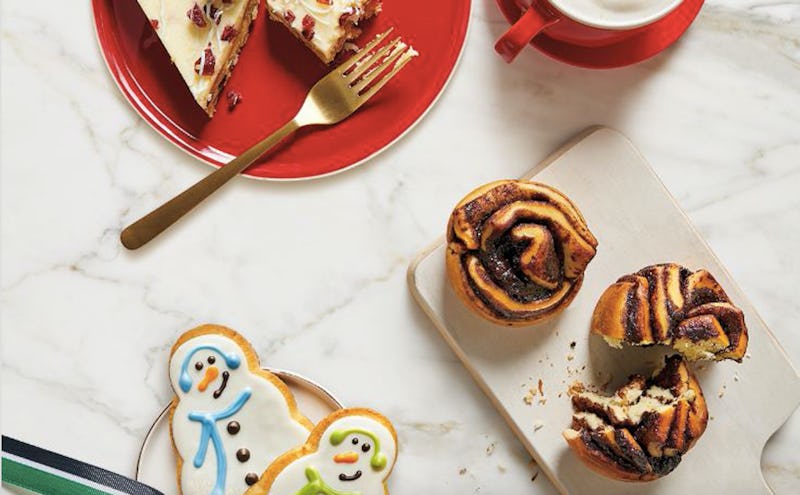 Starbucks
For the coffee-obsessed, there's usually a ton of tasty treats to look forward to at Starbucks immediately following the conclusion of Pumpkin Spice Latte Season — and in 2018, Starbucks' holiday food menu is among the delightfully delicious things we have coming our way shortly. What's more, we're not just limited to the same old treats we've seen in the bakery case year after year (although I, for one, am certainly celebrating the return of Gingerbread Loaf); four new sweets are available in 2018, each of which sounds more delicious than the last.
As you may have heard, both the Starbucks seasonal drink menu and the holiday cups are set to return on Nov. 2. With six classic drinks and four — count 'em! — throwback-inspired cup designs arriving in stores in the United States and Canada, 2018 is shaping up to be a year of old favorites. And hey, according to research, nostalgia is actually good for us, so that's not necessarily a bad thing.
But even though there aren't any new drinks on the Starbucks holiday menu this year, four new bakery treats have just arrived — and they look quite tasty indeed. Inspired by classic winter holiday flavor profiles (think chocolate, cinnamon, nuts, and sugar plums), these four baked goods kick everything up a notch; indeed, a couple of them are actually twists on some of Starbucks' mainstays.
Here are the new sweet you can expect to find at your local 'Bucks this year:
Chocolate Swirl Brioche
According to Bakerly, the major differences between brioche and regular bread are in the ingredients — brioche has more eggs and butter — and in the extra steps taken between making the dough and actually baking it. The result is a rich, buttery loaf with a deliciously soft texture. Starbucks' version adds a fudgy chocolate filling, a hint of cinnamon, and a drizzle of honey syrup. Yes, please.
Pistachio Honey Croissant
The beauty of the croissant is the endless number of ways you can spice it up. Starbucks added pistachios and a sweet honey glaze to their classic Butter Croissant for a holiday-ready twist on an old favorite.
Penguin Cake Pop
Remember that Cat Cake Pop that debuted at Starbucks in the fall? Well, now it's got a friend: This vanilla cake pop has been coated in chocolate and made to look like a penguin. Please watch this while you eat it:
Sugar Plum Cheese Danish
So, uh, fun fact: A traditional sugar plum is not actually a plum. As Samira Kawash wrote at The Atlantic in 2010, "sugar plum" was the term used by English speakers between the 17th and 19th centuries to describe a "dragee" or "comfit" — basically a hard candy with a nut or a seed at its center.
These days, though, we tend to think of sugar plums as candied or sugar-coated pieces of fruit — so that's what the Sugar Plum Cheese Danish is going for: It dresses up a classic buttery Danish with a cream cheese filling and a spiced sugar plum spread. Sounds delicious, even if it's not actually a sugar plum.
Not overly enthused by these new options? Fear not; tons of favorites from years past are back on the menu, too. The Cranberry Bliss Bar, the Gingerbread Loaf, the Peppermint Brownie Cake Pop, and two kinds of Iced Snowman Cookie — one with a green scarf and one with a blue one — have all made their triumphant returns for 2018. Like all the new treats, they'll be available at Starbucks stores in the United States and Canada starting on Nov. 2. Grab 'em while you can!