Starbucks Is Testing Frappuccinos With Less Sugar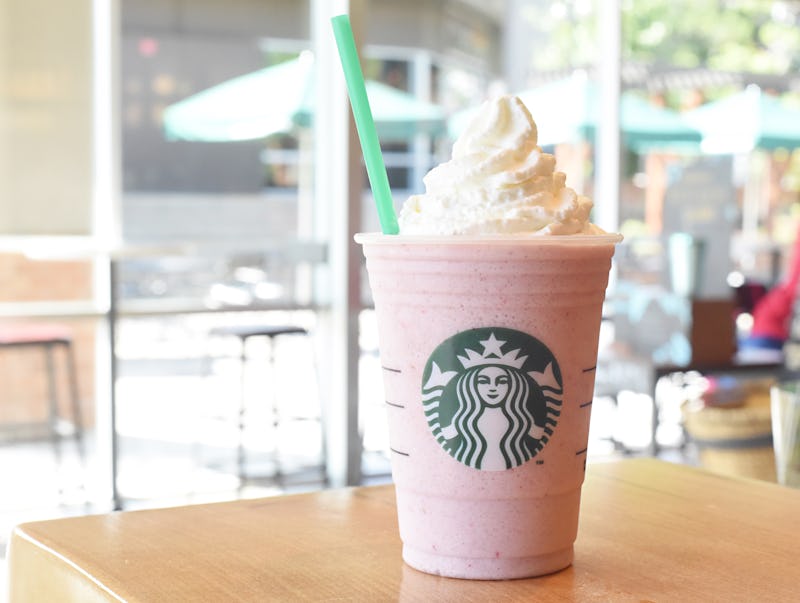 Starbucks
Starbucks is well known for the versatility of their menu; you can customize just about any drink so that it's made exactly to your specifications when you order it. And now, Frappuccino fans might be getting one more way to make their favorite frozen drink all their own: Starbucks is testing reduced sugar Frappuccinos in select stores in California, Missouri, and Rhode Island. The Wall Street Journal first reported the test on Aug. 30, and although there's no specific information about how long it will be going on for, the response to it so far has been "positive," according to CNN Money.
Frappuccinos have been a big seller since they first debuted in the early-mid '90s (they were first tested in the early '90s before arriving at Starbucks stores nationwide in 1995). Originally available in only two flavors — Coffee and Mocha — the drink is now known for its sheer variety of flavors, ranging from the straightforward (think Caramel or Green Tea) to the fanciful (hi there, Unicorn Frapp).
Per the Wall Street Journal's report, the idea that perhaps a version of the drink with less sugar in it might appeal to some members of Starbucks' customer base was actually put forth several years ago. The new Frappuccino recipe underwent two years of testing internally before reaching the outside world — and now that it's here, it's got a wider reach than you might expect it to have.
The current test is quite large, as far as tests go; it's occurring at around 600 stores across three states. Given that many chain restaurant tests focus only on one or two cities at a time, that's pretty big — and given Starbucks' history specifically, it's positively massive. Remember when the company started trialing cold brew back in 2014? That test occurred only in one teeny tiny district in the Boston area — quite different than the multi-state, hundreds-of-stores test that's occurring with the reduced sugar Frapp.
According to the Wall Street Journal, the big challenge with creating a Frappuccino with less sugar in it is maintaining the texture for which the drink is known. In a standard Frappuccino, that texture is achieved with a special proprietary syrup made up of ingredients including water, sugar, salt, the binding and thickening agent xanthan gum, and natural and artificial flavors; in order to create a version of the drink with reduced sugar, however, the syrup would need to be cut from the recipe and the texture recreated a different way. Sweet cream turned out to be the answer — and after around 20 different formulas were run through their paces, a winner emerged.
While the new Frapp formula begins with a less-sweet base, it's still imminently customizable. Those who are interested in ordering them can add "'dashes' of unsweetened, natural flavor, such as vanilla or hazelnut" without adding more sugar to the drink, per the Wall Street Journal; what's more, if you still want your drink with a bit of sweetness, you can always add however many pumps of simple syrup or standard Starbucks flavored syrup you like to it. A company representative told CNN Money on Aug. 30 that "customers are responding positively" to the new recipe, which has contributed to its continued testing.
There's no indication that the original Frappuccino is going anywhere, by the way; should the reduced sugar version pass the testing stage, it's likely that it will be offered in addition to the standard Frapp — not instead of it — similarly to how the Light Frappuccino was once positioned on the Starbucks menu. (The Light Frapp seems to have been quietly discontinued some months ago, according to chatter around the internet.)
If you want to try one, you'll have to head to California, Missouri, or Rhode Island; once you locate a store that you think might have it, you might try calling ahead to confirm whether or not the reduced sugar Frapp is on the menu there before making the trip out. Happy Frapp hunting!